BA cancellations: Severe weather causes travel chaos after 50 flights cancelled
One service from London to Los Angeles was delayed by 27 hours due to poor weather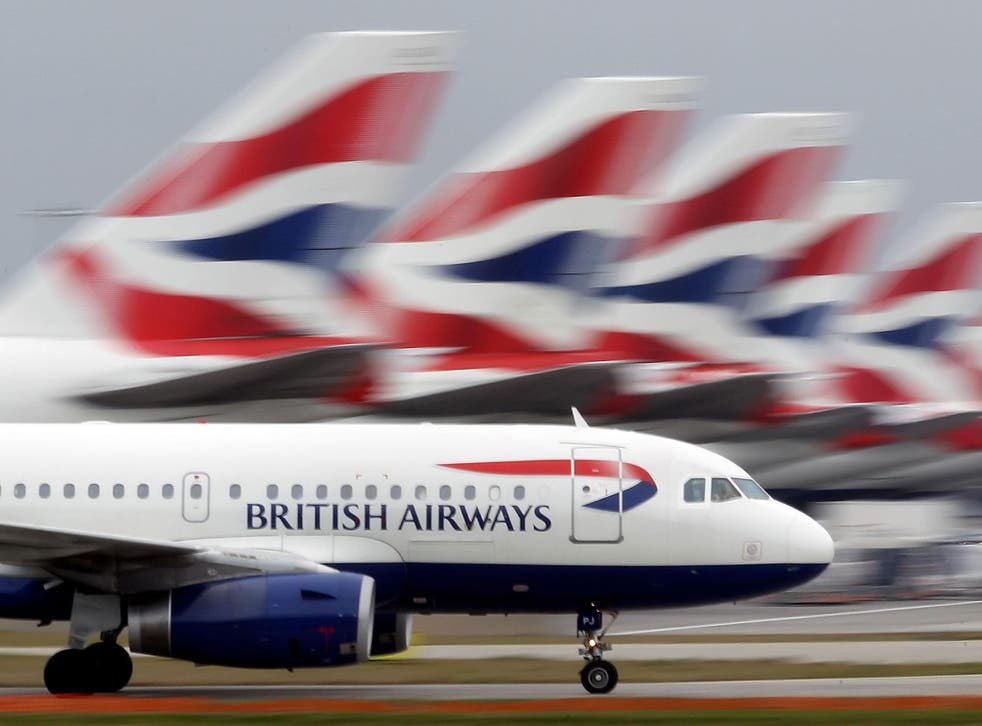 At the end of one of its most difficult weeks of the year, British Airways cancelled 50 flights to and from London on Saturday, the vast majority at Heathrow Terminal 5. Many other flights were delayed - including a service to Los Angeles that left 27 hours late.
Poor weather during the week, in particular thunderstorms in South East England, has been blamed by the airline for disrupting services and leaving aircraft and staff out of position.
On Thursday, French air-traffic controllers went on strike once again, grounding dozens of flights between the UK. France, Spain, Switzerland and Italy. On Friday, lightning caused further delays. Fourteen BA flights departed after midnight, long after take-offs normally end.
Eleven other flights arrived in the early hours of Saturday morning, breaking the conventional curfew. Harry Waterworth, one of the passengers delayed by seven hours on BA873 from Krakow, tweeted: "Very disappointed in an airline that is usually exceptional."
Nina Pertwee, a passenger from Nice to Heathrow, waited two hours for a delayed flight from Nice on Friday night and then waited on the tarmac for a further 45 minutes.
"At baggage reclaim we were told that due to technical difficulties there would be an extremely lengthy wait for bags and they would deliver them to our homes," she said.
The Friday afternoon Airbus A380 "Superjumbo" flight from Heathrow to LA was delayed by 27 hours, taking off two hours after the corresponding flight on Saturday.
Most of the Saturday cancellations were between Heathrow and domestic and short-haul destinations such as Manchester, Berlin and Amsterdam, to which BA has multiple daily departures. But a holiday flight to and from the Greek island of Santorini was also cancelled; the airline has only four flights per week on the route.
A BA spokesperson said: "We are sorry for the disruption to some our customers' travel plans. Due to poor weather across much of England and beyond over the past few days, air traffic control reduced the number of aircraft which can land at Heathrow and Gatwick and this has had a knock-on effect to our schedules.
"We are looking after customers and are re-booking those affected onto alternative flights or offering them overnight hotel rooms if they can't fly until tomorrow."
Travel Photo of the Year: The winning entries

Show all 8
Other airlines were less affected, though Eurowings cancelled flights between Heathrow and Hamburg.
Meanwhile the Heathrow airport home page carried a message about the Brexit vote, saying "The airport is operating normally and there are no changes to security or immigration procedures following the EU referendum."
Events following the poll have alarmed Heathrow's owners. Boris Johnson, front-runner to be next prime minister, is an avowed opponent of the third runway, which was recommended last summer by the Davies Commission.
The government is due to announce its choice of location for a new runway at either Heathrow or Gatwick next month, but the post-referendum political turmoil makes it unlikely that a decision will be made until late in the year.
Register for free to continue reading
Registration is a free and easy way to support our truly independent journalism
By registering, you will also enjoy limited access to Premium articles, exclusive newsletters, commenting, and virtual events with our leading journalists
Already have an account? sign in
Register for free to continue reading
Registration is a free and easy way to support our truly independent journalism
By registering, you will also enjoy limited access to Premium articles, exclusive newsletters, commenting, and virtual events with our leading journalists
Already have an account? sign in
Join our new commenting forum
Join thought-provoking conversations, follow other Independent readers and see their replies