Imported trap approved by Government to kill pests also lethal to Britain's dwindling hedgehog numbers
Exclusive: Device branded 'not fit for purpose' by Britain's leading hedgehog charity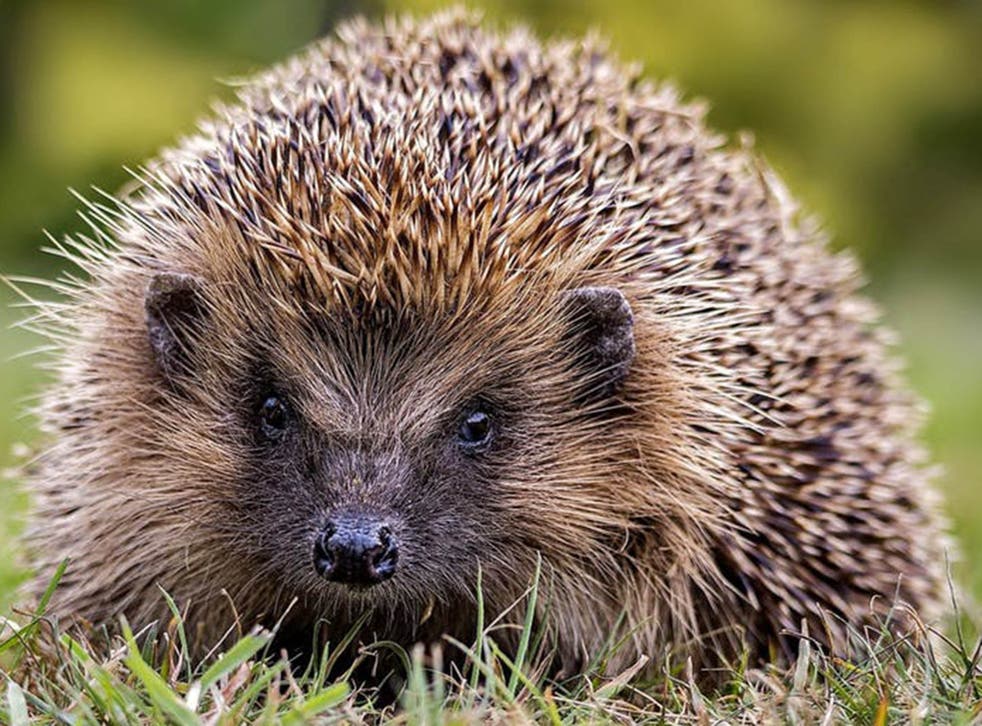 An imported trap approved by the Government to kill pests is lethal for Britain's dwindling hedgehog numbers, experts say.
The A24 trap – branded "not fit for purpose" by Britain's leading hedgehog charity – was approved by Department for Environment, Food and Rural Affairs (Defra) in 2016 as a means of killing rats and stoats, which are considered pests in the UK.
Available for anyone to buy in shops or online, the trap attracts animals using a chocolate lure, before delivering a "powerful" blow to a creature's head or neck, killing them "instantly every time", according to the maker's website.
It can be left unattended for months and kill up to 24 animals before requiring a replacement CO2 canister. But experts say the device poses a deadly threat to hedgehogs.
New Zealand pest controllers use the gadget to kill hedgehogs, which the country considers a pest species.
"Though they're not being marketed to kill hedgehogs, they will kill hedgehogs here," Hugh Warwick, an ecologist and hedgehog expert, told The Independent. "There is a reality check between what the instructions are and what will actually happen in real life."
Defra says it has no plans to ban the A24, but that "so far as is practicable" it must be "used in a manner that minimises the likelihood of its killing" hedgehogs, including by installing a wire tunnel intended to stop the animals reaching the trap.
But Mr Warwick said the Government was being "slightly naïve".
Hedgehog left traumatised after spines cut off in student halls
"The reality is nobody is going to be policing it, nobody is going to be out there, and hedgehogs will get caught in these traps," he said.
Branding the tunnel "deeply disappointing", Mr Warwick claimed they will trap hedgehogs due to the animal's spines getting caught in the wire mesh.
Fay Vass, chief executive of the British Hedgehog Preservation Society, said the tunnel, which is sold separately, was "hastily developed and badly designed".
Mr Warwick urged Defra to "halt any roll-out of these traps until they've been really carefully assessed by people who actually understand hedgehog biology".
UK news in pictures

Show all 52
But Vance Paines, manager of Goodnature, the company that makes the trap, said hedgehogs would have a "massively hard time" getting caught in the trap.
"As far as I'm concerned, our trap, it's a very safe bet on controlling the problems we have, which is obviously rats," he told The Independent. "And there's no poison.
"If they are going to ban all traps then we're left with a bigger population of rats and a huge disadvantage for people like pest controllers, because then we have to go back to poison."
In a statement, Defra said: "We are confident that hedgehogs can be effectively excluded from the trap when set according to manufacturer's instructions and an excluder tunnel is used. We do not, therefore, intend to remove this trap's approval."
The continued availability of these traps comes as figures released last month show hedgehogs are in steep decline across rural and urban areas. There are now thought to be fewer than a million left in Britain.
Although difficult to calculate exact numbers, Mr Warwick estimated there had been a 90-95 per cent reduction since the Second World War.
Hedgehogs are a protected species in the UK, meaning anyone without a licence who kills one, even unintentionally, is at risk of prosecution.
But Ms Vass said it was likely to lead to accidental hedgehog deaths being underreported.
"I think people would keep very quiet if their trap had killed a hedgehog, because they're not meant to."
Mr Warwick added: "They're not going to come forward and go, 'Hey look I'm really sorry I killed this hedgehog,' they're just going to chuck it in the middle of the road and let it be run over."
Hedgehogs were crowned Britain's national species in a 2013 BBC Wildlife magazine poll, and Britain's favourite mammal in a 2016 Royal Society of Biology poll.
Join our new commenting forum
Join thought-provoking conversations, follow other Independent readers and see their replies