Help the Hungry: Wembley Stadium taken over by food charity to provide 140,000 meals per week
Our appeal partner The Felix Project is providing food for the venture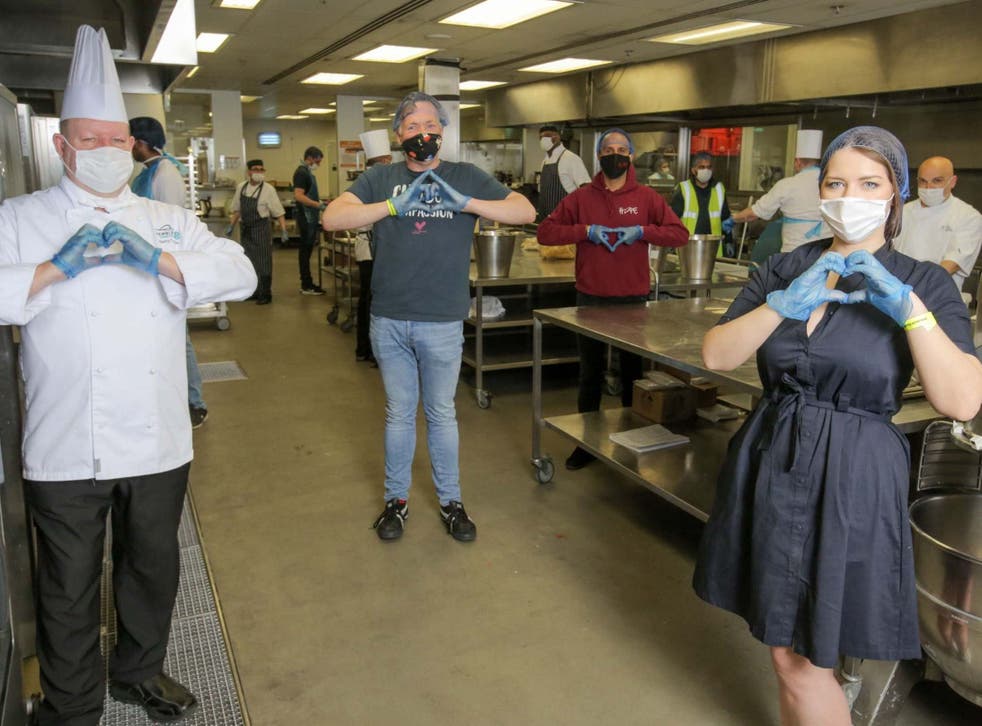 Wembley Stadium has opened its vast main kitchen to cook 140,000 meals a week for the hungry with produce provided by our Help the Hungry campaign partner, The Felix Project.
Chef Harry Lomas, culinary chief at the 90,000-seat venue, will lead an emergency cooking operation organised by Compassion London, a food charity founded by Leon Aarts in response to the coronavirus crisis.
Six weeks ago, Mr Aarts and his volunteer chefs began cooking in a tiny kitchen at Staples Corner in London.
Three weeks later they moved to the kitchen at Saracens Rugby Club stadium in Barnet and now they will move again – to Wembley's main kitchen, approximately the size of two tennis courts.
It is a story of ordinary people pulling out all the stops to do extraordinary things to help the vulnerable. Mr Aarts, an activist, philanthropist and chef, said: "We have ramped up from 200 to 3,900 meals a day but the move to Wembley will allow us to gear up further to cook and deliver 20,000 meals a day – which is 140,000 meals a week.
"We already supply 15 hospitals, elderly care homes, community centres and homeless hostels. These organisations are trying to cope with unprecedented demand for food and they keep asking us for more. Our new kitchen will allow us to keep pace with rising hunger and need."
Compassion London operates seven days a week with 25 chefs and 200 volunteers who pack and deliver food to charities and families. The fresh, raw produce comes daily from The Felix Project, the biggest distributor of surplus food in London, which has quadrupled its deliveries since lockdown to 40 tonnes a day and supplies daily more than 100 charities, schools and community hubs like Compassion London.
The Independent has pledged to raise £10m to help The Felix Project feed hungry people across the capital over the next three years – with £3.65m already donated since we launched our appeal on 27 March.
The Wembley facility is being given to Compassion London free of charge, thanks to Wembley Stadium, its in-house caterer Delaware North and the stadium's owner, the Football Association.
Head chef Mr Lomas said: "Using an empty kitchen and bringing food together to feed vulnerable people and the NHS is fantastic. It's a win-win situation."
Jon Sellins, operations director at Wembley, lauded Compassion London as "a passionate team of volunteers with a simple mission – to help others in this time of crisis".
Mr Aarts, who previously set up a similar kitchen in the Jungle Calais camp in response to the 2015 refugee crisis, founded Compassion London out of the same instinct, he said. "Our purpose is the principle of no one goes to bed hungry."
Follow this link to support, volunteer or donate to Compassion London.
The Independent is encouraging readers to help groups that are trying to feed the hungry during the crisis – find out how you can help here. Follow this link to donate to our campaign in London, in partnership with the Evening Standard.
Join our new commenting forum
Join thought-provoking conversations, follow other Independent readers and see their replies