Heritage: Byron in the bathware section
As a plaque is unveiled in the poet's honour on London's Oxford Street, John Walsh wonders what the famous libertine would make of being immortalised in, er, John Lewis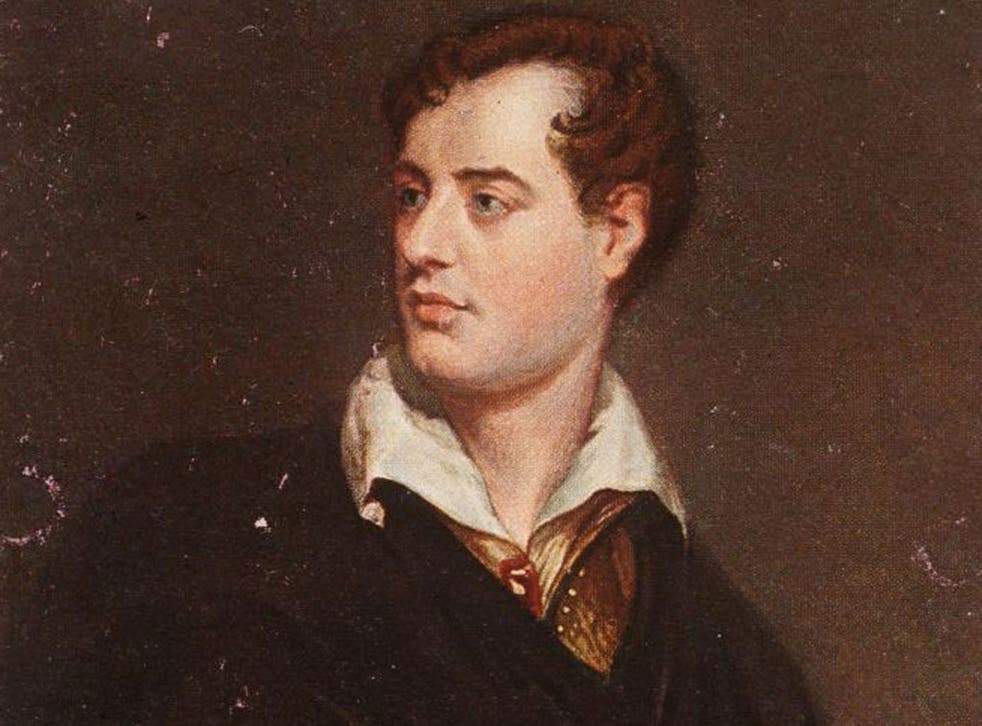 The descendants of Lord Byron, the most dashing and scandalous of the Romantic poets, are meeting in Oxford Street this morning to unveil a Westminster Green Plaque to the great man. The site of the unveiling is important – it's the house where he was born in 1788, number 23, Holles Street.
Of course it's changed a bit since Byron's day. It's now John Lewis.
There's been a wooden plaque on the store's Holles Road elevation for some time, but it's being replaced by the verdant circlet as part of the Green Plaque Scheme, which aims "to draw attention to particular buildings in Westminster associated with people of renown who have made a lasting contribution to society".
An admirable intention, marred only by the slight bathos of attaching such noble memorials to the sides of buildings with modern commercial identities. There's nothing wrong with John Lewis; it's just a department store isn't something you think of when reciting "She walks in beauty like the night/ Of cloudless climes and starry skies…" Although I'm sure Byron could have knocked off an appropriate rhyme: "The greatest bordello I ever knew is/ The perfume counter at John Lewis,/ Where gentlemen by bawds are told/ 'We're never knowingly undersold'."
Elsewhere in the borough, similar plaques have been attached to similarly jarring emporia. Jane Austen gets herself one at 10, Henrietta Street, Covent Garden, the site of her brother's flat where she wrote most of her best letters. A shame that she now has to share premises, so to speak, with one of the Rohan shops that sell outdoor clothing for men and women. It doesn't quite fit the Austen profile. One cannot imagine Jane's heroine, Lizzie Bennett, going to visit her sick sister Jane in a pair of the brand's Dry Fusion Waterproof Trousers (£100).
The plaque commemorating JMW Turner's birthplace at No 21 Maiden Lane, Covent Garden, sits above a pub called The Porterhouse, selling beers, ale, stout and "modern bar cuisine with an Irish flavour". Nearby, a plaque at No 10 celebrates the fact that Voltaire, the great French philosopher, lived there; he would not be entirely displeased to learn that his home is now the Hungarian Cultural Centre.
The plaque in honour of Sir Arthur Conan Doyle isn't at Sherlock Holmes' address, 221B, Baker Street (which doesn't exist). It's at No 2, Upper Wimpole Street, where he set up as a ophthalmologist in 1891. He didn't attract any patients so turned to writing instead. And today it's the premises of a trendy dentist. Will he ever warrant a Green Plaque?
Register for free to continue reading
Registration is a free and easy way to support our truly independent journalism
By registering, you will also enjoy limited access to Premium articles, exclusive newsletters, commenting, and virtual events with our leading journalists
Already have an account? sign in
Register for free to continue reading
Registration is a free and easy way to support our truly independent journalism
By registering, you will also enjoy limited access to Premium articles, exclusive newsletters, commenting, and virtual events with our leading journalists
Already have an account? sign in
Join our new commenting forum
Join thought-provoking conversations, follow other Independent readers and see their replies