Hero passenger lands light aircraft at Humberside airport after pilot friend passes out at the controls - then dies
Instructors hurriedly briefed John Wildey on the instruments and controls to help retired IT consultant executed safe landing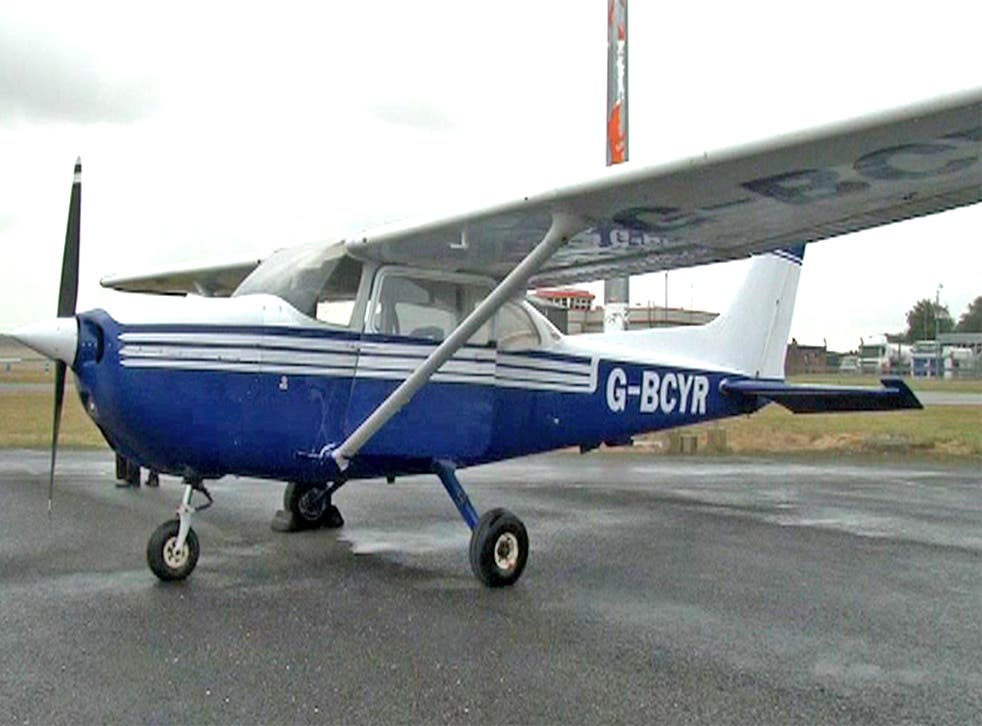 A hero passenger, who had to take the controls of a light aircraft when his pilot friend collapsed, said he "did not have a clue" how to get the plane down but later executed a safe landing despite having no flying experience.
Instructors hurriedly briefed John Wildey on the instruments and controls, explaining how to bring the plane on to the runway causing only a minimum of damage and reports of a few sparks.
"I just didn't know what was going to happen with the uncertainty of it all. But in talking to me on the radio all the time that was helping me," Mr Wildey said.
"I've never flown a plane before and I know you bring back the controls but I didn't bring them back hard enough. So really I was nose down rather than anything else. Then we touched and it was a right bump – two or three bumps. I suppose it was a controlled crash really," he added.
Mr Wildey, 77, a retired IT consultant, told the BBC he could not reach the brakes and thought he was going to crash on the ground fearing he would career off the runway. He said he tried repeatedly to rouse the pilot but he remained unconscious.
The mid-air drama sparked a major rescue operation as an RAF helicopter was scrambled to help bring the novice safely into Humberside airport near Grimsby, north Lincolnshire on Tuesday night without lights.
Roy Murray, who took part in the extraordinary rescue, said he felt "satisfied but sad" after learning that the pilot had later died. "He did a beautiful landing. I wouldn't be frightened to fly with him," Mr Murray said.
The instructor said the atmosphere in the control tower had been extremely tense. They had been alerted to the situation by a mayday call by Mr Wildey and air traffic controllers had ordered him to circle whilst they summoned Mr Murray, chief instructor of the Frank Morgan School of Flying, from his home.
But although the passenger admitted to having a dry mouth he remained calm, bringing the Cessna 172 in at optimum speed and altitude after completing three practice circuits of the airport. "It was tense at times, especially the last mile or so," said Mr Murray.
"We couldn't see any lights on him. It was just a silhouette in the dark. We just had to judge he was the right height and the right speed, which he was. All due respect," he added.
The control tower had been "ecstatic" when the plane touched down although there was no cheering and those involved in the rescue shook hands. The light aircraft was heading back to its base at Sandtoft airfield, near Doncaster, South Yorkshire, at 6.20pm when the pilot collapsed.
An RAF Sea King helicopter from RAF Leconfield was sent to help guide the plane to the airport to Humberside where a full emergency response crew was on standby.
Debbie Zost, operations managers at the airport in charge of air traffic control, said an investigation was under way and it was not yet possible to say which of the men in the plane made the mayday call.
David Learmount, operations and safety editor of Flightglobal.com said: "A guy with no flying experience would have found flying a light aircraft utterly different from driving a car. In a car, if you don't like what's happening you can bring it to a halt. You just can't do that in an aircraft. You can't fly slower than 60mph without falling out of the sky."
How to land a plane in five easy steps
1. Sit down in the pilot's seat. Try to relax. Do not touch anything. Fasten safety belt. Study the controls. There is a basic "six pack" of instruments which will show speed, altitude, direction and other features.
2. Using the central yoke (moving forward, back, left or right) level the aircraft by lining the wings with the horizon and bringing nose and tail into line. Stabilise altitude. Maintain steady speed using throttle (do not reduce below 70 knots). Use the rudder pedals to adjust the left right movement of the plane.
3. Call for help on the radio (handheld microphone normally to the left of the pilot's seat). Make contact with controller). Explain situation and await instructions.
4. Begin descent: Aim at airfield, lower landing gear (unless you are landing on water then leave it up) put flaps in position.
5. Land: Continue gentle descent. As the ground approaches pull back yoke gently. Touch down on rear wheels first. Pull throttle all the way back to idle. Slowly release pressure on the yoke to allow nose to drop whilst steering with rudder pedals. Press brakes but try not to skid.
Register for free to continue reading
Registration is a free and easy way to support our truly independent journalism
By registering, you will also enjoy limited access to Premium articles, exclusive newsletters, commenting, and virtual events with our leading journalists
Already have an account? sign in
Register for free to continue reading
Registration is a free and easy way to support our truly independent journalism
By registering, you will also enjoy limited access to Premium articles, exclusive newsletters, commenting, and virtual events with our leading journalists
Already have an account? sign in
Join our new commenting forum
Join thought-provoking conversations, follow other Independent readers and see their replies