High Court judge removed from second case this year over his 'passionate view' of the law
 Sir Nicholas Mostyn, nicknamed 'Mr Payout', had gone against a landmark legal case on disabled people's rights
Ian Johnston
Thursday 22 October 2015 21:58 Comments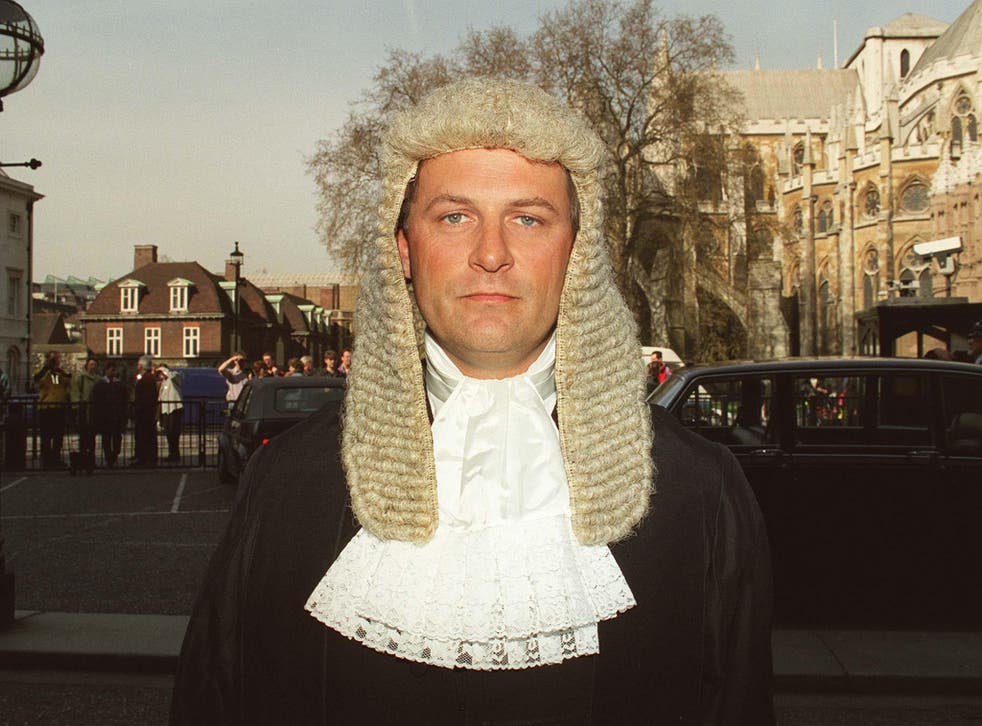 A flamboyant High Court judge who earned the nickname "Mr Payout" as a divorce lawyer has been embarrassingly removed from a second case in less than a year, after the Appeal Court decided his "passionate view" of the law was "distorting" his judgement.
Quoting the 19th-century philosopher John Stuart Mill on the meaning of liberty, Sir Nicholas Mostyn decided that a severely mentally incapacitated woman was not being deprived of her liberty despite the need for carers to stop her leaving her home.
The woman, 52, identified only as KW, suffered a brain injury during surgery in 1996 and still believes she is living in that year with her three small children, who are all now adults. She has a tendency to wander off to look for them.
Mr Justice Mostyn's decision flew in the face of a landmark legal case last year, known as Cheshire West, in which the Supreme Court ruled that disabled people had the same right to "physical liberty" as anyone else.
In a ruling praised by disability rights campaigners, Lady Hale, Deputy President of the Supreme Court, declared that a "gilded cage" was "still a cage".
In a written decision published this week, Lord Dyson, the second most senior judge in England and Wales, and two other judges ordered that Mr Justice Mostyn should no longer oversee KW's case and that a different judge should carry out a review.
Their ruling said that KW's care did amount to a deprivation of her liberty, but also authorised this to happen for her own good. It was scathing of Mr Justice Mostyn's previous decisions in the case.
"This litigation has an unfortunate history. The judge has twice made decisions which have been the subject of an appeal to this court," the ruling said.
"This has led to considerable, unnecessary costs to the public purse and unnecessary use of court time.
"We regret to say that it is the judge's tenacious adherence to his jurisprudential analysis, leading to his conclusion that Cheshire West was wrongly decided, that has been at the root of this. He says … that 'the law is now in a state of serious confusion'. Even if Cheshire West is wrong, there is nothing confusing about it.
UK news in pictures

Show all 50
"In our view, the judge's passionate view that the legal analysis of the majority [of judges] in Cheshire West is wrong is in danger of distorting his approach to these cases. In the light of the unfortunate history, we are of the opinion that the review should be conducted by a different judge, who need not be a High Court judge."
Earlier this year, the Appeal Court decided that Mr Justice Mostyn was "unsuitable" to carry on hearing a £2m divorce case after he apparently displayed too much hostility towards the former husband, David Mann, a former mining tycoon. The judge had threatened to send Mr Mann, who had cancer, to prison after he fell behind with payments to his former wife.
During a high-profile career as a barrister, Mr Justice Mostyn represented Sir Paul McCartney, during his divorce from Heather Mills, and Earl Spencer, Princess Diana's brother, when he split from his second wife. Earl Spencer settled out-of-court after Mr Justice Munby dismissed an application to have the hearings in private.
Register for free to continue reading
Registration is a free and easy way to support our truly independent journalism
By registering, you will also enjoy limited access to Premium articles, exclusive newsletters, commenting, and virtual events with our leading journalists
Already have an account? sign in
Join our new commenting forum
Join thought-provoking conversations, follow other Independent readers and see their replies