Hillsborough disaster: The investigations which led to six people being charged in connection with tragedy
Charges range from manslaughter by gross negligence to misconduct in public office 
Will Worley
Thursday 29 June 2017 00:21 Comments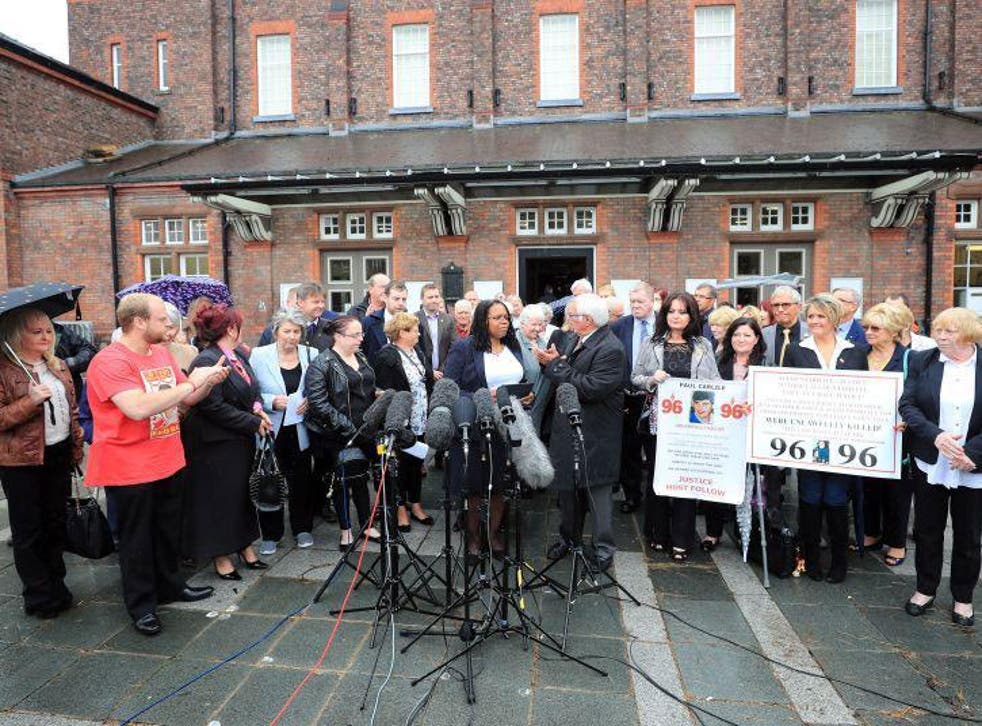 The Crown Prosecution Service's decision to charge six people in connection with the Hillsborough disaster is the result of years of work by two major investigations.
Both probes, by the Independent Police Complaints Commission (IPCC) and Operation Resolve, were independent of the inquest which last year delivered a verdict of unlawful killing.
The investigations have interviewed tens of thousands of people and cost at least £80m.
Ninety six people died after a crowd crush at an FA Cup semi-final match between Liverpool FC and Nottingham Forest at the Hillsborough Stadium in Sheffield on 15 April 1989.
Ex-police chief faces charge over Hillsborough disaster
On Wednesday, families of the victims expressed their joy at seeing charges brought against the people they believe are responsible for the deaths of their loved ones.
The IPCC was the largest ever police misconduct investigation in the UK. It looked into at least 10,000 lines of enquiry. It also took 120 survivor complaints and at least 4,000 statements – 400 from policemen, 120 from journalists and 20 from politicians.
It examined the aftermath of the disaster, exploring allegations of changes to police records of the disaster, examinations of the criminal records of victims and allegations of surveillance on campaigners.
And it has seen charges brought against four people – three former South Yorkshire Police (SYP) officers and a lawyer who represented the force.
Former chief superintendent Donald Denton and former detective chief inspector Alan Foster were charged with intent to pervert the course of justice relating to material changes made to witness statements.
Sir Norman Bettison, a former chief inspector and superintendent with the SYP, was charged with misconduct in public office related to alleged lies about his involvement in the aftermath of Hillsborough and the culpability of Liverpool fans.
The solicitor, Peter Metcalf, was charged with doing acts with intent to pervert the course of justice relating to changes made to witness statements.
The second, Operation Resolve, was established in 2012 after the publication of a report by the Hillsborough Independent Panel.
It is a criminal investigation which examined the causes of the disaster, including stadium design, match day planning and the emergency response.
Its investigation has seen charges brought against two people.
Hillsborough Disaster 1989

Show all 8
One, perhaps the most significant, is match commander David Duckenfield, who was the most senior police officer in charge of safety on the day of the match. He is being charged with 95 counts of manslaughter by gross negligence.
The other is Graham Mackrell, who was Sheffield Wednesday's company secretary and safety officer at the time. He is charged with two offences involving the stadium safety certificate and a health and safety offence.
Operation Resolve examined 17,000 lines of enquiry and took 11,000 statements. In addition, it interviewed more than 9,000 witnesses and collected at least 70,000 pieces of evidence.
It also held at least 370 meetings with families of the victims and survivors.
Register for free to continue reading
Registration is a free and easy way to support our truly independent journalism
By registering, you will also enjoy limited access to Premium articles, exclusive newsletters, commenting, and virtual events with our leading journalists
Already have an account? sign in
Join our new commenting forum
Join thought-provoking conversations, follow other Independent readers and see their replies