Hillsborough: Warning of cover-up was ignored by judge
PC on duty at Hillsborough told inquiry officers' statements were altered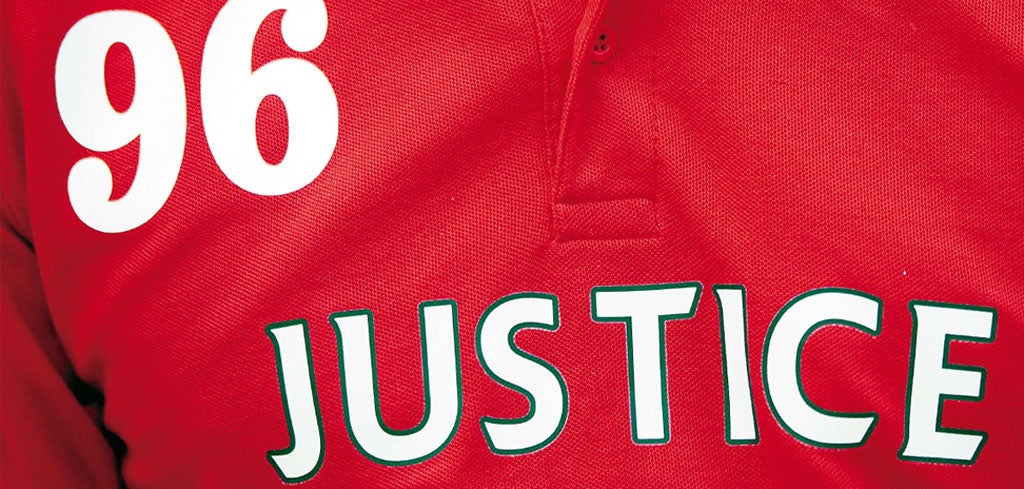 A police constable on duty on the day of Hillsborough warned a judge-led inquiry into the disaster that there was a co-ordinated cover-up by South Yorkshire Police about failings of senior officers at the stadium, documents have revealed for the first time.
David Frost, who as a 21-year-old officer helped to treat fans in the Leppings Lane terraces, told the Lord Justice Stuart-Smith review in 1997 that his superiors made "wholesale changes" to the statements made by him and his fellow officers to "sanitise and protect themselves".
Mr Frost told the judge how, three days after the tragedy, on 19 April 1989, he and fellow policemen were taken to a pub by a senior officer and warned: "It's backs to the wall, boys. We've all got to say the same thing. Unless we all get our heads together and straighten it out, there are heads going to roll."
The damning testimony from Mr Frost, who quit the South Yorkshire force in anger following the cover-up, was heard behind closed doors at the Stuart-Smith inquiry, set up by then Home Secretary, Jack Straw. It has been made public for the first time in 450,000 documents published last week by the Hillsborough Independent Panel. The disclosure means that Mr Frost's evidence, if it had been recognised by the judge, would have revealed a cover-up by police 15 years ago, when many more relatives of the victims would have been alive.
The panel report confirmed families' suspicions that there had been a cover-up, but Mr Frost's evidence to Lord Justice Stuart-Smith reveals that the inquiry judge was warned about the conspiracy back in October 1997. In the end, Lord Justice Stuart-Smith's report found that all the new evidence he had heard added nothing to the earlier inquiry by Lord Justice Taylor.
The judge also heard that there was a suggestion that officers, including Mr Frost, were threatened with allegations that they were involved in accepting bribes from fans to allow them through the gates, and that they "feared retribution" if they later came forward to complain about the cover-up.
Mr Frost originally submitted a 16-page statement to his superiors, a vivid account of how he climbed inside one of the pens at the Leppings Lane end to help with the rescue, and gave mouth-to-mouth resuscitation to one man before questioning why there was no organisation by senior officers. He could not even see the "gaffers" until well after 3pm, when it is now known people were already dying. There was a "bottleneck" of police officers who were getting in the way of victims being rescued, and the communication system had failed. All of these criticisms were removed.
The 16-page original testimony from May 1989, which at times reads like a diary from the trenches of the First World War, was cut down to six pages, the most heavily redacted statement out of all the 116 police statements that were altered. Mr Frost told Lord Justice Stuart-Smith he was ordered to sign the new redacted statement but refused. The final document shows what appears to be Mr Frost's signature, but it is clearly different from his original handwriting, suggesting that someone involved in the cover-up forged his signature.
Mr Frost told Lord Justice Stuart-Smith that he quit the South Yorkshire force, whose slogan until recently was "Justice with Courage", because he felt he could no longer wear the uniform. Mr Frost told the judge: "Wholesale changes were made. There were queues of officers outside police stations, and senior officers sat there with their statements, and they were asked/impelled to sign things that they didn't want to that had been changed.
"This was an attempt by senior management to sanitise and protect themselves; and any honour that the South Yorkshire Police, which I thought at the time was considerable, disappeared for me. That is why I left the force. I was medically pensioned off. I couldn't wear a uniform after this sort of thing took place, and it is not what I believe in and I hope it is not what the establishment believes in."
Mr Frost told Lord Justice Stuart-Smith that on 19 April 1989: "We were taken to the pub by a certain XXXX [redacted], who basically said: 'It's backs to the wall, boys. We've all got to say the same thing.' We were taken out for a drink by this XXXX [redacted] and we were basically told: 'Look, unless we all get our heads together and straighten it out, there are heads going to roll.'"
Lord Justice Stuart-Smith assured Mr Frost that his claims were "something which I am looking into".
In his original 16-page statement, Mr Frost recounted every detail of his time at Hillsborough, including the opening minutes of the game. He wrote: "Peter Beardsley running along the right wing, nice footwork, leaves two players and crosses the ball. I look forward again. People everywhere outside the fence at Leppings Lane end. Best get there quick."
Mr Frost, after breaking away the fencing at one end of the terraces, climbed inside the pens. He gave mouth-to-mouth resuscitation to one fan who appeared dead. "Live, live, breathe, come on." After a "brief state of calm", he said, "fans part, can't believe my eyes, a pile four or five deep of bodies".
But it is well after 3pm when he recorded: "Megaphone giving orders, it's about time. Keep 'em coming lads. How many dead? Bottleneck two chains of bobbies passing bodies out now meeting at the gate. 'This one's alive,' I shout repeatedly in a choked voice. 'This one's alive.' Fighting back tears. Broken bodies being dragged apart trapping each other [like] bags of sand.
"All out on to the pitch, makeshift stretchers and away. Notice for the first time gaffers are now about. Where have they been? Why was the organisation so late? Anyway good to see them in with the lads.
"Why did this happen? Will the body I breathed into live or as I suspect already died? Did I do it right, is it my fault? Who is or was he?
"Fit fans venting anger blaming us. 'You're all useless bastards.' Yes they are right.
"I want to do something, that is why I am wandering around. Let me help, give me something to do.
"A lad barely conscious laid by the fence among the dead. Nearby a son sits by the covered body of his dead father. Try and keep the lad conscious … Please be well." He helped lift the boy into an ambulance.
Mr Frost went back on to the pitch: "We return to the fencing, a Scouse lady comes round. We are just standing staring. She holds our arms and says: 'Thanks, lads.' I begin to cry. Sometime later we van up. Where is the friendly chatter now?" Mr Frost finishes his statement saying he feels he has struggled to convey what really happened: "It is impossible, I feel, to surround a reader with such a huge mental and emotional picture. Please let some good come out of all of this."
Mr Frost could not be contacted for comment last night, but a friend said he finally felt exonerated by the panel's report after being "rejected" by Lord Justice Stuart-Smith. The judge has refused to comment since the report was published.
It emerged yesterday that the controversial policeman Sir Norman Bettison triggered an attempt to prosecute the High Court judge who led the original Hillsborough inquiry in 1989, over claims that he was "biased" against South Yorkshire Police. And a Hillsborough-related complaint against Mr Bettison, now chief constable of West Yorkshire, was referred to the Independent Police Complaints Commission yesterday for investigation.
Special report:
The 97th victim: Fan sold ticket to friend who died in disaster
Hillsborough: They walked alone - The long fight for justice
Did Bettison try to smear inquest judge?
Hillsborough: Ten testimonies - 'Indescribable scenes of chaos in a theatre of death'
Andy Burnham: 'I vowed to find out the truth about that day'
Editorial: Hillsborough – our shame
Join our commenting forum
Join thought-provoking conversations, follow other Independent readers and see their replies