HMS Saracen: Meeting the last survivor of a submarine found 72 years after it was scuttled
Arthur Melling, 92, said: 'Bloody hell, that's some years waiting for that'
Paul Gallagher
Wednesday 01 July 2015 18:48 Comments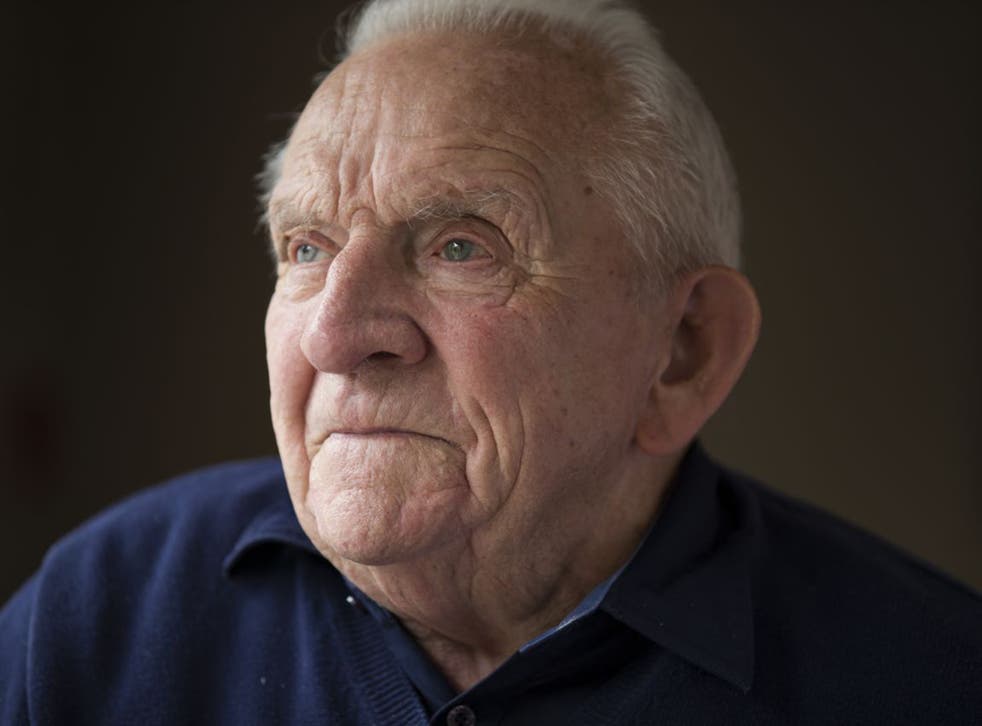 It was the Royal Navy submarine that struck fear into its foes as they battled beneath the surface of the Mediterranean – and finally, last week, it was found, 72 years after being scuttled.
HMS Saracen had a crew of 48 officers and men. Arthur Melling, now 91, is thought to be the sole remaining survivor. He had not heard of the amazing discovery until The Independent on Sunday met him at the Bolton care home where he lives with wife, Doris.
"Bloody hell, that's some years waiting for that," he said upon hearing the news. "I never thought they'd find the Saracen. I thought it would be undiscovered in the ocean forever."
An intensive two-year search ended last week when Guido Gay, an Italian engineer, located the 990-ton S-class submarine in 1,400 feet of water off the coast of Corsica. He said the wreck was "beautifully adorned by white corals".
Experts at the Royal Navy Submarine Museum in Hampshire confirmed the "exciting discovery". But because two sailors died aboard the vessel, it will remain underwater as an official war memorial.
Arthur was a teenager when the submarine was launched on 16 February 1942. It started its Second World War career in British waters a few months later, sinking the German U-335 off the Faroe Islands before being sent to the Royal Navy base on Malta.
Reflecting on his time on board HMS Saracen, Arthur said: "In a submarine you have very close friends, you know, very close friends indeed. You couldn't have a closer friend than a friend in a submarine – a submariner – and that was it. Everyone trusted each other. You never gave a thought to anything else. There was no such thing as danger. It was just a job. I suppose some people would be frightened of being under the water. It didn't take long to get used to, though."
The Saracen's reputation grew quickly when it sank the Italian submarine Granito, then destroyed a number of other Italian and German naval and merchant vessels, as well as Vichy French ships collaborating with the Nazis.
The crew were unaware of the fear the Saracen instilled in the enemy. "No, we didn't know about this reputation," Arthur said. "No matter what submarine you were on you always thought you were the best."
French Resistance fighters revered the Saracen, best known in France for landing three spies on Corsica – two Corsicans and a British MI6 agent – to liaise with a resistance network providing information on Italian forces from the island.
On 13 August 1943 Saracen was spotted by two Italian corvettes while on patrol off the north east coast of Corsica. They attacked with depth charges and the British submarine was severely damaged. Its captain, Lieutenant Michael Lumby, decided to scuttle the ship, but Arthur believes luck was still on their side.
Britain during WWII - in pictures

Show all 30
"When you're in a submarine and get hit you don't expect to survive. So we were very fortunate."
Lieutenant Lumby waited until the early hours of Saturday morning before scuttling the Saracen because he did not want to do so on "unlucky" Friday the 13th.
The surviving members of the crew made their way through the escape hatch and into enemy water. Arthur was taken on board one of the corvettes, the Minerva, and was transferred to a PoW camp in Sabina in central Italy. He managed to escape, only to be recaptured and sent on a PoW train to a camp in Germany alongside other men from Saracen.
Worse was to come. On 28 January 1944, American B-26 bombers targeted a bridge near Allerona, Italy, while the PoW train was stationary on it. About 400 prisoners died in the raid – one of the worst cases of friendly fire in the entire Second World War.
The Pows' German guards fled the carriages leaving any remaining prisoners locked inside. Despite being warned that anyone caught escaping would be shot, Arthur spotted his chance and fled in his bare feet, squeezing through a bomb hole in his carriage.
"All hell was let loose," he told Janet Kinrade Dethick for her book The Bridge at Allerona. "A large boulder came through the roof. I saw a chance to get out … and jumped up to the roof. A sergeant-major pulled me down. He said I would be shot. I told him I would take my chance of a bullet rather than a bomb.
"I was on my way down the bank. I ran for about three strides then I found myself at the bottom and close to a bomb crater. I scrambled into this to save myself from shrapnel. I saw another guy inside. I told him I was going to get to the other side of the river as we had a better chance if we did this … I made it to the other side."
Arthur remembers reaching a farmyard where he was eventually rescued by British troops and returned home to Bolton, Lancashire. After the war, he became a butcher before turning his hand to the building trade. He met his first wife, Prudence Joan Sharples, at her 21st birthday party and they had six children. They divorced after 23 years and Arthur later married Doris. They have been together for more than 40 years.
Arthur, now a grandfather of 13, with his extended family living in the UK, Australia and Cyprus, remains modest about his extraordinary achievements.
"You have to be lucky to survive the war, there's no doubt about it," he said. "It's just a question of toughness, although you do need that to survive. You definitely have to be lucky too. I was just proud to be a member of the submarine service – and then glad, very glad, to get out of the war and that it had finished. That was it."
Register for free to continue reading
Registration is a free and easy way to support our truly independent journalism
By registering, you will also enjoy limited access to Premium articles, exclusive newsletters, commenting, and virtual events with our leading journalists
Already have an account? sign in
Join our new commenting forum
Join thought-provoking conversations, follow other Independent readers and see their replies