Ho Chi Minh in Newhaven: From pastry chef in East Sussex to patriotic leader of Vietnam
Ho Chi Minh worked as a pastry chef on the Newhaven-Dieppe ferry in the years following the First World War
Tom Batchelor
Sunday 05 April 2015 23:08 Comments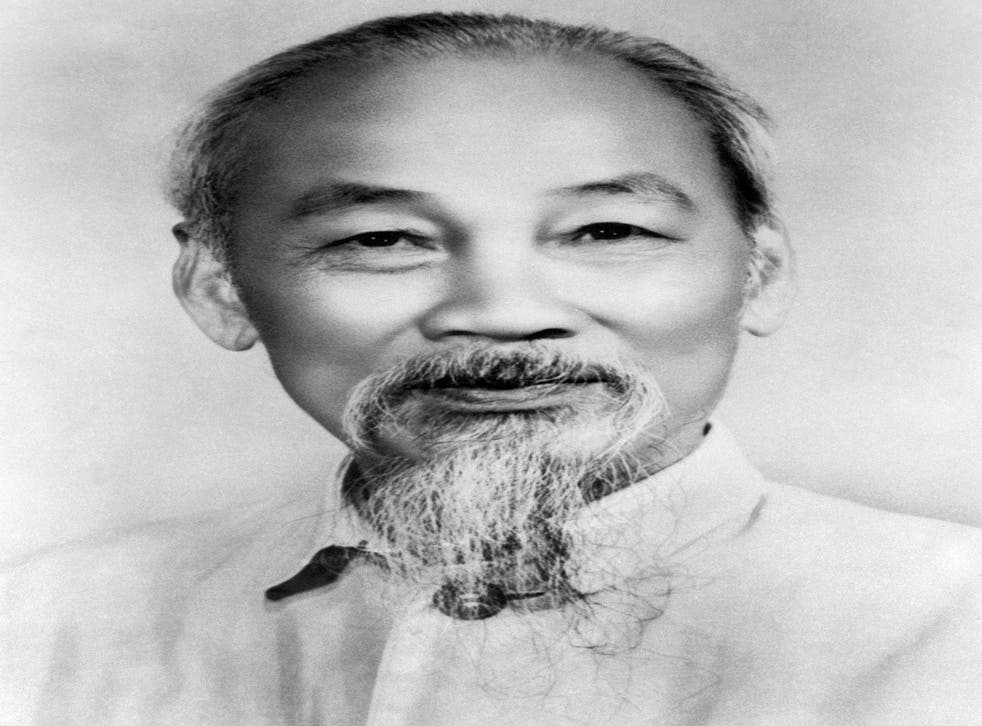 He has been credited with helping his country break free of its colonial masters and criticised for his part in a conflict that killed a million of his compatriots. But one thing the former Vietnamese Communist leader Ho Chi Minh is rarely celebrated for is his role as a pastry chef in East Sussex.
Now a competition is being held to choose a monument to be erected in Newhaven in tribute to the revolutionary, who spent time in the seaside town as a young man – but as the locals will tell you, it's not even the first of its kind in these parts.
Ho Chi Minh worked as a pastry chef on the Newhaven-Dieppe ferry in the years following the First World War, after first joining a French steamer as a cook in 1911. As a result, students at the University of Sussex are being encouraged to submit designs for the town's second monument to Ho Chi Minh – whose name means "bringer of light" – after the port was given a statue of him in 2013 on what would have been his 123rd birthday.
The winning piece will be displayed in the West Quay area of Newhaven later this year, marking 125 years since his birth on 19 May, 1890.
The image of "Uncle Ho" making French pastries for wealthy passengers on the cross-Channel sailing runs in stark contrast to his latter days engaged in bloody combat against America in the Vietnam War.
The influential leader of North Vietnam – who also worked in London and Paris, where he co-founded the French Communist party before returning to his native Vietnam in 1923 – formed his political beliefs while travelling in Europe, including a brief spell in Moscow at Comintern, an organisation created by Lenin to promote worldwide revolution.
He went on to lead the Vietnamese nationalist movement for more than three decades, fighting against Japanese, French and US-backed South Vietnamese forces. He remained president of North Vietnam from 1945 until his death in 1969.
"The Vietnamese connection has led to an interesting set of new friendships for Newhaven, as we are now linked with a city on the other side of the world," said Judith Ost, the town's mayor.
The University of Sussex said the winning applicant would be sent to Vietnam to visit the factory where the monument is to be made. "The University has increasingly strong ties with South-east Asia, welcoming hundreds of students and carrying out joint research with institutions from across the region every year," it said.
The Vietnamese Ambassador to the UK, Nguyen Van Thao, visited the university to launch the contest, which is open to its own students and those at a nearby further education college. A new scholarship has also been announced for a student to explore Ho Chi Minh's relationship with Sussex.
The unassuming seaside town's link with Ho Chi Minh is not its only brush with famous names from history. In 1848, the exiled French King Louis Philippe landed at Newhaven after abdicating the throne, and the car of Lord Lucan – the British peer suspected of murder – was found abandoned in the town following the death of Sandra Rivett in 1974.
Register for free to continue reading
Registration is a free and easy way to support our truly independent journalism
By registering, you will also enjoy limited access to Premium articles, exclusive newsletters, commenting, and virtual events with our leading journalists
Already have an account? sign in
Join our new commenting forum
Join thought-provoking conversations, follow other Independent readers and see their replies