British families plan their holidays more than 6 months in advance, survey finds
Almost half of Britons buy new clothes and outfits to take away with them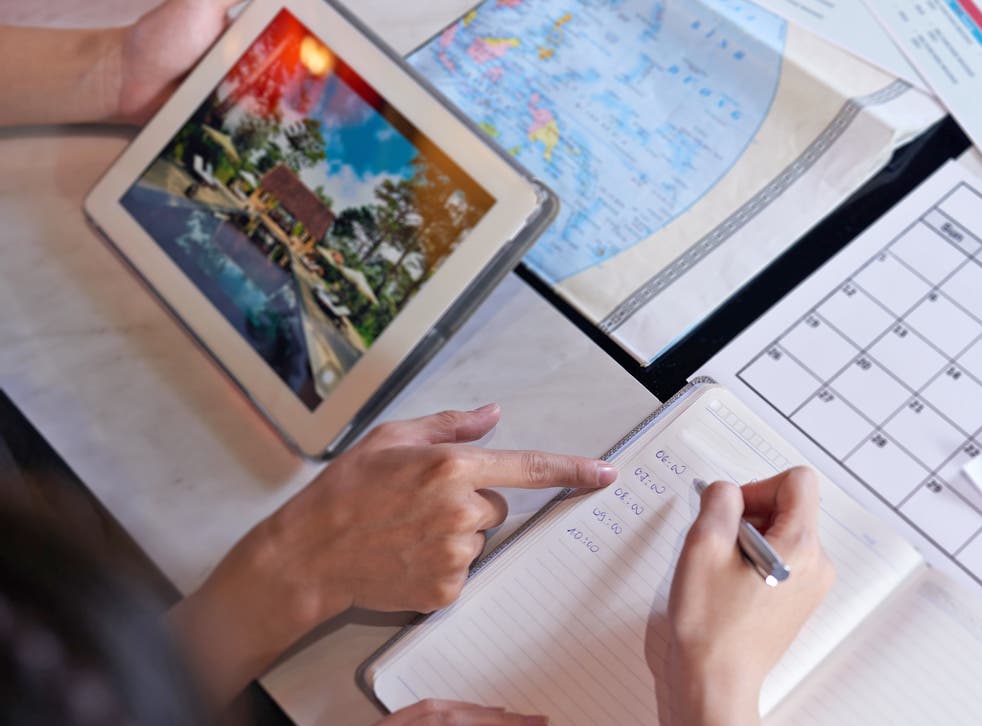 The average British family begins planning their holiday more than six months in advance, a survey has found.
Polling revealed that busy lives and hectic work schedules mean millions of families try and arrange breaks well in advance so they have something to look forward to.
Adults will spend around six hours browsing the web for ideas before asking their children, friends and family for input on where to go on holiday, the survey said.
The polling, which involved 2,000 mothers and fathers, found more than seven in 10 British families book both their flights and hotels well in advance of their trip. Just 22 per cent book activities to enjoy on the trip ahead of their break.
And only six per cent of people downloaded new apps to use on holiday, missing out on the opportunity to save money by booking tickets ahead of their trip.
The top 10 beaches in the world for 2017

Show all 10
Of all the jobs which feature on the to-do list of planning and booking a family holiday, looking at images online is the most popular activity.
Booking holiday insurance and changing your spending money into the local currency is also a priority for parents, as is checking the weather.
Checking the length of flight times, updating your holiday wardrobe and checking the destination in relation to everything else is also a must, the poll by Visit Orlando found.
Mother and travel blogger, Sally Whittle, said: "Planning that perfect family holiday can be time-consuming and stressful.
"There are simple things you can do, to ensure peace of mind whilst staying within a budget and saving time, such as booking theme park tickets in advance when visiting a destination like Orlando."
Top 10 things parents do before going on a family holiday (in order of popularity):
Looking at images online (52 per cent)
Checking average weather at that time of year (50 per cent)
Booking your holiday insurance (47 per cent)
Checking flight times (length) (47 per cent)
Buying new clothes/outfits (43 per cent)
Checking maps to assess where everything is at the destination (41 per cent)
Checking exchange rates (40 per cent)
Getting local currency (39 per cent)
Checking visa requirements (32 per cent)
Sharing ideas with your kids or asking their opinions (32 per cent)
South West News Service
Register for free to continue reading
Registration is a free and easy way to support our truly independent journalism
By registering, you will also enjoy limited access to Premium articles, exclusive newsletters, commenting, and virtual events with our leading journalists
Already have an account? sign in
Register for free to continue reading
Registration is a free and easy way to support our truly independent journalism
By registering, you will also enjoy limited access to Premium articles, exclusive newsletters, commenting, and virtual events with our leading journalists
Already have an account? sign in
Join our new commenting forum
Join thought-provoking conversations, follow other Independent readers and see their replies