Home Office accused of 'hypocrisy' after adopting Pride flag while deporting gay rugby player to Kenya
'Honouring the gay pride rainbow means actions, not just social media memes,' says shadow home secretary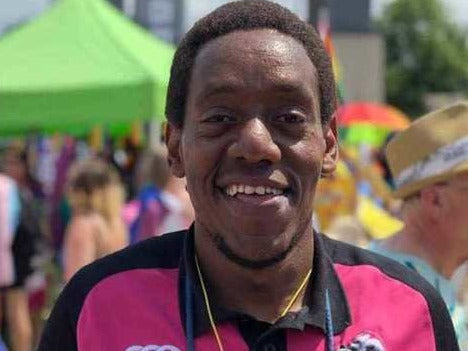 The Home Office has been accused of "hypocrisy" after it adopted the Pride flag on social media while threatening to deport a gay rugby player to a country where homosexuality is punishable by up to 21 years in prison.
Kenneth Macharia, 39, a gay man who plays for Bristol Bisons rugby club, was detained and threatened with deportation last November after a judge ruled he could live openly as a gay man in Kenya, despite sex between men being illegal.
The decision provoked a public outcry, with more than 100,000 people to sign a petition calling on the Home Office to halt his removal.
Mr Macharia, who arrived in the UK on a student visa in 2009 and first claimed asylum in May 2016, was released two weeks later on bail, but told by the judge that it was "not an indication that you will forever more be allowed to stay in the UK".
Now, the Kenyan national from Somerset has received a letter from the Home Office revoking his right to stay in the UK. He is due to report to the Home Office on Thursday, at which point it is feared he will be detained and deported.
Politicians and campaigners pointed out that this decision was made at the same time that the Home Office changed the logo on its Twitter and Facebook profile photos so that it includes the Gay Pride rainbow flag.
Diane Abbott, Labour's shadow home secretary, said, "Honouring the gay pride rainbow means actions, not just social media memes.
"We have a longstanding commitment in this country of granting asylum to those who fear persecution. It seems the Tories have forgotten this when it comes to supporting those who have a right to our help."
Satbir Singh, chief executive of the Joint Council for the Welfare of Immigrants (JCWI), accused the Home Office of "sickening hypocrisy".
He said the plan to deport Mr Macharia were "deeply shocking", particularly as the Kenyan High Court has recently upheld gay sex as a criminal offence in Kenya.
"Ken Macharia is a talented rugby player who came here as a bright young student and has made the UK his home. Ken will be at serious risk of persecution in Kenya," he added.
"The Home Office must urgently reverse its decision – to deport Ken would be to put an innocent man in danger."
It comes after The Independent reported last year that the rate of rejected asylum claims from members of the LGBT+ community had surged by 52 per cent in three years, with 78 per cent of asylum claims that included a reference to sexual orientation refused.
British Red Cross: Detention Case Study
Experts said the figures were "deeply worrying" and claimed the Home Office had "set the bar too high" for people seeking protection.
A Home Office spokesperson said: "This government has a proud record of providing protection for asylum seekers fleeing persecution because of their sexual orientation or gender identity.
"All available evidence is carefully and sensitively considered in light of published country information. All decisions on claims based on sexual orientation are subject to an additional safeguard reviewed by a second experienced caseworker."
:: Join The Independent for a panel discussion and Q&A as we ask: what is the role of Pride in 2019?​
Join our commenting forum
Join thought-provoking conversations, follow other Independent readers and see their replies