Home Office accused of failing to curb 'out of control breeding, caging and killing' of genetically modified animals
Animal rights charities urge Government to curb breeding activities which they claim have 'no biomedical or scientific gain'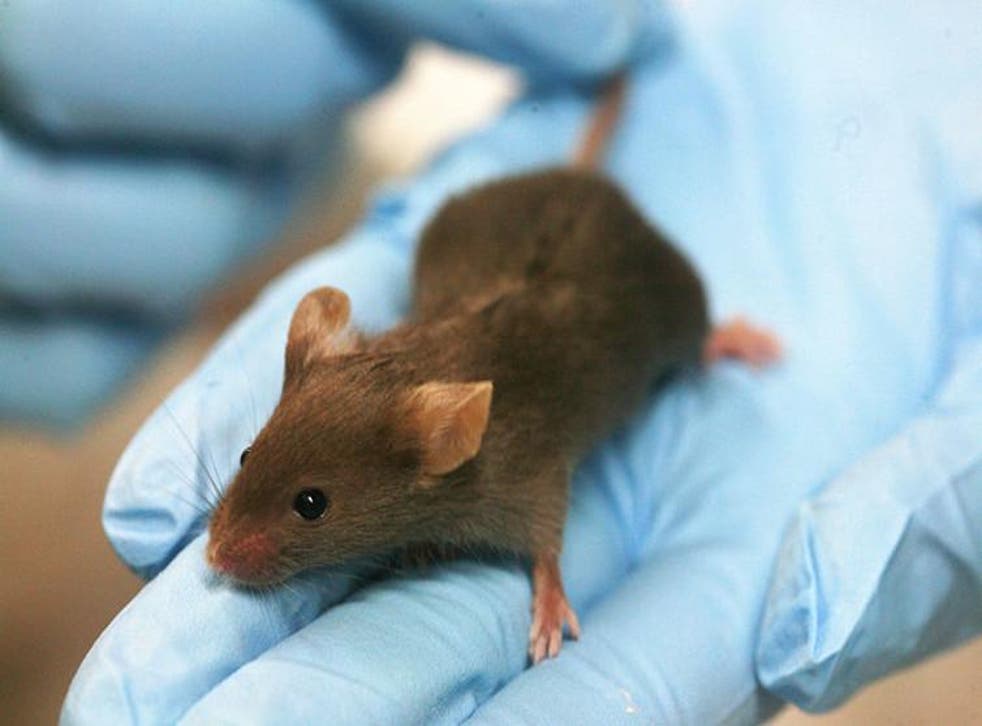 The Home Office has been accused of failing to curb "out of control" breeding of genetically modified animals, after new statistics revealed they account for nearly half of all procedures on living animals.
According to Home Office statistics, in 2016 the UK completed 3.94 million procedures on living creatures, of which nearly half (49 per cent) are associated with the production of genetically altered animals – which is said to be notorious for "wasteful over-breeding".
The overall number of scientific procedures carried out decreased by five per cent in the last year, according to the figures, but animal rights charities have said the number is still "horrifyingly high" and have led to little biomedical or scientific benefit.
They said the figures expose the Government's failure to use its regulatory and research funding powers to curb "uncontrolled breeding activities", warning that animals are being used as "expendable research tools, not as sentient individuals".
Humane Society International (HSI) warned that surplus animals from continuous breeding programmes are not used for any specific testing or research purpose, but are "simply bred, caged and killed without any biomedical or scientific gain".
The group is calling on the Government to adopt routine cryopreservation, the freezing of sperm or embryos, to immediately curb the breeding-killing cycle and respect its commitment to reduce the use of animals in labs.
Animal protection organisation Animal Aid said the number of animals used in experiments illustrated the "colossal scale" of animal research, adding that the practice is "not even effective", claiming there is growing evidence it is not providing results that are reliably predictive of the human condition.
According to the figures, a total of almost 3.9 million animals were used for the first time in 2016, including mice, rats, fish, dogs, cats, monkeys and horses. Nearly two million of these were created or bred but were not used in further procedures, 86 per cent (1.65 million) of which were mice.
Troy Seidle, HSI senior director for research and toxicology, said: "Ultimately the best outcome for both science and animals is for our research effort to shift to cutting-edge humane alternatives, but in the meantime it's galling to know that the number one opportunity to curb the explosive growth in UK animal procedures is being all but disregarded year after year.
"We've witnessed this trend toward out-of-control breeding of genetically modified animals developing for more than a decade, and have repeatedly called on the Home Office to take action.
"Yet despite all assurances of the UK Government's commitment to reducing the use of animals in labs, the numbers keep going up, rendering the Government's current strategy a qualified failure."
He added that as the department responsible for authorising animal experiments, the Home Office should be requiring universities and other institutions to adopt "more efficient strategies" in order to to minimise the over-production of genetically modified animals, but that there is currently a lack of "motivation to act".
Jessamy Korotoga, Animal Aid's Anti-Vivisection Campaign Manager, said: "It is essential to remember what this number represents – millions of sentient animals, living lives that are frequently filled with frustration and pain in laboratories, undergoing terrible experiments which frequently end in death.
"Today's animal research is being conducted in the face of mounting evidence that vivisection does not provide results which are reliably predictive of the human condition. It not only fails the animals who are hurt and killed, but also patients and their families."
Some scientests were less negative about the figures, saying it was "welcomed that there had been an overall reduction and that this should continue, but adding that animals still play a "key role" in scientific research.
Wendy Jarrett, CEO, Understanding Animal Research, said: "There has been a small reduction in the number of procedures categorised as 'severe' this year, and mild or sub-mild procedures continue to make up some 75 per cent of the total, which is all to be welcomed.
"The bioscience sector in the UK needs to continue its efforts to support reducing, refining and replacing animals in experiments, yet these statistics also demonstrate the key role that animals still play in medical, veterinary, environmental and basic scientific research."
The number of scientific experiments on live animals rose to a peak of 5.61 million in 1971, followed by a steady fall to 2.62 million procedures overall in 2001.
Since then, the number of procedures has shown a general increase, predominantly due to the advent of gene technology and the breeding and use of genetically altered animals, but in recent years has remained around four million.
UK news in pictures

Show all 50
A Home Office spokesperson said: "The UK has one of the most comprehensive animal welfare systems in the world and we are completely committed to the proper regulation of the use of animals in scientific research.
"This research helps us to ensure that medicines are safe to use and to find treatments for cancer and other diseases, among a range of other benefits.
"Our legislation provides a rigorous regulatory system that ensures animal research and testing is carried out only where no practicable alternative exists and under controls which keep suffering to an absolute minimum."
Join our new commenting forum
Join thought-provoking conversations, follow other Independent readers and see their replies