Dozens of immigration applicants forced to wait in cold for hours after Home Office subcontractor systems fail
Incident will fuel concerns about Sopra Steria, which has been awarded £91m contract by Home Office to deliver 'streamlined' immigration application process but has already been criticised for charging excessive fees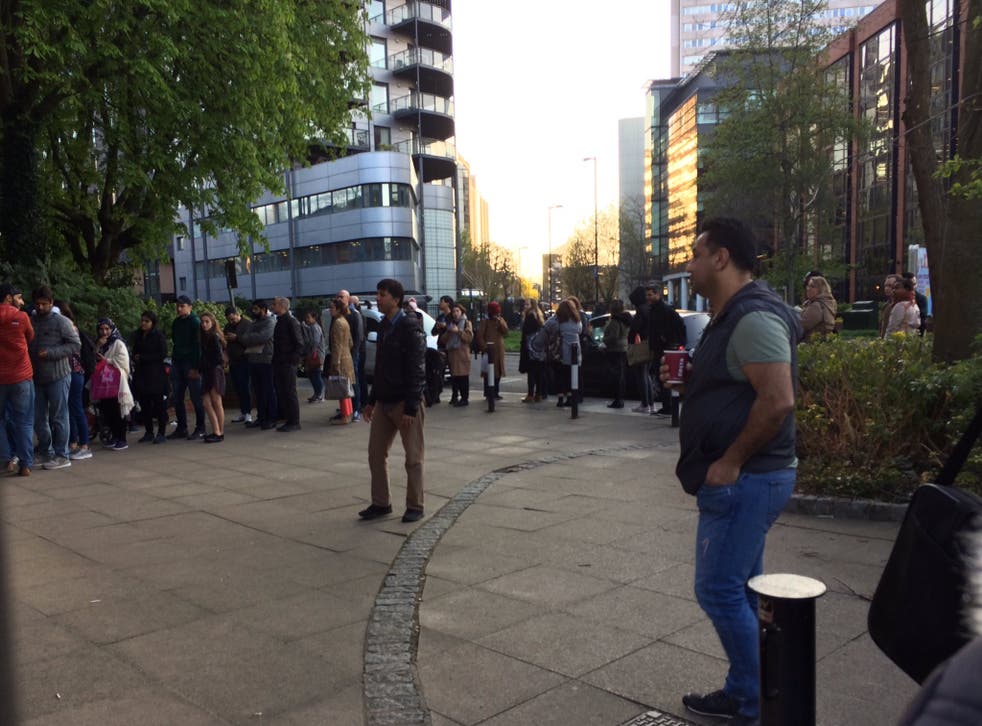 Dozens of people seeking British citizenship and other forms of UK status have been forced to wait in the cold for hours after the company subcontracted by the Home Office to process immigration applications experienced a system failure.
Sopra Steria, a French company that was last year awarded a £91m contract by the Home Office to deliver a "streamlined application process" for people applying for visas or settlement from within the UK, has come under fresh scrutiny after around 100 applicants were told their appointments had been cancelled and could not be immediately rescheduled.
People who were waiting outside the Croydon centre said they felt "humiliated" after having travelled to the venue – some very long distances – only to be left waiting and then told they could not be seen.
It will fuel concerns about Sopra Steria, which has already been criticised for charging excessive fees for its services. It is understood that while six of Sopra Steria's service points are free to attend, the vast majority – around 50 library-based facilities around the country – charge £60 for an appointment.
The Financial Times reported in December that some applicants who had paid a £600 fee for a "super-priority" decision made in 24 hours were having to wait up to a week to be told whether their application had been successful.
UK news in pictures

Show all 50
One of those turned away was Armenian national Lusi Manukyan, 28, who had paid £60 for her appointment to apply for British citizenship. The Southwark resident has lived and worked in the UK for 11 years, and said she felt "humiliated" by the way she and others had been treated.
"There were people there who had travelled 60 miles to make the appointment; some had had to hire cars or pay for train tickets. There were people crying. But all the staff could say was that they apologise and that we would be refunded within three days and would have to book another appointment," she said.
"But for many of the people who were there, they were saying they couldn't afford to book another appointment until they were refunded. And even if they could afford to do it, the next available appointment was another month away, and they would have to travel here again."
Ms Manukyan paid £100 on another appointment the following day. After she complained to the Home Office, she was offered a refund, but said she didn't believe all of those affected had been granted this offer.
Another European national, who asked not to be named, tried to book an appointment for one of the following three days but was told there were none available, meaning she would be unable to complete the process before leaving for a month-long visit to her home country.
"My meeting was at 6:30pm, but when I tried to go through I was told some people waiting had appointments at 5pm. No information was given for more than an hour. People had to stand outside in the cold. There were a lot of people who had children," she said.
"Then a member of staff announced that the systems were down and they would refund us. They didn't give us any replacement appointment. I understand that system problems can happen at any time, but it seemed like a total lack of organisation.
"I sent a complaint this morning and they said I would definitely be refunded and that there was a slot on Monday, but on Monday I have a flight and I'm away for a month. I don't know what's going to happen with my application now as you've got 30 days from when you apply online to complete it."
A spokesperson for Sopra Steria said: "Late yesterday afternoon our systems experienced a technical issue which affected our ability to process a small number of appointments. The issue was swiftly resolved yesterday evening and we apologise for any inconvenience caused.
"A positive customer experience is vital to the service we provide and as such, we are working closely with our customers to process refunds for all paid appointments and to offer them complimentary appointments at their earliest convenience."
A Home Office spokesperson said: "We apologise for any inconvenience caused to those customers who were unable to complete their application submission yesterday. This was due to a system issue with Sopra Steria.
"We are working closely with Sopra Steria to ensure that any customers affected by this issue are offered a free appointment as soon as possible. A full refund will be provided to those who paid for out of hours appointments as a result of this issue."
Join our new commenting forum
Join thought-provoking conversations, follow other Independent readers and see their replies