NHS worker who has spent 17 years trying to comply with Home Office red tape now faces being kicked out of UK
'For all these years, I have been giving, giving, giving. I haven't claimed a single penny of government money. Now I'm thinking, did I waste 17 years of my life giving back to this country?' asks Farrukh Sair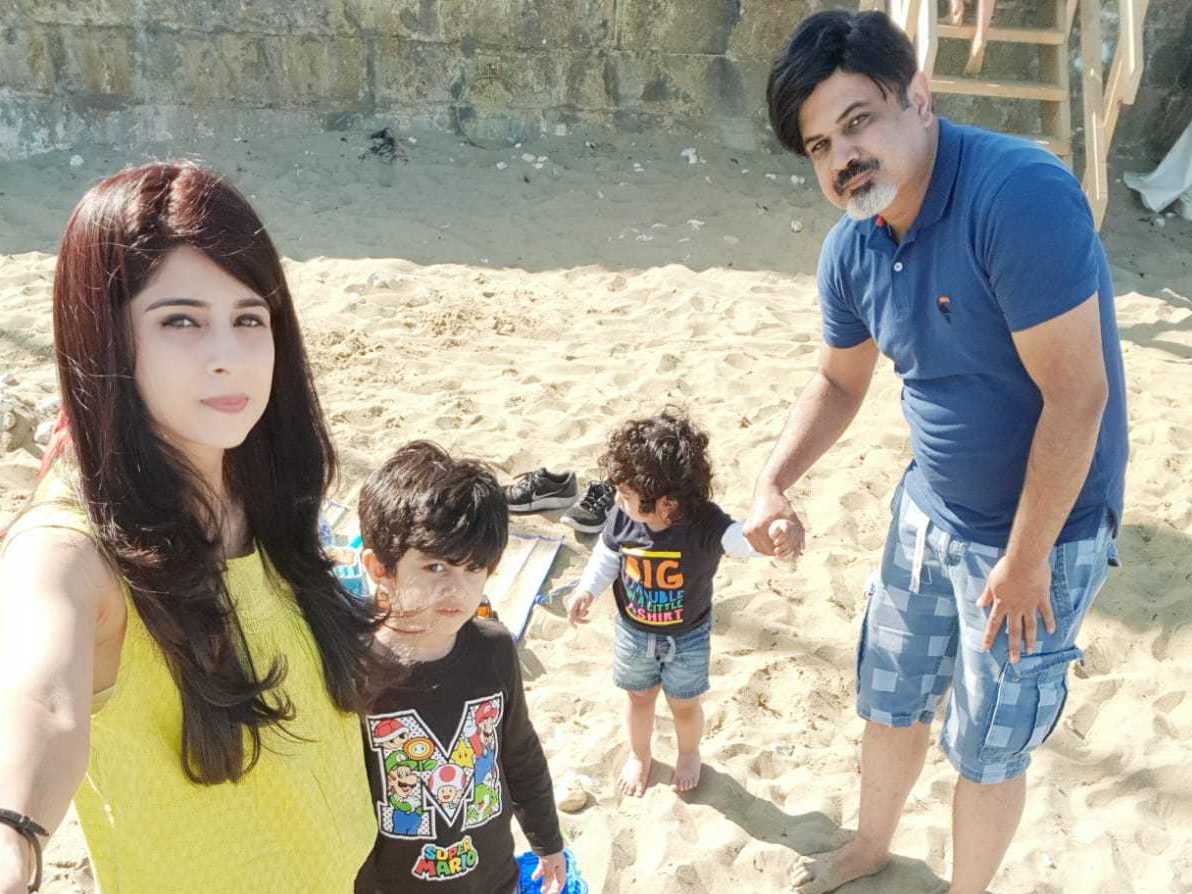 "I've always tried to comply with the regulations. I've never broken any rules. I don't have any civil or criminal conviction, not even a driving ticket," says father-of-two Farrukh Sair.
The NHS IT engineer, who has been working in hospitals throughout the coronavirus pandemic, has done his utmost to comply with Home Office immigration rules since arriving in the UK 17 years ago – but his attempts have wound up placing him at risk of removal from the country.
Farrukh's immigration history is a complex one, through no fault of his own. The Manchester resident been affected by two Home Office policies that were later found to be unlawful – and has been struggling to release himself from the restrictions they imposed on him ever since.
While he and his wife Saba currently have a temporary form of immigration status which expires in 2022, the Home Office has repeatedly refused to grant them indefinite leave to remain, making their future in the UK highly precarious.
"If I still haven't proven to them that I have established my links here, how else can I prove that? And how can I go back to a country that my kids don't know anything about?" says Farrukh, 40, whose children, aged seven and two, were both born in the UK.
Having arrived on a student visa in 2003, Farrukh started studying management at the University of Manchester and faced no issues for the first six years. The problems started when, after completing his masters in human resources management in 2008, he applied for a post-study work visa.
His application was refused on the grounds that he hadn't proven a continuous bank balance of £800 for three months – a new Home Office requirement at the time which he hadn't been made aware of.
With no in-country right to appeal against the decision, Farrukh returned to Pakistan in June 2009 and appealed it from there, but this was refused. He then applied again, from his home country, at which point he was granted the visa.
But while it was granted in November, his passport wasn't returned to him from Home Office until the end of January 2010, meaning his time out of the UK exceeded six months, constituting a "break" in his lawful residence in the UK – which would go on to cause him serious problems in the future.
The Home Office told The Independent their records show Farrukh's case was "put into storage" in December 2009, which they say means he will have received it that month.
"I went to Pakistan because I was trying to comply with the immigration rules, but because of this, my immigration status was affected," says Farrukh. "It hits you really hard when every time you try to comply with every single rule, you get penalised for being good."
A high-profile court case in 2010 found that the Home Office's requirement for applicants to demonstrate a continuous bank balance of £800 was in fact not part of the immigration rules because it was never put before parliament as all immigration rules must be – making the initial decision to refuse Farrukh the visa incorrect.
Farrukh wrote to the Home Office to explain that this erroneous decision had forced him to leave the country for more than six months, but received no response.
He continued his life in the UK, obtaining a job in banking administration in 2012. He married Saba in Pakistan and she soon joined him in Manchester. Their first child, Raem, was born in 2014.
That year, Farrukh applied for permanent settlement in the UK – known as indefinite leave to remain – which migrants can apply for once they have lived in the country for 10 years. But the Home Office refused him on the grounds that he had been out of the country and in Pakistan for more than six months in 2009.
He applied again the following year, this time explaining clearly that he was forced to leave the country due to an unlawful Home Office policy, but this was refused again for the same reason, and also due to an alleged error in his tax records, applied under a section of immigration law designed to remove people who pose a threat to national security.
Farrukh again tried to appeal this decision, but was unsuccessful, and in October 2018 he lost his right to work.
He decided to try apply for limited leave to remain, which would grant him two and a half years in the UK. This was initially refused but granted on appeal on the basis of his family life in 2019, meaning he could work again. However, he and his family had to survive a year with no income.
"This was the most stressful year of my life," says Farrukh. "One minute you're working, then suddenly you find out your application is refused and you're prevented from providing for your family.
"I didn't have recourse to public funds, so I couldn't ask for any government support. It was horrible. I had to pay rent, food, basic things for my kids, but we couldn't. Everything was really tight. I used all the credit cards and accumulated a huge debt.
"If it wasn't for family supporting me, I would have left UK within three months, because all my savings were gone within three months. But I stayed on and kept fighting for my kids."
In the same year, in another high profile judgment, the courts ruled that the Home Office's practice of denying people the right to remain in the UK on the basis of their tax records under the law designed to remove people who pose a threat to national security was "legally flawed", and that the department had failed to provide applicants with a fair opportunity to dispute the charge.
Farrukh applied for indefinite leave to remain again following this court case, in the hope that he would no longer be refused on this basis. However, despite the ruling, the Home Office refused him again on the basis of both his tax records and the eight months he spent outside the UK.
The refusal letter stated: "If you do not appeal you will be liable to enforced removal to Pakistan [...] You may be detained or required to report until removal."
A Court of Appeal judge ruled in 2019 that the Home Office's decision to refuse was "not proportionately justified" and that Farrukh's rights to family and private life outweighed the public interest in denying leave to remain.
The judge said: "Clearly someone who seeks to comply with immigration requirements and understands their importance. It does seem harsh upon him that he cannot meet the requirements of 10 years continuous residence in these circumstances."
However, the case was referred back to another court. Farrukh is now waiting to hear what is going to happen next.
"It's five years now since I applied for indefinite leave to remain and I'm still waiting for justice," he says. "I've been living in the country since 2003, with the exception of that eight months which is not my mistake, and I still have to prove to the Home Office that I have a right to be here.
Highlighting the role he has played in the UK's fight against coronavirus, he says: "I became a Covid support engineer. My responsibility was going to different Covid wards, installing all the computers, different software, providing support to users.
"I was dealing with 20 odd people every day – doctors, engineers. I was going to the Covid wards to install equipment. I was putting my and my family's life at risk.
"I wanted to serve at this time during the pandemic. I felt it was my responsibility to help and do my part for society, to support the doctors and specialists setting up their equipment and the Covid wards. When I'm then treated like this, it's really disheartening."
Because Farrukh hasn't been able to get indefinite leave to remain, which would have made his children eligible for British passports, he is now having to apply for visas for them – at a cost of more than £1,000 each, plus the NHS surcharge, which is £400 each per year. As he is an NHS contractor, rather than full-time NHS staff, he is not exempt from paying this charge.
This is on top of the more than £40,000 worth of debt he has incurred over the years on immigration applications and fees for barristers, solicitors and court fees. And if he isn't granted indefinite leave to remain, he will need to reapply for his and Saba's visas – plus the NHS surcharge – again in 2022.
"It will cost £10,000 to £12,0000 for family of four. I don't know whether I will be in position to afford that. And I have no idea if Home Office will grant me the visa," he says.
"All my pay now is going towards paying off all the loans and the credit cards from over the years. It's had a huge hit on my finances. I'm up to my neck."
The family's immigration status has meant they have been unable to travel: "In lockdown everyone was going crazy not being able to see their parents and their loved ones. The Home Office has kept me apart from my parents for five years. I desperately want to see my parents."
Home Office to carry out review of hostile environment following Windrush says Priti Patel
Farrukh adds: "For all these years, I have been giving, giving, giving. I haven't claimed a single penny of government money, because I'm not eligible to. I don't claim child tax benefits, I don't claim any housing benefits, or anything.
"I've paid hundreds of thousands of pounds in taxes. And I don't get any government support. Whatever I have to do, I have to do on my own. Everything has been hell for the last five years. Now I'm thinking, did I waste 17 years of my life giving back to this country?"
A Home Office spokesperson said: "All applications are considered on their individual merits in line with immigration rules. It is inappropriate to comment on this individual case while the appeal is outstanding."
Join our commenting forum
Join thought-provoking conversations, follow other Independent readers and see their replies