Asylum seekers at Penally camp accuse Home Office of ignoring repeated complaints over food and conditions
"I can no longer stand it," one asylum seeker told The Independent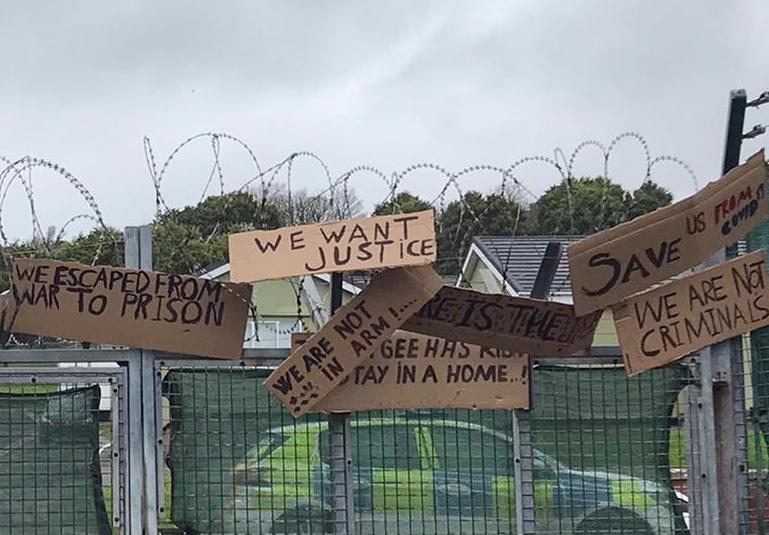 Asylum seekers housed at the Penally military camp in Pembrokeshire, Wales say they are growing desperate after having their repeated complaints over the food and conditions at the site ignored. 
For weeks, asylum seekers living at the camp have been raising concerns over the quality of the food provided on-site, as well as of having to live in cold and cramped conditions in the midst of a pandemic that has seen coronavirus case numbers soar to record-breaking numbers.
Speaking with The Independent on the condition of anonymity, one asylum seeker said he and others had made "dozens" of complaints to workers employed by Clearsprings Ready Homes, the short-term housing provider tasked by the Home Office with overseeing accomodations at the camp. 
Among those complaints have been concerns over poorly prepared food, with images previously obtained by The Independent and other outlets showing meals including poorly cooked boiled eggs and chicken with feathers still attached.
Yet, when The Independent contacted the Home Office about a new incident earlier this week in which asylum seekers found what they believed to be part of a large insect in one of the meals served on-site, a Home Office spokesperson said they were aware of "no complaints" about the food served to asylum seekers. 
"No complaints have been made to the Home Office nor the accommodation provider about food served to asylum seekers," they said.
When The Independent told the spokesperson the publication had seen video of an asylum seeker showing the container of food to an on-site worker, however, an updated response was provided.
"The accommodation provider has confirmed that this incident was brought to the attention of a member of staff and investigated," a different Home Office spokesperson said. 
However, they said that what asylum seekers suspected of being an insect was "found to be a burned vegetable".
A spokesperson for Clearsprings Ready Homes directed questions about the incident to the Home Office.
Both asylum seekers and local volunteers who have been assisting them since their arrival at Penally have said they are still convinced the object was an insect.
One asylum seeker told The Independent that they felt "terrible, sick and disgusted" upon seeing the object in the dish.
Meanwhile, Hellana Hetfield, a local volunteer and member of Stand Up to Racism Wales, said she thought the Home Office's statement was "absolutely insane".  
"That's no more a burnt vegetable than I am," she said.
She and other local volunteers have also said they have raised complaints with the Home Office and local members of government.
Just days after the incident, The Independent was sent another image of a salad dish that asylum seekers said had been contaminated with a small fly.
Last week, The Independent reported that one asylum seeker at the camp had to be taken to hospital last month after fainting after refusing to eat the food provided on-site as part of a hunger strike. 
Within a two-week time span, another asylum seeker at the camp received attention from paramedics after also feeling ill after refusing to eat the food.
Meanwhile, asylum seekers have repeatedly flagged concerns around the lack of social distancing at the camp, where men are made to share dorm rooms and use common room facilities with where they say social distancing measures cannot be enforced.
In one image shared with The Independent of the TV room at the facility, more than a dozen people can be seen sitting in close proximity, some without wearing face masks.
Asylum seekers further say that their dorm rooms are often cold, with heating systems occasionally faltering and in at least one instance taking days to repair.
Previously, the Home Office has told The Independent that the government is providing asylum seekers in Penally with "covid-compliant and weather-proof acommodation along with free nutritious meals, all paid for by the taxpayer".
"Penally Training Camp was previously used to accommodate military personnel and has since had a full renovation of its heating system," the agency said just last week.
The agency said that anyone with issues with a particular meal should flag their concerns to kitchen staff and can also complain through a 24/7 helpline. 
Asylum seekers say they have done that - repeatedly, however. And yet, they say there appear to have been no changes with the kitchen staff, meal provisions or with the living conditions at the camp.
"I can eat anything that is clean and well-cooked," an asylum seeker said. "The kitchen workers and administration deal with us with such hate, I can no longer stand it."
Join our commenting forum
Join thought-provoking conversations, follow other Independent readers and see their replies