Someone becomes street homeless in London almost every two hours as rough sleeping hits record high
Data shows more than 2,000 people slept rough for first time in capital during three months to October 2019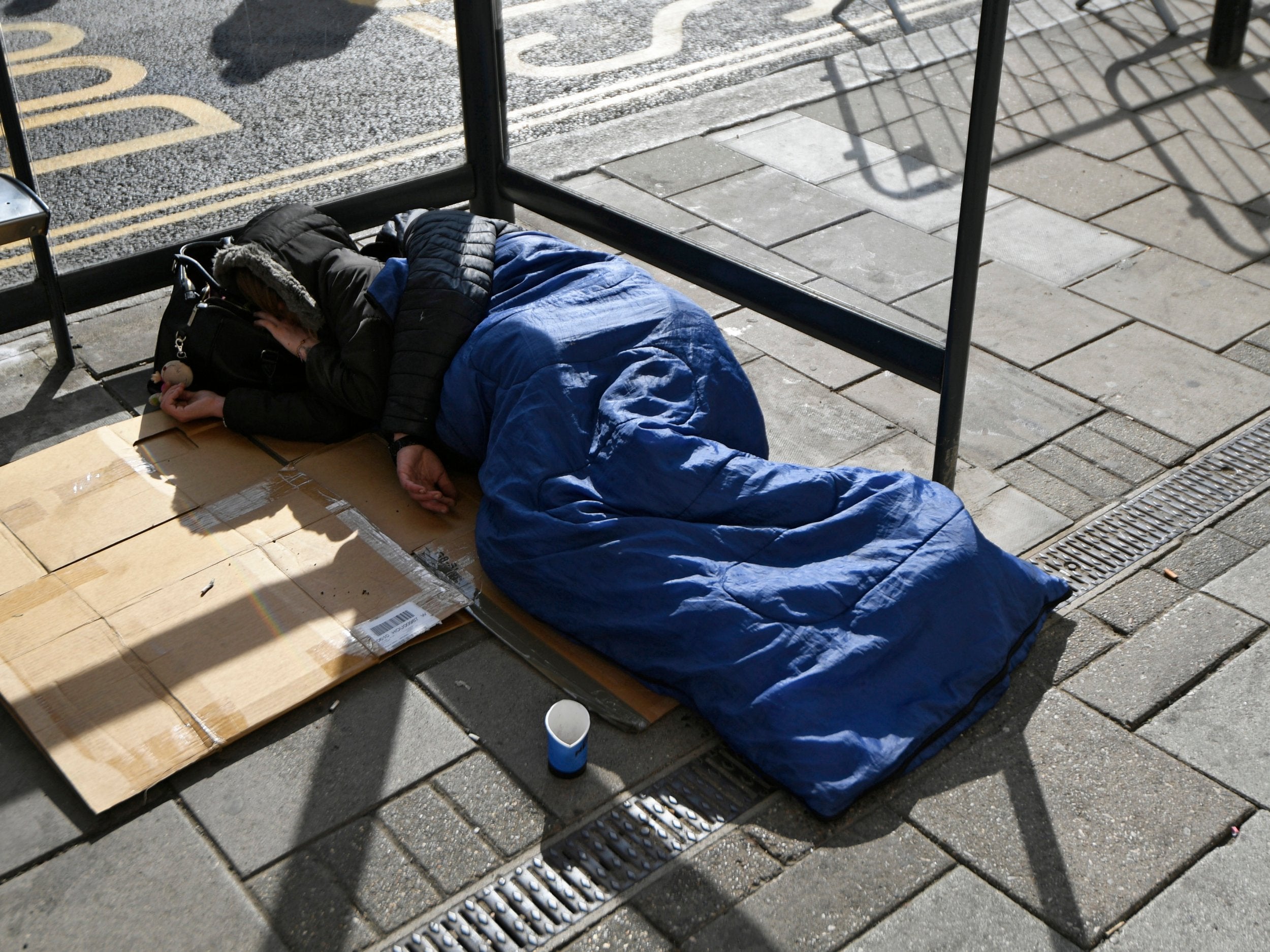 The number of rough sleepers in London has surged to a record high, with around 22 people now sleeping on the streets for the first time each day, new figures suggest.
Data collated by the Combined Homelessness and Information Network (CHAIN) shows 3,985 people slept rough across the capital from July to September 2019, 28 per cent increase on the same period last year.
The figures show that 2,069 people were new rough sleepers, a rise of 50 per cent in 12 months, meaning someone is becoming homeless 22 times a day and nearly every two hours.
Of rough sleepers on the capital, 18 per cent – more than 700 – were women, while half (49 per cent) had a mental health need, according to the data. Just over half (52 per cent) were non-UK nationals.
Chief executive of Crisis, Jon Sparkes, said the numbers were "simply unforgiveable", and that conditions were being made worse for many people due to the Vagrancy Act, which makes it a crime to sleep rough or beg.
"This inhumane treatment cannot go on. It's crucial that all parties commit to scrapping the Vagrancy Act so that we can see the back of this law once and all," Mr Sparkes said.
"Because in 21st century Britain no one should be criminalised because they don't have a safe place to call home."
Howard Sinclair, chief executive of St Mungo's, said the figures on rough sleeping were a "national scandal" and showed the "uphill battle" that homelessness charities were facing.
"To learn that more than 20 people slept rough for the first time each night in London over the summer brings the scale of the issue into sharp focus," he added.
The Stats: Homelessness in the UK
Show all 10
"We also know more people are dying whilst homeless and that council funding cuts and welfare reform have reduced the help available for people in this desperate situation."
Mr Sinclair blamed the "failure of successive governments to tackle the systemic causes of homelessness", adding: "Charities can't tackle this alone and we urgently need the government to take bold action and a longer-term view."
Imogen Farhan, said, researcher at think-tank Reform, said the spike in rough sleepers across London showed that the Homelessness Reduction Act and the Rough Sleeping Strategy, which were meant to bolster efforts to prevent homelessness, had failed to do so in the capital.
She said this was the result of an absence of long-term funds for council services, and that the situation was being exacerbated by the shortfall between housing benefit and the actual cost of renting, which exceeds £100 per month.
A spokesperson for the ministry of housing, communities and local government said: "It is simply unacceptable that anyone should be sleeping on the streets in modern Britain – this does not reflect the country we should be.
"Nationally the number of people sleeping on our streets has fallen for the first time in eight years but there is still much more to do. In London we've given councils £24.5m under our Rough Sleeping Initiative to enhance and develop their ability to tackle rough sleeping."
Join our commenting forum
Join thought-provoking conversations, follow other Independent readers and see their replies