Britain's most poverty-hit areas have nine times greater rate of homeless deaths, figures show
Manchester worst affected with 21 homeless people dying early in 2017 alone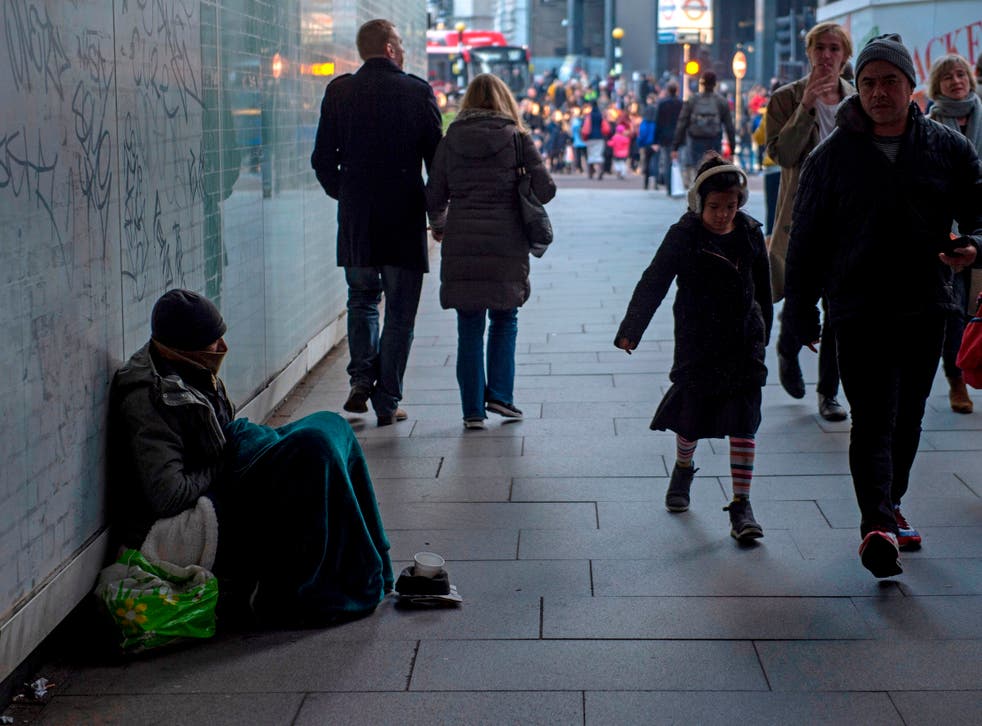 Britain's most poverty-afflicted areas have nine times the rate of deaths among homeless people than its most affluent, according to new statistics that for the first time reveal the places in the country are worst affected.
Data published by the Office for National Statistics (ONS) show 574 homeless people were recorded to have died in urban areas in 2017, compared with just 26 in rural areas.
Manchester was worst hit, with 21 deaths recorded over the 12-month period, while Birmingham and Lambeth suffered 18 and 17 respectively.
Campaigners said the figures highlighted that in order to reduce the number of homeless deaths, "root causes" – such as access to housing, mental health support and drug and alcohol services – must be tackled.
The ONS records deaths among people sleeping rough or using emergency accommodation such as homeless shelters and direct access hostels.
The Stats: Homelessness in the UK

Show all 10
It comes after the first ever government figures to track homeless deaths revealed a 24 per cent increase over the past five years, with nearly 600 homeless people dying last year in England and Wales.
More than half of all deaths of homeless people in 2017 were due to drug poisoning, liver disease or suicide and some 84 per cent of those who died were men.
The average life expectancy for homeless people was found to be 44 years for men and 42 years for women, compared with 76 and 81 for the general population of England and Wales in 2017.
Charities recently criticised government claims that the number of people sleeping on the street had dropped to 4,677 from 4,751 the year before, as it emerged homeless shelters across Britain were reporting unprecedented demand.
Chief executive of Crisis Jon Sparkes said the figures were "shameful" when homelessness is "entirely preventable" and called on the government to ensure local authorities, particularly in the most deprived areas, had the appropriate funding to conduct reviews into the death of every person who has died while homeless.
He added: "They must also make sure that when people do become homeless, they are rehoused quickly, and with the support they need to keep their homes, whether it's help to find employment, mental health support or drug and alcohol services.
"Ultimately, we must stop these tragedies from happening year after year. Homelessness can and must be ended, but only if the root causes are tackled."
Polly Neate, chief executive at Shelter, said the rise in homeless deaths was a "direct consequence of a broken housing system" and urged that the latest figures should be a "wakeup call".
"When more and more people have no choice but to sleep on the street, we see the absolute sharpest end of the housing emergency," she added.
"Unstable and expensive private renting, welfare cuts and a severe lack of social housing are fundamentally at the root of this crisis … To prevent more people being pushed into homelessness, the government must ensure housing benefit can cover rents, and urgently ramp up building social homes."
Ben Humberstone, from the ONS, said: "Today's findings show a real contrast between areas in terms of where homeless people are dying. Every one of these deaths is a real human tragedy and understanding where these deaths occur is particularly poignant.
"While the worst affected areas change from one year to the next, the figures show that the deprivation level of an area has a real impact."
Communities secretary James Brokenshire said it was unacceptable that people were dying on the streets, adding: "That's why we are investing £1.2bn to tackle homelessness and have bold plans backed by £100m to end rough sleeping for good.
"Councils have used this funding to create an additional 1,750 beds and 500 rough sleeping support staff – and figures published last month show this investment is already starting to have an effect with the number of people sleeping on our streets falling for the first time in eight years.
"I am also committed to ensuring independent reviews into the deaths of rough sleepers are conducted, where appropriate, so that important lessons are learned – and I will be holding local authorities to account in doing just that."
Join our new commenting forum
Join thought-provoking conversations, follow other Independent readers and see their replies