Number of homeless families in England up 11% in a year, figures show
Children living in temporary accommodation, such as B&Bs and hostels, also surges to 13-year high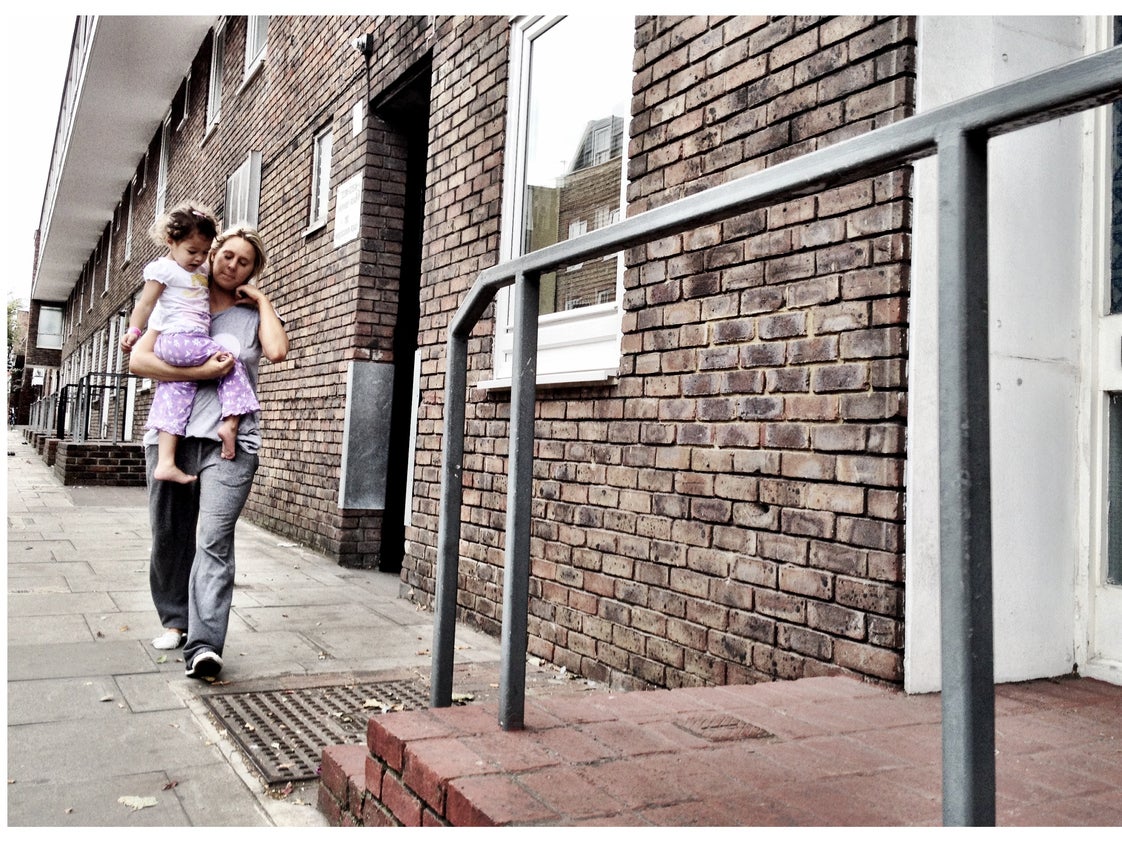 The number of families considered homeless in England has surged by 11 per cent, with a household found to be without a home every four minutes, according to new figures.
Government data shows in the first three months of this year, there were 25,130 families with children identified as homeless, compared with 22,700 the previous quarter.
The number of children living in temporary accommodation, such as B&Bs, hostels and council-owned properties, meanwhile hit a 13-year high at 126,020, up 83 per cent since its the lowest point in June 2011.
Campaigners said the rise in homeless families was the result of "cripplingly expensive" private rents, frozen housing benefits, and lengthy waiting lists for social homes.
They said the Homelessness Reduction Act (HRA) 2017, which came into force in April 2018 and a duty on housing authorities to intervene earlier to prevent homelessness, was having some affect but that the government needed to do more to tackle the housing crisis.
Dr Luke Heselwood, senior researcher at Reform, said the rise in homeless families was "damning", adding: "Although the number of people who have secure accommodation has also risen, it does not meet demand.
"Too many people are stranded in temporary accommodation, which is insecure and costly to the taxpayer. Short-term thinking and funding has blighted homelessness services."
He said while the £54m increase in funding announced in the government's recent spending review was "welcome", it would only be a short-term fix to "firefight" an issue which requires long-term solutions.
Jon Sparkes, chief executive at Crisis, said the HRA had "potential", but that it could "only go so far when people are being pushed to the brink, struggling to meet the cost of housing".
He added: "The government needs to tackle the root causes of this issue – investing in building more social housing and restoring Local Housing Allowance (LHA), so that it covers the true cost of renting."
Polly Neate, chief executive at Shelter, said "cripplingly expensive" private rents, frozen housing benefits, and lengthy waiting lists for social homes were "pushing people to the sharp edge of a housing emergency which won't go away without genuinely affordable homes".
The Stats: Homelessness in the UK
Show all 10
She said: "During a year where Brexit negotiations have totally dominated the political agenda, catastrophic numbers of people have become homeless.
"While the housing crisis is out of the spotlight, families with young children are trapped in grim temporary accommodation like B&Bs and shipping containers, and young people feel the damaging effects of growing up in a housing emergency."
The Local Government Association's housing spokesman, Cllr David Renard, said a lack of affordable housing had left many councils struggling to cope with a rising number of people coming to them for help, and were having to place more families and households into temporary and emergency accommodation as a result.
"Councils need powers to invest in new homes for those that need them. We need urgent reform to the Right to Buy scheme, which enables councils to keep all sales receipts and set discounts locally," he added.
"Government also needs to adapt welfare reforms to protect families at risk of becoming homeless."
Regarding the rise of children in temporary housing, a government spokesperson said: "Every child should have somewhere safe to live, and councils have a duty to provide temporary accommodation to those who need it, including families with children.
"We're supporting them to reduce the numbers in temporary accommodation by giving £1.2bn to tackle all types of homelessness."
On the increase in families identified as being homeless and in need of support, the minister for homelessness Luke Hall said it showed "progress was being made", adding: "There is still more to do though, which is why we have committed a record investment to ending homelessness and rough sleeping for good."
Join our commenting forum
Join thought-provoking conversations, follow other Independent readers and see their replies