Rough sleepers denied access to healthcare, pushing them into 'repeat cycles of homelessness', study says
One homeless man tells researchers he committed crimes just to go to prison so he could access healthcare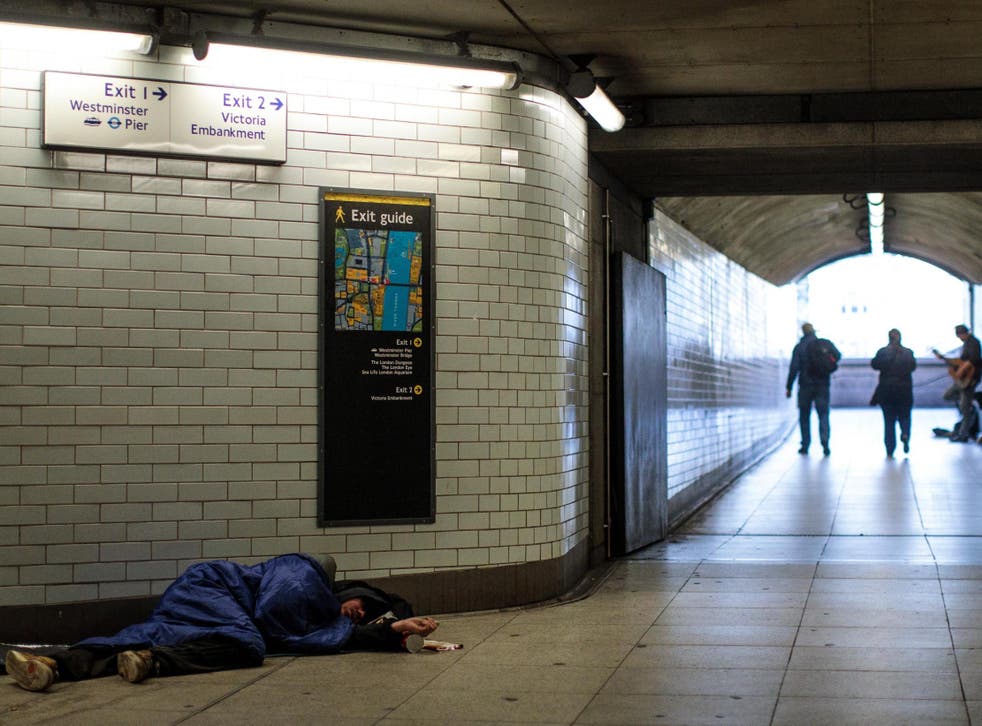 Homeless people are being denied access to basic healthcare, according to research which suggests "perceived stigma and discrimination" in health settings are pushing people with no fixed abode into "repeat cycles of homelessness" and causing "unnecessary deaths".
A study by researchers at the University of Birmingham found homeless people were being denied registration at GP surgeries and discharged from hospital onto the streets with no referral to primary care providers.
Mental health and substance misuse services were also deemed to be excluding those with the greatest need, with entry thresholds to these services said to "actively obstruct" patients who were self-harming, including those with recent suicide attempts.
One 34-year-old man said he had gone as far as committing crimes with the intention of going to prison to access healthcare, telling researchers: "I wanted to come off alcohol that bad they said it was killing me – but they didn't have funding until April ... I got self-sent to prison for three weeks so they could help detox me."
The study, based on 22 interviews with homeless adults across four sites shelters, found that participants reported inequality in access in mainstream health services, with most facing negative experiences.
Most identified the absence of a "fixed abode" as the largest barrier to registering at a mainstream general practice where both proof of address and photo identification were often requested by the frontline staff.
While some already had a GP after registering before they became homeless, and some relied on friends and relatives for supply proof of address, some mentioned that there was "no way" of getting a general practice registration when sleeping rough.
People with mental health conditions and substance misuse said they had been told they were not able to receive support until they addressed their substance misuse issue, placing them in a "vicious cycle".
One 24-year-old man told researchers: "If you're on the alcohol or drugs they won't touch you because they think you're too high of a risk ... You shouldn't be using [recreational drugs] to self-medicate, but when you don't have access to the services what else are you meant to do?"
Participants also gave accounts of how poor transition of care between health and social services can perpetuate the cycle of homelessness, with one describing being discharged onto the streets, despite making staff aware of their living circumstances.
Half of participants reported attending A&E in the 12 months preceding interviews, with many saying this was due to long waiting times and difficulty travelling to the GP surgery. Others said finding a local practice was not easy given their lack of access to the internet and their unstable living arrangements.
The findings come amid a surge in rough sleeping in England, with government figures showing the number of people sleeping on the streets has increased by 165 per cent in the past eight years.
The Stats: Homelessness in the UK

Show all 10
Senior lecturer Dr Vibhu Paudyal, of the University of Birmingham's school of pharmacy, said: "Perceived stigma and discrimination in healthcare settings seems to be even more persistent and shows how much work needs to be done to make primary care more inclusive for homeless people.
Dr Paudyal explained that while specialist healthcare services that had been established across the country offered these patients some comfort, exclusion from healthcare pushed some into "repeat cycles of homelessness".
"Improving access and inclusivity and prevention work particularly during an earlier stage in the homelessness cycle is the only way forward to alleviate the health impact of homelessness, its repeat cycle, and thereby to minimise homeless people's use of emergency department admissions and prevent unnecessary deaths," he added.
Jon Glackin, founder of homeless support group Streets Kitchen, said he saw "far too many" sick people accessing on the streets, including people who had "just been discharged from hospitals in the very pyjamas and gowns they wore whilst a patient".
He added: "Many are also wrongly turned away from GP surgeries and cannot access health services which means many minor ailments soon turn into major life-threatening problems for homeless people.
"We really need to urgently address making access to healthcare for those without a permanent address much simpler to simply save lives, and much more improved aftercare."
Labour's shadow housing minister Alex Cunningham said: "For too long, ministers across government have failed to understand the homelessness crisis they have created and how homeless people are excluded from the most essential of services like healthcare.
"It is time they recognised the impact their policies are having on homeless people and ensure not just that our over stretched NHS has the resources it needs to care for them – but also to ensure they know how to access them."
An NHS spokesperson said: "A NHS spokesperson said: "NHS services are available to all, and the NHS is going to be spending up to £30m more on special services for homeless people."
Join our new commenting forum
Join thought-provoking conversations, follow other Independent readers and see their replies