Homeless man 'with nowhere else to go' dies on floor of packed London shelter on Christmas Eve
'He was somewhere warm and dry with people who cared. At least he wasn't out on the street'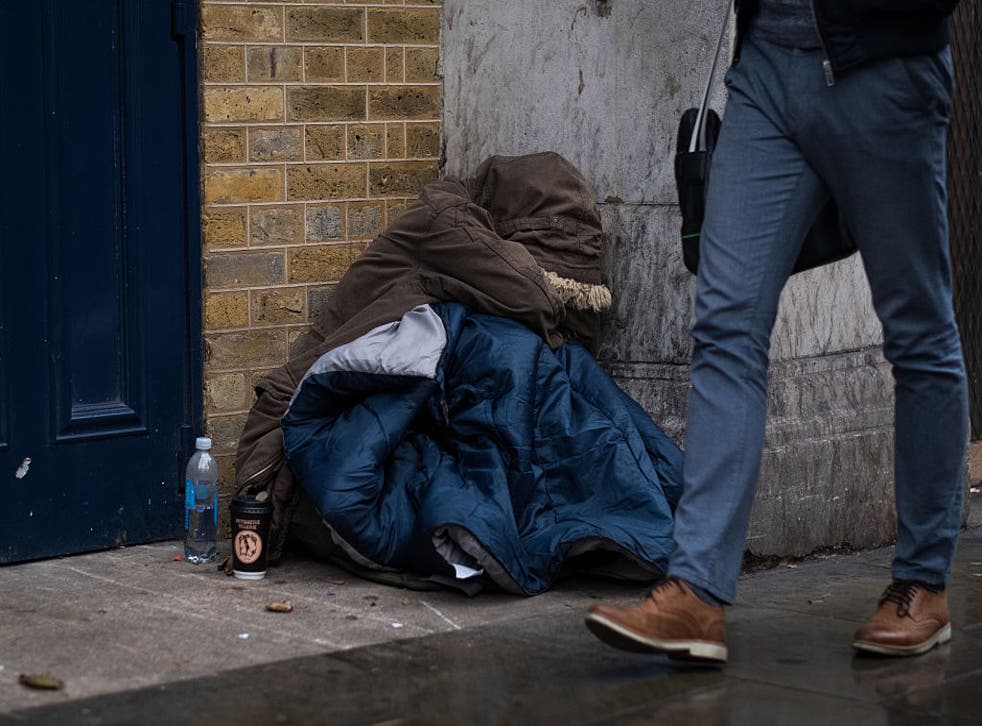 A homeless man died on the floor of a packed shelter on Christmas Eve, a charity has revealed.
The man, called Christopher, reportedly died from "natural causes" at a homeless shelter in London after fellow guests alerted staff at around 11am.
Ros Ponder, a worker for homelessness charity Crisis, described the incident in a Facebook post and said the man had been left with "nowhere else to go".
"On Christmas Eve a guest died in our homeless shelter. He lay down under a blanket on the floor in the sleeping area and never got up again," she wrote.
"In breaking the news to our volunteers and guests I said that it was a gentle death. He died of natural causes. The paramedics, police, fellow guests and volunteers did everything they could to keep him alive and respect his dignity.
"He was somewhere warm and dry with people who cared. At least he wasn't out on the street."
Ms Ponder said she was left "bloody angry" that the man, who was in his sixties, took his "last breath in a place like this - on the floor of a sports hall, in a makeshift dormitory shared with 130 other people who had nowhere else to go."
Jon Sparkes, chief executive at Crisis, confirmed "with great sadness" the man's death.
"Christopher, a man in his sixties, died peacefully in his sleep at a Crisis at Christmas centre in London, where he'd been receiving hot food, warmth and companionship," he told the Evening Standard.
"Fellow guests raised the alarm with volunteers at around 11am. Staff immediately called paramedics who arrived swiftly and did everything they could to save his life.
Theresa May appears to downplay seriousness of homelessness that is not rough sleeping
"However, Christopher was tragically pronounced dead from natural causes.
"Christopher died peacefully, in a warm and safe environment under the care of our staff and volunteers."
Ms Ponder, whose Facebook post has been shared more than 24,000 times, compared the incident to "living in Victorian times".
She wrote: "We're a nation that spends more than £78bn on Christmas food, gifts and parties... and yet more and more people are living on our streets - curled up in doorways, on buses, park benches, even in dustbins."
The causes of homelessness

Show all 7
The charity worker urged more people to donate to homeless charities and to "shout at your local MP" in 2018.
"Let's all try a bit harder to put an end to this s**t," she added.
According to housing charity Shelter, more than 300,000 people - equivalent to a city the size of Newcastle – are now categorised as homeless in Britain.
The study found 307,000 people, or one in every 200, are now either sleeping rough or in temporary accommodation.
Register for free to continue reading
Registration is a free and easy way to support our truly independent journalism
By registering, you will also enjoy limited access to Premium articles, exclusive newsletters, commenting, and virtual events with our leading journalists
Already have an account? sign in
Register for free to continue reading
Registration is a free and easy way to support our truly independent journalism
By registering, you will also enjoy limited access to Premium articles, exclusive newsletters, commenting, and virtual events with our leading journalists
Already have an account? sign in
Join our new commenting forum
Join thought-provoking conversations, follow other Independent readers and see their replies