Homeless Manchester attack hero who pulled nails from childrens' faces pictured back on streets
West Ham owner David Sullivan says he is still helping set up Stephen Jones in a flat, as promised
Rachel Roberts
Monday 12 June 2017 23:16 Comments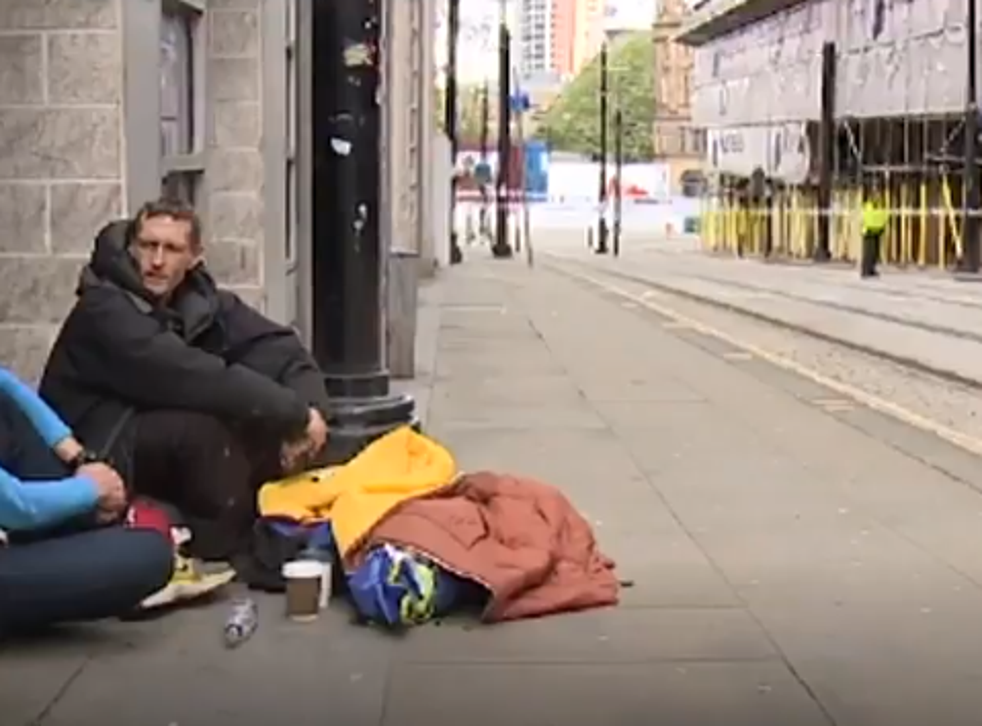 The boss of West Ham has insisted he is still helping to house a homeless "hero" of the Manchester terror attack after he was photographed apparently back on the streets.
West Ham co-owner David Sullivan pledged to set up Stephen Jones in a home for six months after the homeless man ran towards danger to help victims following the explosion at the Ariana Grande concert at the Manchester Arena.
There were calls for the 35-year-old to be immediately housed by the council after he pulled nails from the faces of injured children in the chaotic aftermath of the bomb, detonated by terrorist Salman Abedi.
But just three weeks after his heroic actions, Mr Jones has been photographed with a sleeping bag and his belongings on the street in central Manchester.
After Mr Jones gave an interview on This Morning, the son of West Ham owner David Sullivan appeared on the show and vowed to help Stephen get back on his feet.
The son of Mr Sullivan, who co-owns the Hammers, said his father is in the process of getting Mr Jones into a suitable flat and that he is temporarily staying in hostels.
Manchester explosion in pictures

Show all 37
David Sullivan Junior told The Sun: "Steve has been in a hotel for a little while whilst we wait for him to choose his accommodation.
"We aim to have a tenancy agreement in place by the end of the week, and I am going up to Manchester to visit him on 1 July."
Mass murderer Abedi killed 22 people and injured 119 when he detonated his nail bomb as thousands left the concert on the evening of 22 May.
Mr Jones had been sleeping nearby and recalled scenes of carnage as children and adults began flooding out of the arena covered in blood.
Mr Sullivan Jr appealed on Twitter for help in finding Mr Jones, saying "me and dad want to rent the homeless man in Manchester a house for 6 months. If anyone can help us get in touch much much appreciated. Such a selfless act needs rewarding. Please tag anyone who can help us."
The pair were soon able to track Mr Jones down with the help of a Manchester homeless centre.
Mr Jones expressed his gratitude to members of the public who donated money for him, saying he was "overwhelmed".
He confirmed he had been in touch with Mr Sullivan: "We've been having a chat and stuff. He said that he would pay me for six months on a place here, if I find a private landlord.
"Next season when United play West Ham or City he's going to have me as his guest of honour in his box or fly me down to London to watch it there.
"I want to stay here in Manchester. I've had lot of calls from people who have set pages up for me get me own place.
"I've got no family but my nana. She had a male friend who I want to stay near and with. This is why we love Manchester the support that everyone gives. It's incredible."
Mr Sullivan Jr has taken to Twitter today to defend his father from accusations that he has broken his promise to help Mr Jones.
He shared a recording of a telephone conversation he had with Mr Jones, urging him to explain that he is "not homeless... as some of the papers have been reporting?"
Mr Jones tells Mr Sullivan that "things don't just happen overnight".
"I've addressed my drug problem and now I'm addressing my housing problem.
"The housing association wanted my birth certificate and all that… people need to realise it takes time, things don't just happen overnight ... but I am getting help."
Register for free to continue reading
Registration is a free and easy way to support our truly independent journalism
By registering, you will also enjoy limited access to Premium articles, exclusive newsletters, commenting, and virtual events with our leading journalists
Already have an account? sign in
Join our new commenting forum
Join thought-provoking conversations, follow other Independent readers and see their replies