Hundreds of homeless people given one-way tickets to other areas by their local councils
Charities accuse councils of 'passing the buck' to transfer responsibility to other areas 
Lizzie Dearden
Home Affairs Correspondent
Tuesday 17 October 2017 18:14 Comments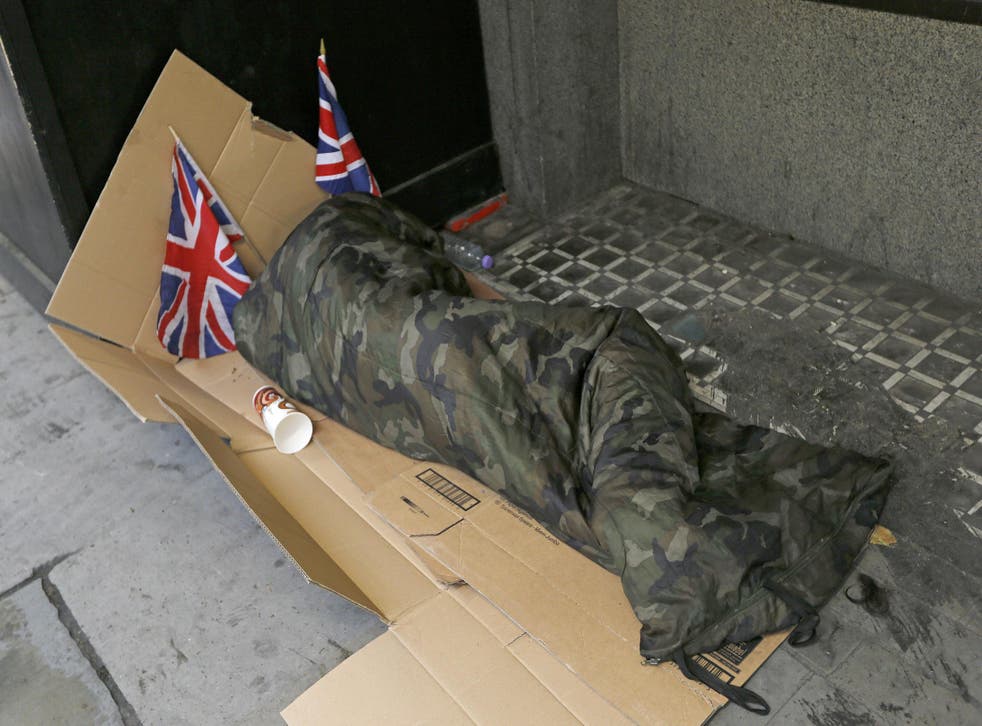 Councils have been accused of "passing the buck" on homelessness by giving rough sleepers one-way train tickets out of their areas of responsibility.
Local authorities argue the practice, used hundreds of times and costing thousands of pounds in recent years, is part of "reconnection policies" aiming to help people voluntarily return to areas where they have family, friends and support networks.
Homeless Link, an umbrella group for charities working with rough sleepers, said the "worrying" trend of one-way tickets was not a solution.
"Local authorities should not be sending people across the country unless it is to an area that they have a connection to and will be safe in, and there is a plan in place to support them when they arrive," chief executive Rick Henderson told The Independent.
"Simply displacing rough sleepers without offering support is not solving the issue, and at worst can exacerbate their situation, leaving them more isolated and at risk of deteriorating physical and mental health."
Mr Henderson said that while there can be legitimate reasons, like domestic violence or links to gangs, for a homeless person to want to move their individual needs must be taken into account.
"If the person does have a support network or is entitled to access services and accommodation in a different area, then helping reconnect them to these can help to end their rough sleeping," he added, urging councils not to seek a "quick fix" under pressure from tight resources.
Three teenagers shown on CCTV giving homeless man duvet
Crisis said reconnection policies must not be used to "pass the buck" to other local authorities.
Matt Downie, the charity's director of policy and external affairs, said: "Reconnection can be a way for homeless people to return to their family and friends and a chance for them to rebuild their lives. But buying one way train tickets for people mustn't become a way to pass the buck.
"Homeless people deserve better than to be moved on without the appropriate support."
The most recent annual survey carried out in England found there were 4,134 people sleeping rough across the country on any one night, although campaigners believe the real number is far higher because councils can provide estimates rather than headcounts.
There were 4,134 people sleeping on the streets in England in 2016 - a 130% rise in six years, government figures suggest. The charity Crisis says this is a significant underestimate.
London, Birmingham and Manchester are the main hubs but the seaside resort of Bournemouth is not far behind according to official figures.
The cities are among those practicing "reconnection policies", which are intended only for people who want to leave the area but have been allegedly offered to some rough sleepers unwilling to leave.
Freedom of information requests from the BBC to councils with the highest number of rough sleepers in England showed that 10 out of the 11 who replied were buying one-way tickets.
In pictures: End Youth Homelessness Sleep Out

Show all 16
Manchester City Council has spent almost £10,000 on the initiative over six years but said it did not keep a record of how many people this involved.
Bernard Priest, the council's deputy leader said the measure is only used "if it helps them to get back into settled accommodation in a community they recognise as their home".
"We always offer support to anyone who is genuinely homeless.," he added.
"For some people, who want to go back to their home town or city where they have a connection to family and friends, we will always offer support and only with their agreement will we offer to buy a train ticket home as many don't have the means to do this. "
Bournemouth Borough Council recorded 144 "reconnections" in three-and-a-half years.
Caroline Roundhill, its housing strategy and policy manager, said: "Our priority is to ensure that anyone found rough sleeping in Bournemouth is provided with the most appropriate help and support to move off the streets.
"We operate a Reconnections Policy, as do most local authorities, which involves reconnecting rough sleepers who have no local connection to Bournemouth.
"However, this would never just be about returning someone home on a one-way train journey.
"It is a planned package delivered by our rough sleeper team to connect people to where they have accommodation options and can access suitable support, liaising closely with other local authorities."
But one rough sleeper who has lived in Bournemouth for his whole life claimed he was recently offered a ticket to Manchester despite having never visited the city or met anyone from there.
"It made me feel sick," Gareth Glendall-Pickton told the BBC. "I've lived here all my life... it's soul-destroying.
"I think basically what they're trying to do is get all the homeless people out of Bournemouth."
The council would not respond directly to his claim but said individual cases were "very complex in their nature".
Bristol City Council has also "reconnected" 167 people since the end of 2014, including 65 who were given tickets to leave the UK.
A spokesperson said the offer was only made when it was "identified as the best route off the streets" and safe accommodation had been confirmed.
Council workers discuss the person's options with them and relatives, before buying a bus, train or even plane ticket.
Exeter City Council has also spent £4,651 moving 107 rough sleepers over two-and-a-half years, saying that an option to discuss housing options was set up with their new local authority "as a minimum".
London's boroughs have not provided a breakdown but Alison Butler, the deputy leader of Croydon council, told the BBC's Victoria Derbyshire programme rough sleepers are mostly moved within the capital.
"London is quite different because we as local authorities so our borders but other people don't recognise them," she added.
"We would only reconnect people if they want to be there and you have to put support in place."
The debate comes ahead of the Government's new Homelessness Reduction Act, which will place more responsibility on local authorities to prevent homelessness when it comes into force in April.
The Department for Communities and Local Government said £550m was being invested until 2020 to tackle the phenomenon, adding: "Even one person without a roof over their head is too many.
"There's more to do to make sure people have a secure home to call their own and Ministers will set out further plans shortly, including delivering on our commitment to end rough sleeping."
Measures include "trailblazer"projects in selected areas that will work in better coordination between health, housing and employment services, as well as grants for projects working with rough sleepers.
Register for free to continue reading
Registration is a free and easy way to support our truly independent journalism
By registering, you will also enjoy limited access to Premium articles, exclusive newsletters, commenting, and virtual events with our leading journalists
Already have an account? sign in
Join our new commenting forum
Join thought-provoking conversations, follow other Independent readers and see their replies