Homeless sleeping rough in Oxford ordered to remove possessions from doorway or face fines of up to £2,500
Notices issued by Oxford City Council under controversial Public Space Protection Order (PSPO) warn rough sleepers they could be prosecuted for 'unreasonable' conduct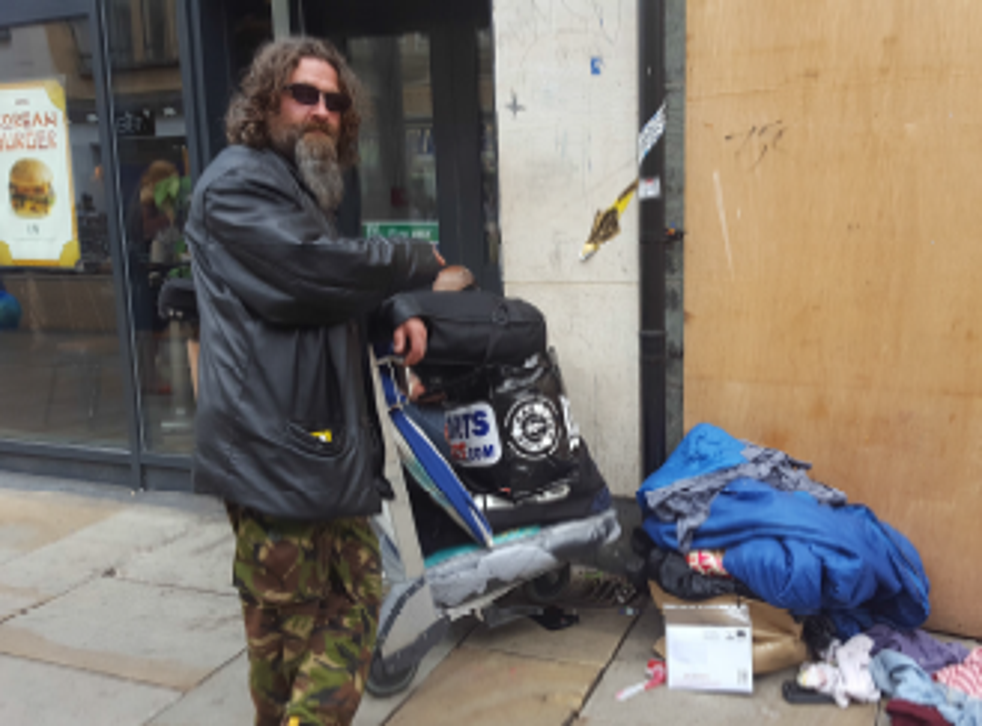 Rough sleepers in Oxford have been warned they must remove their possessions from doorways or face fines of up to £2,500.
Community protection notices were placed on homeless people's possessions last week, ordering that they must remove their belongings or be prosecuted for "unreasonable" conduct.
The notice, issued under the legislation designed to tackle anti-social behaviour, accused rough sleepers of "causing an obstruction [...] that may constitute a hazard" and leaving their belongings unattended on any land that is "not rightfully" theirs without written permissions from the land owner.
It warned that if people with no fixed abode failed to comply by the following morning they would be committing an offence which could lead to court action and a maximum fine of £2,500.
Oxford City Council said the presence of the bags was blocking fire escapes in a particular part of the city and therefore posing a risk to those working inside, saying lockers are available for homeless people to store their belongings.
But local Green Party Councillor David Thomas told The Independent the rough sleepers affected struggled to find a viable alternative, with only a "limited" amount of storage space currently provided by the council.
He claimed using legislation designed to prevent anti-social behaviour against homeless people was a "disproportionate" use of the council's power.
"That legislation is designed to tackle anti-social behaviour, not to harass the homeless over their bags. It's disproportionate power. People get confused between the definitions of annoying and anti-social," said Mr Thomas.
"Homeless people affected told me they understood it was a safety issue, but they don't have a viable alternative on where to store their things. In the local night shelter there's very limited lock up space, but nowhere near enough to give people dignity.
"A few months ago the council did start a discussion about providing more lock-up space, but nothing has happened since."
The action follows a controversial Public Space Protection Order (PSPO) introduced in 2015, which was designed to tackle "persistent types of anti-social behaviour". It has been condemned for its frequent use in targeting the homeless.
Mr Thomas said that amid growing rates of homelessness in the city, such orders against rough sleepers failed to tackle the root of the problem.
"Oxford City Council has a history of using anti-social legislation against rough sleepers. They're a bit quick off the mark, and this is a very easy piece of legislation for the council to administer," he said.
"Homelessness is a rising problem in Oxford, and the true figures are often underestimated. It's a bit like a cat and mouse game, the council keeps moving them on and it's a waste of time and resources."
Claire Dowan, chief executive of local charity Oxford Homeless Pathways, which works with a number of rough sleepers in the area, said viewing homelessness in the city from an "anti-social" perspective failed to look at the "root causes".
"My questions is: why are these dispersal orders needed? We're talking about a very vulnerable client group, and what needs to be addressed is how we can accommodate and care for them and address some of those social issues," she told The Independent.
"It should be about the root causes. We're looking at vulnerable people who often don't have any alternative and need help. If you look at homelessness from the perspective of anti-social behaviour, you aren't looking at the real issues behind it."
UK news in pictures

Show all 50
In a statement, Oxford City Council said: "Bags had been left blocking fire escapes in Cornmarket Street, posing a risk to those working inside. We put notices on all the bags, giving owners two days to remove their belongings.
"After two days the owners had removed everything apart form a soiled duvet and pieces of cardboard, which we removed. Lockers are available for homeless people who are accessing services in the city to store their belongings.
"We work closely with homelessness charities to support homeless people in Oxford, and every year we spend £1.4 million to fund a wide range of outreach and support services."
Register for free to continue reading
Registration is a free and easy way to support our truly independent journalism
By registering, you will also enjoy limited access to Premium articles, exclusive newsletters, commenting, and virtual events with our leading journalists
Already have an account? sign in
Register for free to continue reading
Registration is a free and easy way to support our truly independent journalism
By registering, you will also enjoy limited access to Premium articles, exclusive newsletters, commenting, and virtual events with our leading journalists
Already have an account? sign in
Join our new commenting forum
Join thought-provoking conversations, follow other Independent readers and see their replies