Homeless people kicked out of underpasses next to parliament 'so MPs can get to work'
Exclusive: Rough sleepers say police cleared out tunnels around Westminster Tube station citing 195-year-old Vagrancy Act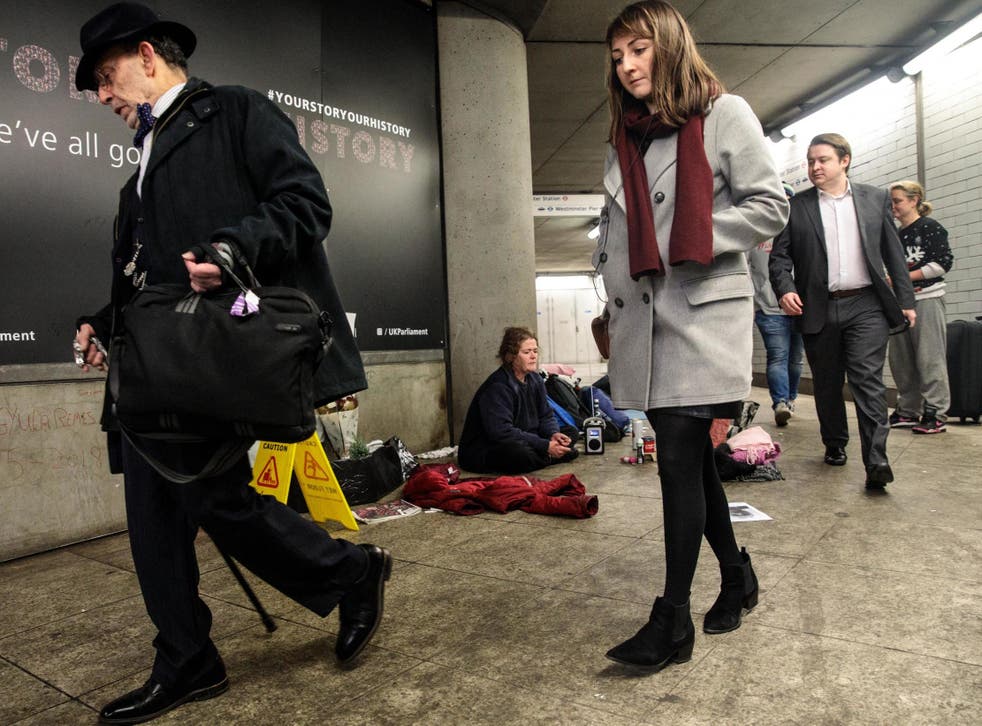 A group of homeless people were kicked out of public tunnels next to the Houses of Parliament. One man claimed he was told by a police officer that an MP had complained about their presence.
Two of the men who had been sleeping in the tunnels to keep warm told The Independent that Metropolitan Police officers ejecting them had cited section four of the Vagrancy Act 1824 – the 19th century law which criminalises rough sleeping and begging.
One man said a police officer had also mentioned clearing the tunnels, which connect Westminster Tube station to an entrance to parliament, "so the MPs can get to work".
Elliot, 22, who has been homeless since he was 16, said: "I was in the tunnel reading my Bible. I had just woken up and was still trying to keep warm. The police told me to get up and leave. One of them said, 'We're moving everyone from the tunnels so the MPs can get to work'."
He added: "The police usually leave me alone, but this has been happening quite a lot recently. I told them, 'What is the point of doing this?' Because we're not doing anything wrong."
The Stats: Homelessness in the UK

Show all 10
The clearance of the tunnels follows a sharp rise in the number of rough sleepers across Westminster borough.
The removal of homeless people comes as Labour and Liberal Democrat politicians attempt to scrap the "cruel and out-of-date" Vagrancy Act.
Layla Moran, the Lib Dem MP who has launched a private members' bill to repeal the act, said: "The news that the Vagrancy Act is actively being used to deter vulnerable people near Westminster is shameful – we must stop using this outdated law".
Labour's shadow housing minister Melanie Onn, added: "This move won't lead to rough sleepers getting the support they need or do anything to solve the underlying causes of homelessness, but will simply move them out of sight and potentially into worse situations."
Peter, 60, who has sleeping rough in the tunnels since October 2018, told The Independent he was woken up by police officers around 8am on Monday.
Homeless figures released: more than 4,500 sleeping rough on England's streets
"They asked me to leave. I asked why, but they didn't give me a good reason, they just said, 'Section four' – meaning section four of the Vagrancy Act, which I've heard before. It's happened quite regularly since the end of February. There was one officer who told me they had had a complaint from a MP."
He added: "I'm here because it's safe and warm. They call us vagrants but we're not doing anything wrong – I always tidy up and take my stuff away."
No arrests were made at Westminster Tube station on Monday, according to a Metropolitan Police spokesperson.
"The Met Police have previously been invited to a ministerial round table discussion. The police have been asked to work in partnership with other organisations, including Westminster City Council and outreach partners, to engage with people in the street, identify their support needs, and try to connect them with relevant services," said the spokesperson for the force.
"This includes undertaking joint patrols in the pedestrian subways near to the Palace of Westminster and many other areas within Westminster where rough sleepers are believed to sleep."
A total 320,000 people were recorded as homeless in Britain last year, analysis from housing charity Shelter suggested in November. It was a rise of 13,000, or 4 per cent, on last year's figures and equivalent to 36 new people becoming homeless every day.
Metropolitan Police figures released following a Freedom of Information request show the force made 1,660 arrests of homeless people across London using the Vagrancy Act between 2013 and 2017.
Campaigners remain concerned about use of the 195-year-old act across England and Wales to penalise people simply for being homeless.
"Rough sleepers we work with tell us how they feel harassed and anxious and unsafe," said Shaista Aziz, co-founder of the Labour Homelessness Campaign. "People who are rough sleeping are people denied agency and rights," she added. "The Vagrancy Act is a cruel and out-of-date law that is being used to further alienate, criminalise and demonise the most vulnerable in society."
Centrepoint, St Mungo's and Crisis have all called for an end to the law.
Crisis' director of policy and external affairs, Matt Downie, previously told The Independent the act was "not fit for purpose" and represented "social attitudes 200 years out of date".
He said there were other mechanisms, such as CPNs, for councils and police to respond to "genuine antisocial activity".
In December a homeless man who was found dying outside an entrance to parliament later died in hospital.
Gyula Remes, a 43-year-old Hungarian national, was initially found by his friend looking "all blue" near a set of revolving doors used by politicians and staff.
Register for free to continue reading
Registration is a free and easy way to support our truly independent journalism
By registering, you will also enjoy limited access to Premium articles, exclusive newsletters, commenting, and virtual events with our leading journalists
Already have an account? sign in
Register for free to continue reading
Registration is a free and easy way to support our truly independent journalism
By registering, you will also enjoy limited access to Premium articles, exclusive newsletters, commenting, and virtual events with our leading journalists
Already have an account? sign in
Join our new commenting forum
Join thought-provoking conversations, follow other Independent readers and see their replies