Rough sleeping in London hits record high after 'appalling spike' in homelessness
Number of people found sleeping rough in the capital up by 20 per cent in three months, figures show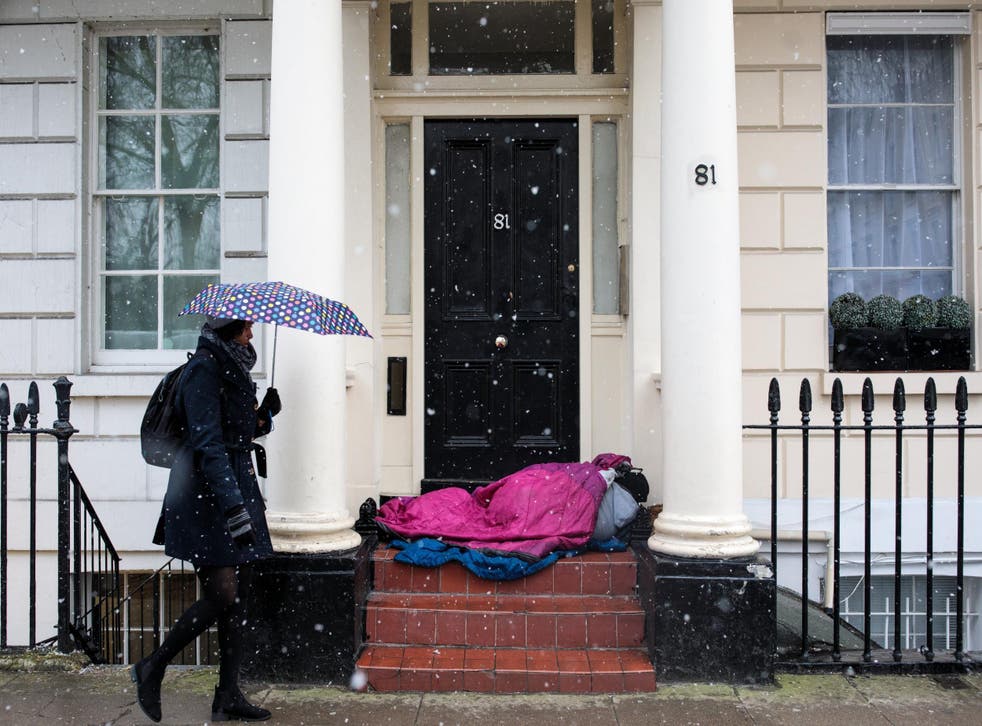 Rough sleeping has hit a record high in London, as figures show an "appalling spike" in the numbers of people forced to sleep on the streets of the capital.
A total of 3,103 people were found sleeping rough in the city between July and September 2018 – the first time levels have risen to over 3,000 in a single quarter.
The figures, from the Combined Homelessness and Information Network (CHAIN), reveals the number of rough sleepers has increased by 20 per cent on the previous quarter and 17 per cent on the same period last year.
Over the same period, outreach teams recorded 1,382 people sleeping rough for the first time – a rise of 28 per cent on the previous period and 20 per cent on the same period last year.
Jon Sparkes, chief executive of Crisis, said the "appalling spike" in the number of people forced to sleep rough in London was a "disaster for every single person experiencing life on the streets".
"Across the capital, local authorities are struggling with increasing numbers of people new to the streets, which is why the root causes of the problem must be tackled," he said.
John Healey, Labour's Shadow Housing Secretary, said the scale of rough sleeping since 2010 "shames us all", adding: "It shames Conservative ministers most of all, in a Budget week when the Chancellor spoke for over an hour but didn't find the time to mention rough sleeping or homelessness once.
"Rough sleeping has more than doubled since 2010 as a direct result of decisions made by Ministers - a steep drop in investment for affordable homes, crude cuts to housing benefit, reduced funding for homelessness services, and a refusal to help private renters."
It comes after a new study found more than one homeless person died every day in the UK over the past year, with 449 deaths recorded since October 2017, including 14 in one week alone.
The database, produced by the Bureau of Investigative Journalism, with the help of Channel 4 news, local journalists, charities and grassroots outreach groups, shows that causes of death included assault, drug overdoses, illness and suicide.
Support free-thinking journalism and attend Independent events
Ms Sparkes added: "We can't carry on like this when we know that homelessness is not inevitable. We don't have enough affordable housing that homeless people can access; we don't have a strong enough welfare system to support people when they fall on hard times; and we aren't giving people in the most vulnerable situations a place to call home when they have nowhere to turn.
"Rough sleeping ruins lives and, with winter approaching, the consequences of ending up on the streets become more and more devastating. The government has already made important commitments to end rough sleeping but it must address the root causes of it to make those commitments a reality."
Minister for Housing & Homelessness, Heather Wheeler MP said: "It is simply unacceptable that anyone has to sleep on the streets, and I am determined to put a stop to it. We have set out bold plans backed by £100m to halve rough sleeping by 2022 and end it by 2027, as part of a £1.2bn investment in tackling all forms of homelessness.
"We are also working closely with London boroughs and the Greater London Authority and are providing them with £23.3m through our Rough Sleeping Initiative. With this funding, we are looking to them to deliver critical support to get people off the streets."
Join our new commenting forum
Join thought-provoking conversations, follow other Independent readers and see their replies