Number of homeless people sleeping on streets in England hits highest level on record
More than 4,500 people were recorded as sleeping rough on any given night in autumn last year – a figure that has more than doubled since 2010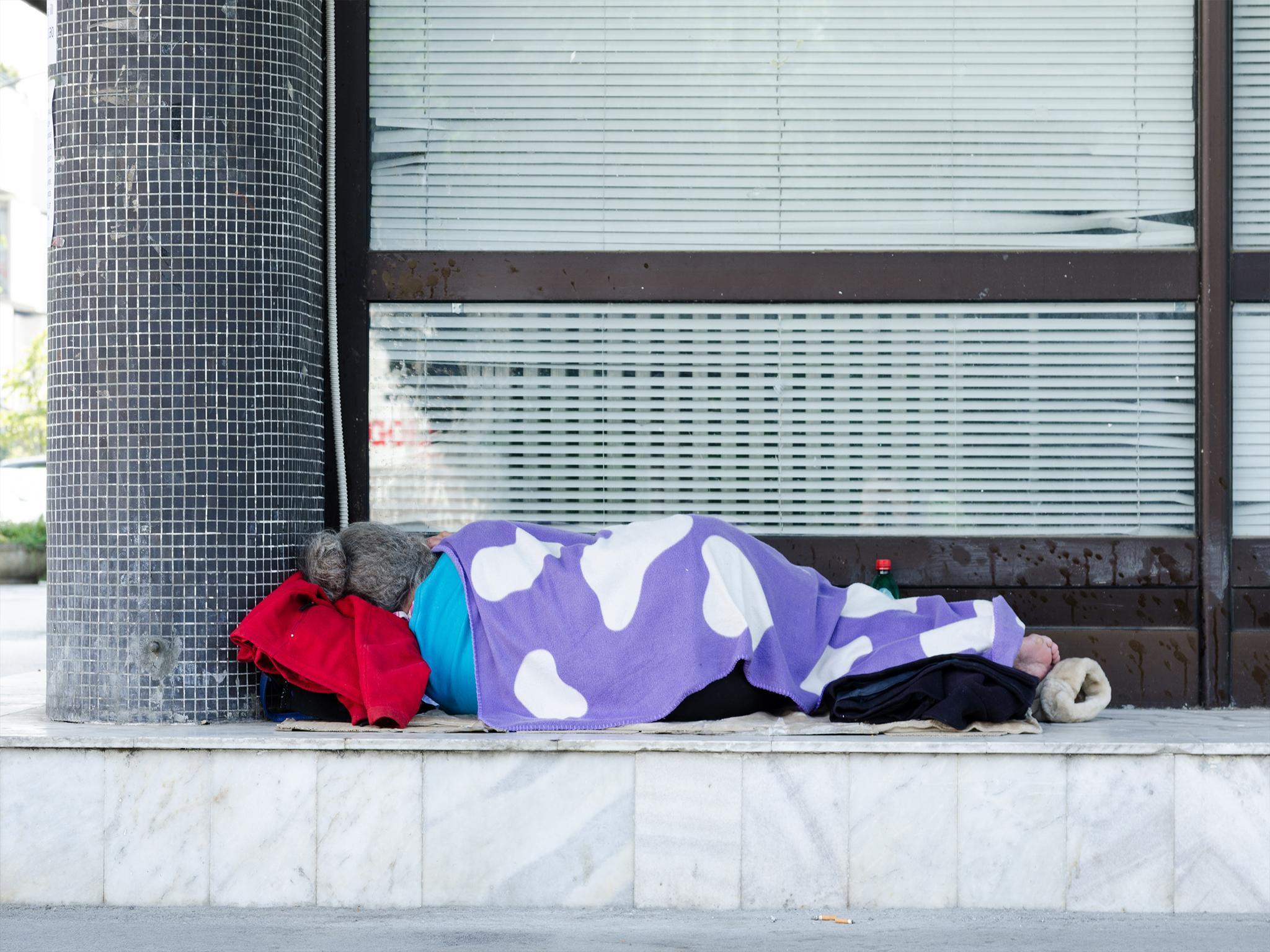 The number of people sleeping rough in England has hit a record-high – after a 73 per cent increase over the last three years.
Official government data shows that on any given night in autumn last year, 4,751 people were recorded sleeping on the streets, a figure that has more than doubled since 2010.
Campaigners have described the rise as a "catastrophe" following continual rises since 2010, urging that evidence shows how the problem can be fixed and calling on the Government to take "swift action" to tackle the problem.
Homeless man in Windsor says the local council don't care about the problem
The number of rough sleepers increased by 15 per cent in just one year, up 617 since autumn 2016. London represented nearly a quarter (24 per cent) of all rough sleepers in England, at 1,140 on any given night – up from 23 per cent the previous year.
A fifth of those sleeping rough last year were non-UK nationals, while 14 per cent were women and 8 per cent were under 25 years old, the figures show.
Crisis, the national charity for homeless people, urged that the true number of rough sleepers was far greater after its own research found that more than 8,000 people were currently sleeping rough across England.
This is on top of an additional 9,000 homeless people sleeping in tents, cars, trains and buses, the charity warned.
Previous studies show that those sleeping without a roof over their head are almost 17 times more likely to have been victims of violence and 15 times more likely to have suffered verbal abuse compared to the general public.
The latest figures come after the National Audit Office (NAO) revealed in September that the number of people sleeping rough had soared by 134 per cent since the Conservative Party took power, prompting accusations from the spending watchdog that ministers have failed to tackle the problem.
An autumn snapshot survey last year recorded 4,134 rough sleepers, while the number of homeless families approaching councils and being assessed as entitled to temporary accommodation rose by 48 per cent to 59,090.
Despite the worsening crisis – branded a "national scandal" by opposition MPs – the Government had continued with a "light touch" approach that cannot be considered value for money, the NAO said.
Responding to the figures, John Healey, the Shadow Housing Secretary, said: "These shameful figures are a terrible reminder of the consequences of a Conservative government.
"This is a direct result of decisions made by Conservative ministers: a steep drop in investment for affordable homes, crude cuts to housing benefit, reduced funding for homelessness services and a refusal to help private renters."
Chief executive of Crisis Jon Sparkes said: "It is truly a catastrophe that in a country as prosperous as this, more and more people are finding themselves forced to sleep in dangerous and freezing conditions, when we have evidence to show how the situation could be turned around.
"Today's report makes it only too clear that unless we take action as a society, the problem is only going to keep getting worse with every year that passes. Rough sleeping ruins lives, leaving people vulnerable to violence and abuse, and taking a dreadful toll on mental and physical health.
"While we warmly welcome the Government's pledges to tackle rough sleeping, including a homelessness and rough sleeping taskforce, now that we know the solutions to end rough sleeping for good we're calling on the Government to take swift action to tackle the problem and fix it once and for all."
Shelter's chief executive, Polly Neate, meanwhile said the figures exposed the "worst pain inflicted by our housing crisis", adding: "We have failed as a society when so many people are forced to sleep rough.
"But they are not alone, the scourge of homelessness extends far beyond our streets. Hidden away in emergency B&Bs, temporary bedsits and on friend's sofas are hundreds of thousands of other homeless people, including families with children.
"Most of these people are homeless simply because they couldn't afford to live anywhere, a situation made worse by welfare cuts."
Ms Neate said that while the intentions of the Homelessness Reduction Act were "good", it could not fix the crisis, adding: "To do that, the Government must act to build a new generation of genuinely affordable homes to rent, as well as ensuring housing benefit is fit for purpose in the short term."
Rick Henderson, chief executive of charity Homeless Link, said the rise in rough sleeping was "appalling" and "saddening", urging that those people affected were at risk of deteriorating mental and physical health, and calling for continued investment in "vital" services.
"We have a long way to go if rough sleeping is to be eliminated altogether, and as a member of the Rough Sleeping Advisory Group, we will be working with government and others to ensure a strategic and coordinated response is put in place and effective action taken," he said.
A spokesman for the Ministry of Housing, Communities and Local Government said: "No one should ever have to sleep rough. That's why this Government is committed to halving rough sleeping by 2022 and eliminating it altogether by 2027.
"To break the homelessness cycle once and for all, we are providing over £1bn of funding, supporting rough sleepers with the most complex needs through a new Housing First approach and bringing in the most ambitious legislation in decades that will mean people get the support they need earlier.
"In addition, a new cross-government taskforce supported by a panel of experts will drive forwards a new strategy that will make life on the streets a thing of the past."
Join our commenting forum
Join thought-provoking conversations, follow other Independent readers and see their replies