Homelessness set to rise by three-quarters in next decade amid soaring levels of rough sleeping
Hundreds of thousands of households across Britain experiencing acute forms of homelessness, in what critics have described as a 'national scandal'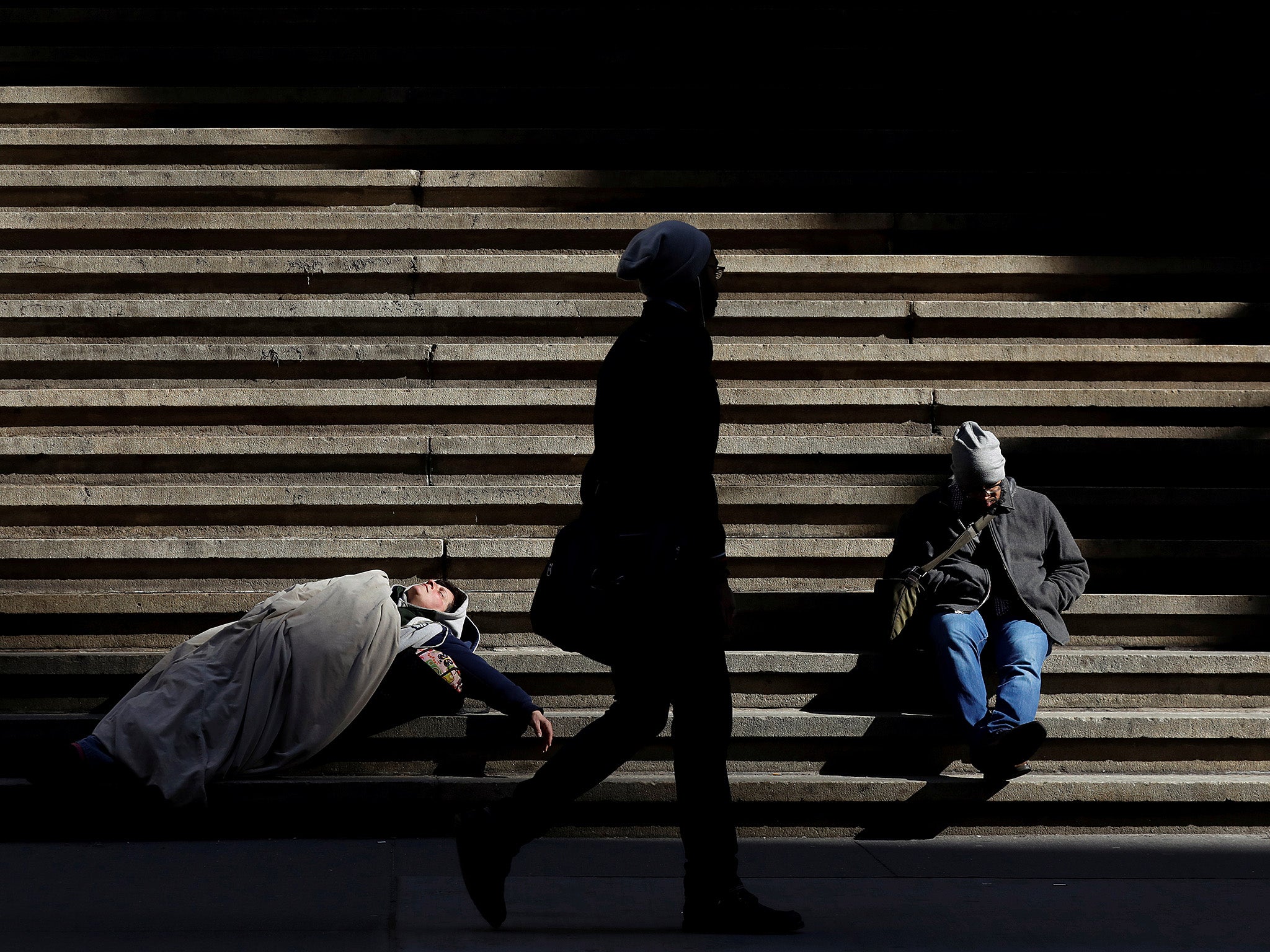 Nearly a quarter of a million people are experiencing acute forms of homelessness across Britain, with rough sleeping set to rise by 76 per cent in the next decade unless the Government takes long-term action to tackle the problem, a charity has warned today.
In what critics have condemned as a "national scandal", a total 159,000 households are sleeping rough or living in unsuitable temporary accommodation and experiencing other forms of acute homelessness, marking a rise of nearly a third since 2011, according to a new analysis conducted for Crisis.
Of these, 57,000 are "family" households – consisting of 82,000 adults and 50,000 children – indicating that a growing number of families are being forced out of their housing and forced to live in unsuitable conditions.
The report, carried out by Heriot-Watt University, reveals that 9,100 people were sleeping rough in 2016, while 68,300 households were sofa surfing, 19,300 were living in unsuitable temporary accommodation and 37,200 were living in hostels.
A further 26,000 households were living in other circumstances, with 8,900 sleeping in tents, cars or on public transport, more than 12,000 living in squats and 5,000 in women's refuges or winter night shelters.
It comes after an analysis by The Independent of official statistics revealed the number of families being declared homeless had increased by more a third since the Conservatives took power in 2010.
Nearly 60,000 families were declared homeless by local authorities in England between April 2016 and March 2017 – a rise of 34 per cent on the same period in 2010-11, the analysis found.
Thousands of families have subsequently been living in B&Bs, which often sees them crammed into one room and sharing limited bathroom and cooking facilities with strangers for more than six weeks, which is illegal under the Homelessness (Suitability of Accommodation) Order 2003.
An even larger number of single working age people were sleeping rough in Britain in the past year, with more than 100,000 recorded to have experienced acute forms of homelessness.
Drawing on detailed economic modelling, the Crisis report forecasts that the increase is set to continue at a growing pace, with overall numbers estimated to rise by more than a quarter in the coming decade (27 per cent) and households in unsuitable temporary accommodation set to nearly double (93 per cent).
The latest report also looks at how different policies could make an impact on this projected rise. Based on the model, a 60 per cent increase in new housing could reduce levels of homelessness by 19 per cent by 2036, while more prevention work could reduce levels by 34 per cent in the same period.
Jon Sparkes, chief executive of Crisis, said: "This year, Crisis marks its 50th anniversary, but that's little cause for celebration. We still exist because homelessness still exists, and today's report makes it only too clear that unless we take action as a society, the problem is only going to get worse with every year that passes.
"That means more people sleeping on our streets, in doorways or bus shelters, on the sofas of friends or family, or getting by in hostels and B&Bs. In order to tackle this, we need to first understand the scale of the problem.
"Regardless of what happens in people's lives, whatever difficulties they face or choices they make, no one should ever have to face homelessness. With the right support at the right time, it doesn't need to be inevitable. There are solutions, and we're determined to find them and make them a reality."
'I spent three months sleeping in my car'
Paula Blennerhassett, 48, found herself homeless three years ago after a workplace accident prevented her from working and the mobile home site she had been living in went into administration.
Without anywhere else to live, and without her parents to fall back on, Ms Blennerhassett ended up sleeping in her car for three months.
"It was scary sleeping in my car. I could put towels and blankets up against the window for a bit of privacy, but I didn't know who was outside. I didn't know if I was safe," Ms Blennerhassett told The Independent.
After three weeks, she moved into a hostel in Oxford, where she lived alongside other homeless people, many of whom were drug and alcohol addicts.
"There were lots of alcoholics and drug addicts there, which made things quite hard while I was trying to study for accounting. I watched people I'd become friends with become very ill in there," she recalled.
After two years of homelessness, Ms Blennerhassett is now living in a flat in Chipping Norton, with the help of Crisis. But she looks back on those years and feels failed by those in power.
"The Government offered very little support. It was very much 'wait your turn'. While living in my car I was emailing David Cameron, but nothing could be done. The local authorities' hands were tied as they tried to deal with so many major cuts," she said.
"Nobody wanted to take the time to look at what's going on. I don't think I'd even be here without the charities that helped me."
Responding to the Crisis report, Shadow Housing Minister John Healey described the rise in homeless as a "national scandal", blaming it on Tory policies such as cuts to housing benefit and cuts to funding for services supporting homeless people.
"It is a national scandal that in 21st century Britain the number of people experiencing homelessness is spiralling upwards," he said.
"These new figures are a terrible reminder of the consequences of Conservative Ministers' seven years of failure on housing. The number of people sleeping rough fell under Labour but has risen every year under the Conservatives and has now doubled since 2010.
"This is a direct result of decisions made by Conservative Ministers: a steep drop in investment for affordable homes, crude cuts to housing benefit, reduced funding for homelessness services, and a refusal to help private renters.
"Ministers' must now back Labour's plans to fix the housing crisis and end rough sleeping by the end of this Parliament."
A Liberal Democrat spokesperson meanwhile said: "In 2017 no-one should be homeless, living in a bed and breakfast or worrying whether they will have a roof over their head from one month to the next.
"This is a national scandal which the Government are failing to tackle, so it will only get worse. We need more homes built and they need to be truly affordable.
"Britain is one of the richest nations on earth, it is an utter disgrace that thousands of people are still sleeping rough on the streets every night."
A spokesman for the Department for Communities and Local Government said: "This Government is determined to help the most vulnerable in society and we're working to make sure people always have a roof over their head.
"We know this is an issue Government can't solve alone and so welcome Crisis' support for our commitment to tackle homelessness and rough sleeping.
"Alongside investing £550m to 2020 to address the issue, we're implementing the Homelessness Reduction Act, which will require councils to provide early support to people at risk of becoming homeless. There's more to do and ministers will set out plans shortly."
Join our commenting forum
Join thought-provoking conversations, follow other Independent readers and see their replies