Deaths among homeless people spiked by more than a third in 2020, research shows
Nearly 1,000 deaths were reported across the UK last year – despite the apparent success of the government's emergency accommodation scheme for rough sleepers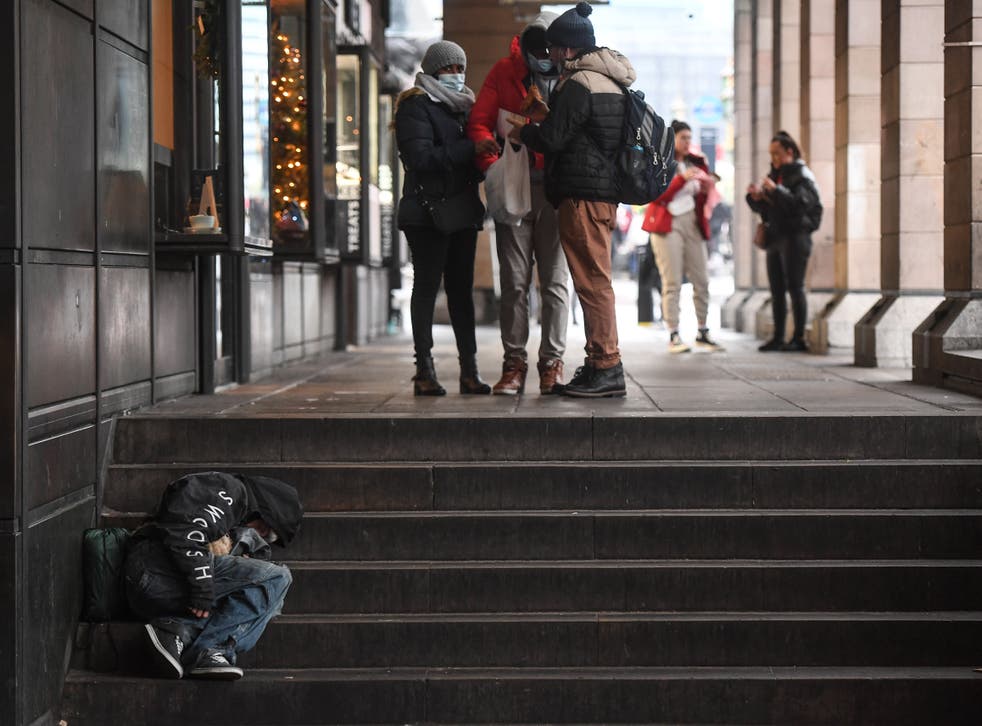 Deaths among homeless people in the UK spiked by more than a third in 2020, new research has shown, as campaigners called on the government to increase its investment into council housing and local support services.
The Museum of Homelessness (MoH) recorded 976 deaths across England, Scotland, Wales, and Northern Ireland last year – a 37 per cent increase in the number of fatalities reported in 2019.
The figures, gathered through more than 300 Freedom of Information requests, include the deaths of people who were living on the streets, in temporary accommodation, or sofa surfing.
The high rates come despite the success of the government's Everyone In scheme, which provided emergency hotel accommodation to roughly 15,000 homeless people throughout the first wave of the Covid-19 pandemic. According to one study, the initiative prevented an estimated 266 deaths.
Although less than 3 per cent of homeless fatalities recorded in 2020 were directly attributed to Covid, the Everyone In scheme failed to compensate for the series of cuts made to Britain's welfare, addiction, mental health and housing services before the pandemic, the MoH said.
The museum's research showed that 36 per cent of deaths were related to drug and alcohol, while 15 per cent died from suicide.
"The government touts Everyone In as a runaway success. But it didn't stop a staggering increase in the number of people dying while homeless – despite the best efforts of our colleagues around the country who worked 24 hours a day on emergency response," said Jess Turtle, co-founder of MoH.
"These heart-breaking findings demonstrate how the pandemic hit a system already cut to the bone from 10 years of austerity and the scale of the challenge we face to recover. The government needs to stop repackaging old funding commitments as new support and do more to stop this terrible loss of life."
Many local authorities were unable to organise suitable longer-term accommodation once the Everyone In scheme was ended in May, along with the £3.2m in government funding that had been provided to each council in England.
In Westminster, only 104 people out of an estimated 306 rough sleepers in the borough were moved on to private rented accommodation or council housing, the MoH said.
Other councils in the capital have adopted a more ambitious approach to tackling homelessness.
Authorities in Haringey are currently looking to develop 37 new modular homes in South Tottenham to provide security and support for rough sleepers.
The MoH said its findings, published as part of the museum's Dying Homeless Project, showed that the government needs to significantly increase support for long-term investments in council housing and support services.
It added that spending on homelessness is well below the levels seen in 2010, when the number of people sleeping rough was less than half of what it is today.
According to the charity Shelter, an estimated 280,000 people were homeless in England as of December 2019.
The latest government figures, collected in the autumn of 2019 and published in February 2020, also show that 4,266 people are estimated to be sleeping rough on a single night.
In light of its research, the MoH has urged the government to launch a national enquiry into homeless deaths in the UK.
UK news in pictures

Show all 50
"The evidence has been building for years," said MoH co-founder Matt Turtle. "Two years ago, the government agreed to begin recording statistics for the first time but little is being done with the findings.
"We are asking, how are lessons being learned? We believe that far more needs to be done at a local and national level to change things. A National Confidential Enquiry would help ensure the government makes the long-term commitment needed."
Crisis, a UK national charity for homeless people, said that the nationwide response to homelessness demonstrated what could be achieved "when we all pull together".
"But let's be clear, a hotel room is not a home," Jon Sparkes, Crisis chief executive, told The Independent. "As we begin to move out of lockdown, the UK government must have a plan to help people end their homelessness altogether and put in place measures that will stop people from losing their homes. We've shown what can be done, now let's finish the job."
The charity also said many of the fatalities recorded by MoH will have been avoidable, as it called upon the government to expand its safeguarding system used for investigating deaths to include anyone who has died while homeless.
"This will ensure we can learn from these failings and put in place measures to stop this from happening in the future," Mr Sparkes added.
"Behind these statistics are people who had different lives, different characters and different stories. They shouldn't be dying left out and forgotten."
Polly Neate, chief executive of Shelter, told The Independent: "As we look towards recovery, ending the housing crisis must be a priority. Now is the time to challenge the status quo and actually build the social homes we need to give everyone the security of a safe home. Or we risk yet more homelessness and more death as the legacy of Covid-19."
Register for free to continue reading
Registration is a free and easy way to support our truly independent journalism
By registering, you will also enjoy limited access to Premium articles, exclusive newsletters, commenting, and virtual events with our leading journalists
Already have an account? sign in
Register for free to continue reading
Registration is a free and easy way to support our truly independent journalism
By registering, you will also enjoy limited access to Premium articles, exclusive newsletters, commenting, and virtual events with our leading journalists
Already have an account? sign in
Join our new commenting forum
Join thought-provoking conversations, follow other Independent readers and see their replies