Homeless women turned away by local councils 'trying to keep numbers down'
Channel 4 investigation follows group of actors routinely rejected when going to local authorities for help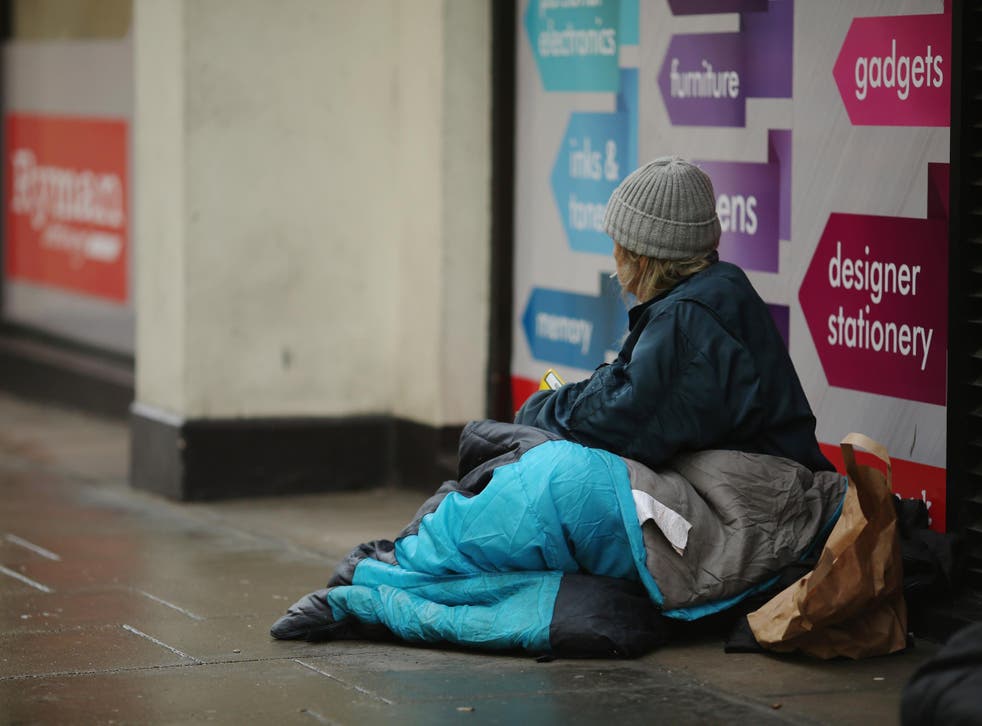 Local councils struggling to meet the demand for emergency housing are turning away vulnerable homeless women, including domestic violence victims and those with mental health issues as well as those fleeing domestic abuse, an investigation has found.
Across several local authorities in England and Wales women found themselves turned away without being properly assessed or being able to make a homeless application despite qualifying for emergency accommodation under government guidelines.
An experiment by Channel 4's Dispatches found that out of 15 approaches made by women with priority needs, only four were successful.
A group of actors who had all at some stage experienced homelessness went undercover for the programme to investigate claims of "gatekeeping" where women are being turned away to keep numbers down.
One of the women, Sherrie, approached Haringey Council in London explaining she suffered from clinical depression, but was told: "Under housing law they don't class that as a serious illness." She was informed her condition would need to be "life-threatening" to qualify.
She was told about paid shelters but was not offered emergency accommodation. Sherrie tested five other councils in London and Greater Manchester but all of them turned her away. One told her: "We don't have a legal duty to assist you."
However, Matt Downie, director of policy at the homelessness charity Crisis, said asserting that a condition had to be "life-threatening" in order to secure free shelter was disingenuous.
He said: "Simply saying that having a mental health problem rules you out is not correct. What you need to find out is the impact of that mental health condition on that person."
Chris Martin pays tribute to George Michael in surprise visit to homeless shelter
Haringey Council accepted that its response fell below standards. A spokesperson said: "While the reporter was offered information on shelters and hostels, she should also have been offered a follow-up appointment with a specialist adviser and we are sorry that didn't happen."
Charities say many women eligible for emergency accommodation are being turned away as housing budgets are hit by council cuts.
Rebecca Pritchard, director of services at Crisis, said: "Local authorities do have a legal duty to provide accommodation for people who are what is known as priority need. But because they don't have the resources, many end up gatekeeping, finding reasons not to help people."
There are an estimated 68,000 women living in temporary accommodation and emergency shelters in Britain, and a recent survey found that nearly a quarter of women sleeping rough had been sexually assaulted in the past year, and three in 10 had experienced sexual violence at some point while homeless.
A third of homeless women cite domestic violence as the reason they are on the streets.
They can stay in special single sex refuges, but in the past six years nearly one in five of these have closed leaving many to rely on the council for safe accommodation.
A second undercover reporter, Lisa, who has experience of domestic violence, went to seek help from Barnet Council as part of the investigation, saying she had fled a violent partner and was now homeless.
However, she was asked if she had crime reference numbers, despite the fact guidelines accept women that are victims of abuse won't always have evidence and that should not stop them being offered help.
Lisa was told to self-refer to a shelter. She tested three other councils and two did offer her a place to stay for the night while the third turned her away.
Barnet Homes, which provides emergency accommodation on behalf of Barnet Council, told The Independent it takes domestic violence extremely seriously, adding: "We are sorry our service fell short of expectations in this case. In view of the information we have received on this particular case, we will be providing further training across the team to ensure future cases are handled more sensitively."
The causes of homelessness

Show all 7
London Charity Solace Women's Aid said the "system isn't working" for women fleeing domestic violence.
The revelations come as The Independent campaigns with youth homelessness charity Centrepoint to raise funds for a Young and Homeless Helpline for 16 to 25-year-olds facing homelessness. The helpline will be launched on Monday.
Centrepoint's own research has found that up to one in three young people seeking help with homelessness issues from English local councils are being turned away unaided.
Councils will soon have extra duties to prevent homelessness as part of the government-backed homelessness reduction bill. The Government is due to provide a £48m fund to help cover the cost, but some housing experts have already claimed the figure won't be enough.
The Association of Housing Advice Services, a non-profit organisation, estimates London's 32 boroughs alone will face a combined bill of £161m to implement the new duties.
The Department for Communities and Local Government said: "We know that one person without a home is one too many. That is why we're investing £550m during this parliament to tackle homelessness and rough sleeping, including projects specifically for women including female-only shelters, emotional support and educational opportunities."
The 'Dispatches' documentary 'Undercover: Britain's Homeless Scandal' is broadcast on Channel 4 on Monday at 8pm
Register for free to continue reading
Registration is a free and easy way to support our truly independent journalism
By registering, you will also enjoy limited access to Premium articles, exclusive newsletters, commenting, and virtual events with our leading journalists
Already have an account? sign in
Register for free to continue reading
Registration is a free and easy way to support our truly independent journalism
By registering, you will also enjoy limited access to Premium articles, exclusive newsletters, commenting, and virtual events with our leading journalists
Already have an account? sign in
Join our new commenting forum
Join thought-provoking conversations, follow other Independent readers and see their replies