Convictions for honour crimes including FGM, rape and forced marriage plummet amid national police crackdown
Exclusive: 'Perpetrators are not being held to account. The fall in prosecutions is massively concerning given more victims than ever are coming forward. It sends a message to communities that you can almost get away with it'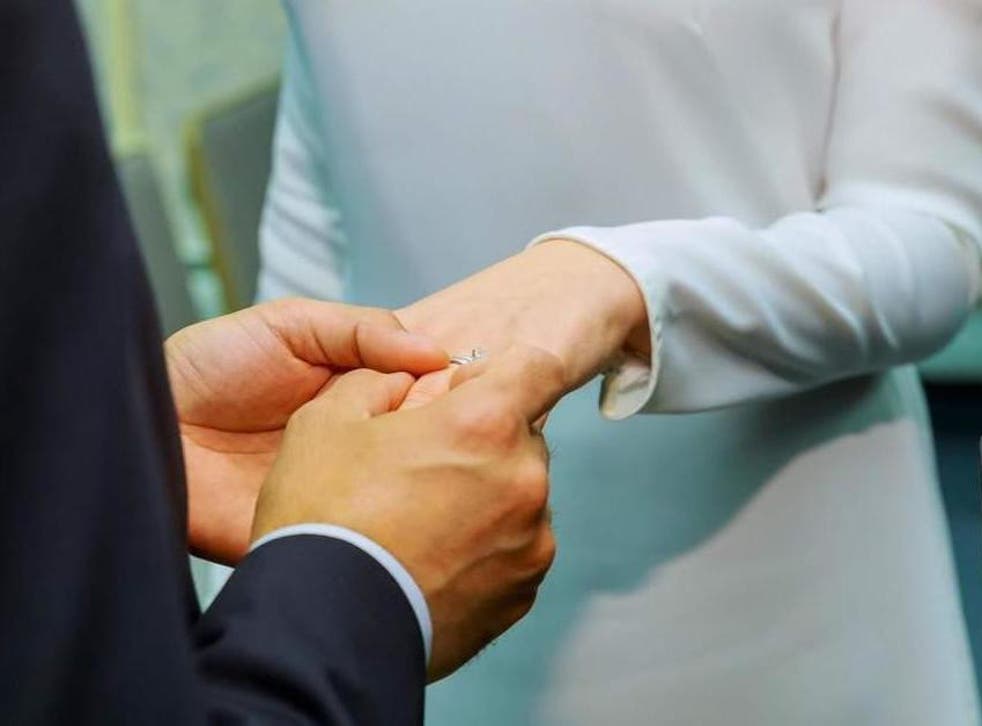 Convictions for so-called honour crimes perpetrated against women have plummeted in the past five years, The Independent can reveal, amid a nationwide crackdown aimed at bringing those responsible to justice.
The offences include coercive control, forced marriage and subsequent repeated rape, female genital mutilation (FGM), assault, threats to kill, attempted murder and even murder itself.
Figures from the Crown Prosecution Service show that successful prosecutions for crimes of honour-based abuse fell from 123 in 2013-14 to just 71 in 2017-18.
In an acknowledgement of the problem, a national campaign was launched this week – at the start of the summer school holidays – that saw police officers descend on airports across Britain to question families travelling to and from countries where the practices are prevalent.
Challenged at a press briefing in London over the low number of prosecutions for forced marriage and FGM, officers said that victims might fear coming forward, be unaware they were victims of a crime or were unwilling to report members of their families.
Det Sgt Trudy Gittins, from West Midlands Police, said honour-based beliefs were deeply ingrained.
UK news in pictures

Show all 50
"You've still got deeply embedded cultures in the third generation, and people are still migrating who bring these beliefs with them," she told The Independent.
"But the indication at the moment is more people are reporting these crimes."
The organisation that runs the UK's largest helpline for honour-based abuse saw a 35 per cent increase in calls to their helpline last year, with a total of 13,124 people getting in touch.
Natasha Rattu, the director of Karma Nirvana, a national charity that supports abuse victims, described honour-based abuse as an incident or crime that has taken place against a person because their family or community believe they have brought shame or dishonour.
She cited the example of a family physically assaulting a victim who had been in a relationship which they disapproved of and then forcing them into a marriage with someone they did approve of, noting that this involved both punishment and an attempt to restore honour.
The campaigner said: "Thousands of crimes of honour-based crimes are going undetected and therefore unpunished. Perpetrators are not being held to account. The fall in prosecutions is massively concerning given more victims than ever are coming forward. It sends a message to communities that you can almost get away with it."
Police said that this week's operation, codenamed Limelight, aimed to raise awareness as well as spotting criminal behaviour and gathering intelligence.
Operation Limelight: The FGM unit operating in Heathrow Airport to intercept families taking their children to be mutiliated
Ms Rattu, who has been involved in the scheme taking place at train stations, airports and seaports, hailed it as a brilliant and innovative initiative but argued that the issue of falling levels of charging, prosecutions and convictions nevertheless remained a pressing and deep-rooted problem.
She said the falling number of honour abuse cases that the police were flagging to the CPS could be linked to their lack of awareness of the issue. Karma Nirvana had trained 23 police forces across England and Wales
"There is a real training gap," she said. "There is also a lack of confidence to address the issue. Professionals sometimes worry about being seen as culturally insensitive or racist.
"We see cases which are not honour-based abuse and they have flagged it as that. Honour-based abuse victims are also not viewed as having equal rights to other British citizens. These issues happen in minority communities and minority communities often get left behind.
"Honour-based abuse is not being prioritised. Victims do not feel they can trust agencies and think agencies are colluding with the perpetrators."
Ms Rattu criticised the College of Policing's decision to scrap a question relating to honour-based violence from a pilot scheme that saw officers ask victims to identify the risks they faced.
The campaigner said: "It will make it more difficult for frontline officers on the ground to identify honour-based abuse if this question is now excluded. Prosecutions could fall even further without it. We have raised our concerns with the Home Office and the National Police Chiefs' Council."
The College of Policing said the pilot assessment was focused on helping officers and staff develop a better understanding of different types of behaviours used by abusers, which would help them to identify risk and uncover honour based abuse.
Ms Rattu said victims often did not trust authorities enough to report honour abuse to them, and noted that many social officers were unaware that the government's Forced Marriage Unit's guidance was not to mediate in cases of forced marriage. She said they sometimes informed familyies that their daughter had made a disclosure and were then duped by "Oscar-winning performances" from family members.
Ms Rattu, who called for the government to do more to tackle honour-based abuse, said the fall in convictions could be linked to prosecutors not understanding honour-based abuse thoroughly enough to secure them.
In most honour-based abuse cases there were multiple perpetrators from the immediate family, sometimes the extended family and occasionally even the wider community.
Pragna Patel, director of Southall Black Sisters, argued that the fall in cases being handed to the CPS could be the result of cuts to policing and them having to divert resources elsewhere. She warned that the fall in convictions was putting women's lives at risk and contributing to a culture of impunity.
"It is possibly the most vulnerable women being left at risk because they are more likely to face reprisal due to police inaction," she said. "They have more to lose. Once they have decided to report, they are at risk of being ostracised, isolated, vilified and perhaps subjected to greater threats as they have transgressed community norms. Perpetrators can use the fact that nothing will be done as a weapon to control women more."
Laws making it illegal to force someone into marriage in England and Wales were implemented in 2014. Anyone found guilty of doing so can be imprisoned for up to seven years.
In 2018, there were three defendants convicted in two separate cases for the specific offence of forced marriage – the first in England.
In the first successful prosecution, a mother was imprisoned for forcing her daughter to marry an older relative in Pakistan who had raped her when she was 13.
The second prosecution involved a couple who tricked their 18-year-old daughter into travelling to Bangladesh to make her marry her first cousin, bear his child and help him to get a British visa. The first conviction for FGM took place earlier this year.
Yasmin Khan, director of The Halo Project, argued that the criminalisation of forced marriage and the build-up to it led to more prosecutions and the decline since then was due to the issue being put on the backburner.
The campaigner, whose national charity supports victims of honour-based abuse, said the decline in prosecutions and convictions stemmed from a lack of awareness about the issue within both the police and the judicial system.
"There is a total lack of awareness among public bodies – the police, local council, health, education, and social services," she said. "They do not know what signs to look out for and are not asking the right questions. Honour-based abuse causes long-lasting trauma and psychological impacts. We need to do all we can to help victims who are suffering sometimes years and years of abuse.
"We need to break the cycle so they don't suffer in silence. There are serial offenders of honour-based abuse who have one victim after another in that family."
A spokesperson for the CPS said: "Honour-based abuse is an incredibly complex crime and we know victims need extra support to help us successfully bring cases to court.
"We have agreed a joint protocol with the police to make sure investigative teams are using best practice and victims feel supported and protected.We can only charge cases that have been referred to us by police but where our legal test is met, we will not hesitate to prosecute."
Join our new commenting forum
Join thought-provoking conversations, follow other Independent readers and see their replies