Horsemeat scandal: Findus leak reveals horse in 'beef' for six months
Minister blames 'criminal activity' for the contamination and promises to find culprits
Martin Hickman
Saturday 09 February 2013 01:00 Comments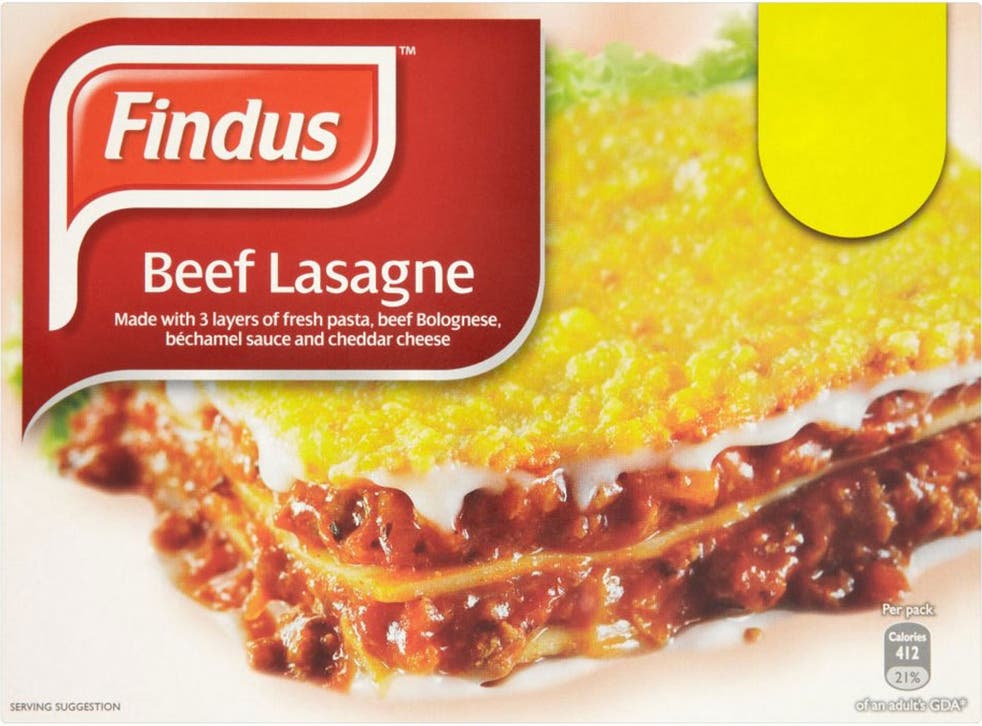 Britons have been eating horse meat in "beef" ready meals for up to six months, according to a leaked document from the frozen food company at the centre of the scandal.
Findus admitted in a letter to retailers on Monday that its French supplier Comigel had indicated that there was likely to have been a problem with its frozen ready meals since last August.
Supermarkets alerted to the contamination earlier this week were told "that the raw materials delivered since 1 August 2012, are likely to non-conform... " As the crisis spread, Aldi admitted that its frozen own-brand lasagnes and spaghetti bolognese – also containing meat from Comigel – contained up to 100 per cent horse DNA.
"Tests have been completed that show horse meat in the withdrawn products. In samples selected at random, tests demonstrated that the withdrawn products contained between 30 per cent and 100 per cent horse meat," the budget retailer said.
Britain's biggest supermarket chain, Tesco, said it was still awaiting test results on its own-brand spaghetti bolognese. The disclosures suggest that many tens of thousands of British people have been unwittingly eating horse meat. Public health scientists fear that the covertly added meat may have traces of the banned veterinary drug "bute", which is harmful to humans in large amounts.
As the police were called in to deal with the adulteration, and trading standards officers said they were "on high alert", the Food Standards Agency (FSA) maintained there was no evidence the horse meat was unsafe.
Comigel, based in Metz, said it had "identified" the supplier responsible and withdrawn all its produce from sale. Company director Erich Lehagre was reported saying it originated from a Romanian abattoir.
The FSA said it had demanded that food businesses conduct authenticity tests on all beef products such as burgers, meatballs and lasagne. With the apparent complete breakdown of the meat traceability system introduced after the BSE crisis in the 1990s, manufacturers, retailers and the FSA were left facing awkward questions.
Findus was informed by Comigel that there was a problem with its frozen lasagnes and spaghetti bolognese more than a week ago, according to the Labour MP Tom Watson, who obtained Findus's letter to retailers.
Findus only informed Britain's supermarkets of the problem on Monday – and the FSA on Wednesday afternoon. The FSA then waited all day before issuing a public statement at 6pm on Thursday, saying tests showed the presence of "more than 60 per cent" horse in Findus foods. The actual figure, the FSA admitted later, was 60 to 100 per cent.
Tesco and Aldi withdrew Comigel-supplied packs of their own-brand frozen meat products earlier this week but did not alert public and media to their product withdrawals until Wednesday.
The Government faced hostile questions over its handling of the scandal at yesterday's press conference but it wasn't until after 8pm that the Environment Secretary, Owen Paterson, made a public statement when he said the FSA had "ordered food businesses" to test processed beef products and was trying to find out if schools and hospitals had received adulterated meat.
He blamed criminal activity for the contamination: "Clearly there are some people who believe they can get away with selling cheap meat and passing it off as something else. Our investigations will find them and they will feel the full force of the law.
"British food prides itself on scrupulous traceability. I will not have that undermined by the selfish, reckless and potentially illegal actions of anyone – whether in this country or abroad."
However, his statement raised further questions about when the FSA learnt Findus products had been adulterated. He said Findus informed the FSA on Thursday, contradicting the FSA's earlier statement when it told The Independent it had been told on Wednesday.
The minister also said it had been agreed "businesses will publish the results of their own testing", which went further than earlier indications that they would inform the FSA, which would then decide which should be made public.
Mr Paterson said there was no reason to suppose beef products on sale were unsafe but told consumers who had bought the Findus lasagnes to return them.
The Serious Organised Crime Agency has been alerted to the adulteration by Labour's shadow Environment Secretary, Mary Creagh, who last month exposed the presence of bute in UK-slaughtered horses. She said: "I have been given information about British companies who may potentially be involved in the illegal horse-meat trade."
Register for free to continue reading
Registration is a free and easy way to support our truly independent journalism
By registering, you will also enjoy limited access to Premium articles, exclusive newsletters, commenting, and virtual events with our leading journalists
Already have an account? sign in
Join our new commenting forum
Join thought-provoking conversations, follow other Independent readers and see their replies