'Group of lads' leave giant 'get well soon' message in snow outside hospital
'Proper good job, thanks to those who did it,' tweeted one patient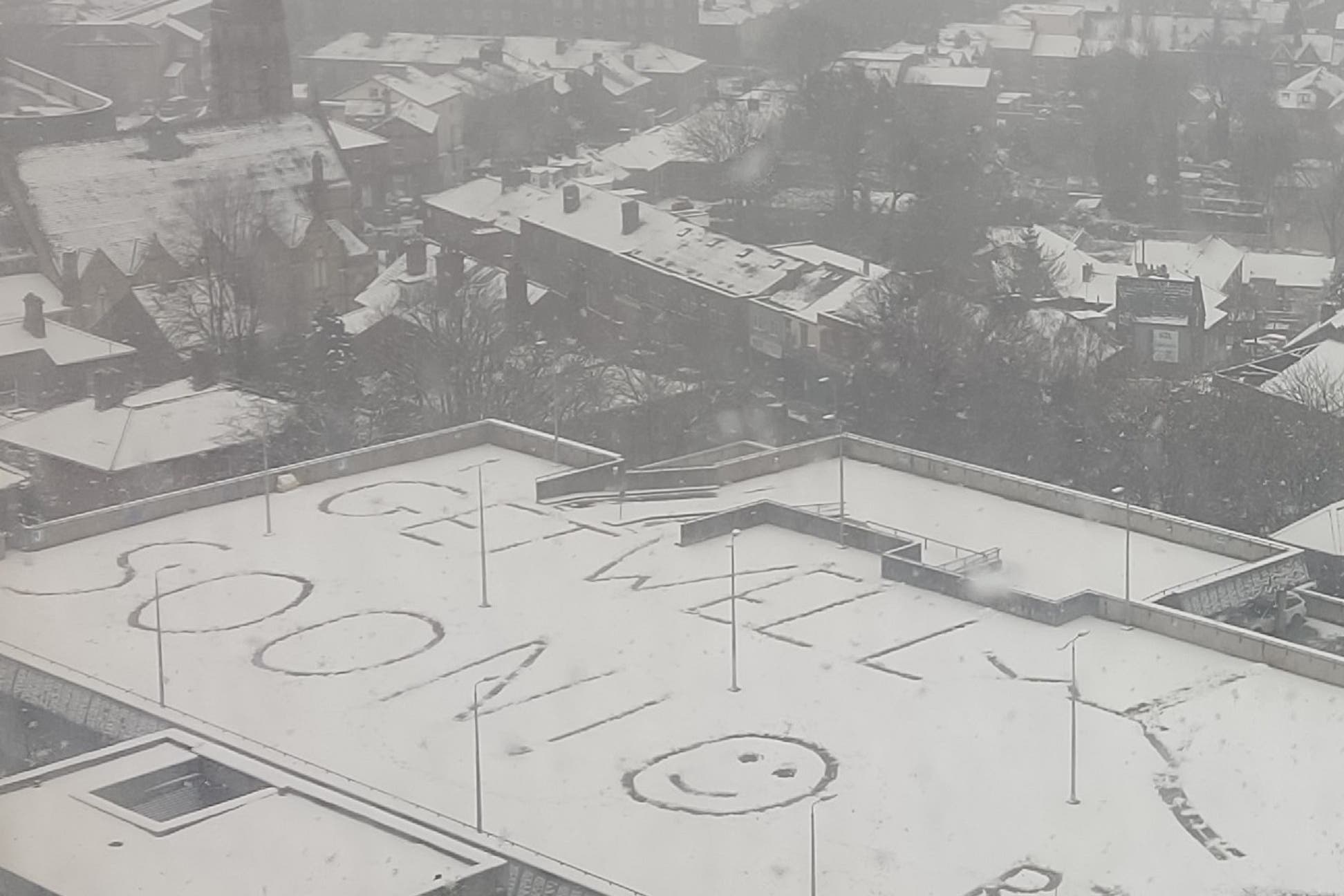 Patients at Royal Hallamshire Hospital were delighted to see a giant "get well soon" message carved out in the snow on top of the car park opposite during the cold snap.
The heavy snow in South Yorkshire may have caused travel chaos for some, but for those at Royal Hallamshire the inclement weather led to a message of hope.
"Proper good job, thanks to those who did it," tweeted Paul Harris, 44, from Kidsgrove in Staffordshire.
Mr Harris, who has pulmonary arterial hypertension and raises money for Pulmonary Hypertension Association UK, said he attends the Sheffield hospital roughly every six months for check ups, and was on the 13th floor when he spotted the message in the snow on Thursday.
"It was decent!" he said. "I don't know how many rooms have that view but it's the main profile of the hospital so there must have been probably 100 windows at least it could be seen from, easily.
"The amount of people who would have seen it is immense. So yeah, it was good!"
Sheffield is one of a number of locations in the UK which has been affected by the cold weather and snow.
The Met Office has issued three amber warnings for northern England, the Midlands, North Wales and Northern Ireland, where "significant disruption" to transport and power supplies is expected.
Four yellow warnings for snow also cover much of the rest of the nation, with the exception of South East England and western Scotland.
Twitter user Joe Dawson was another who spotted the message from opposite the hospital, tweeting "To the lads that have done this on the car park at the Hallamshire, you've really cheered everyone on @NCCU_K1 up! Legends!"
The message, meanwhile, caught the attention of a number of social media users, such as Leila Johnston, who wrote: "Oh god I'm way too sleep deprived for this. Literally welling up."