Housebuilders go back to basics by using traditional methods and materials
They ticking all the construction boxes: they are cheap, green - and anyone can use them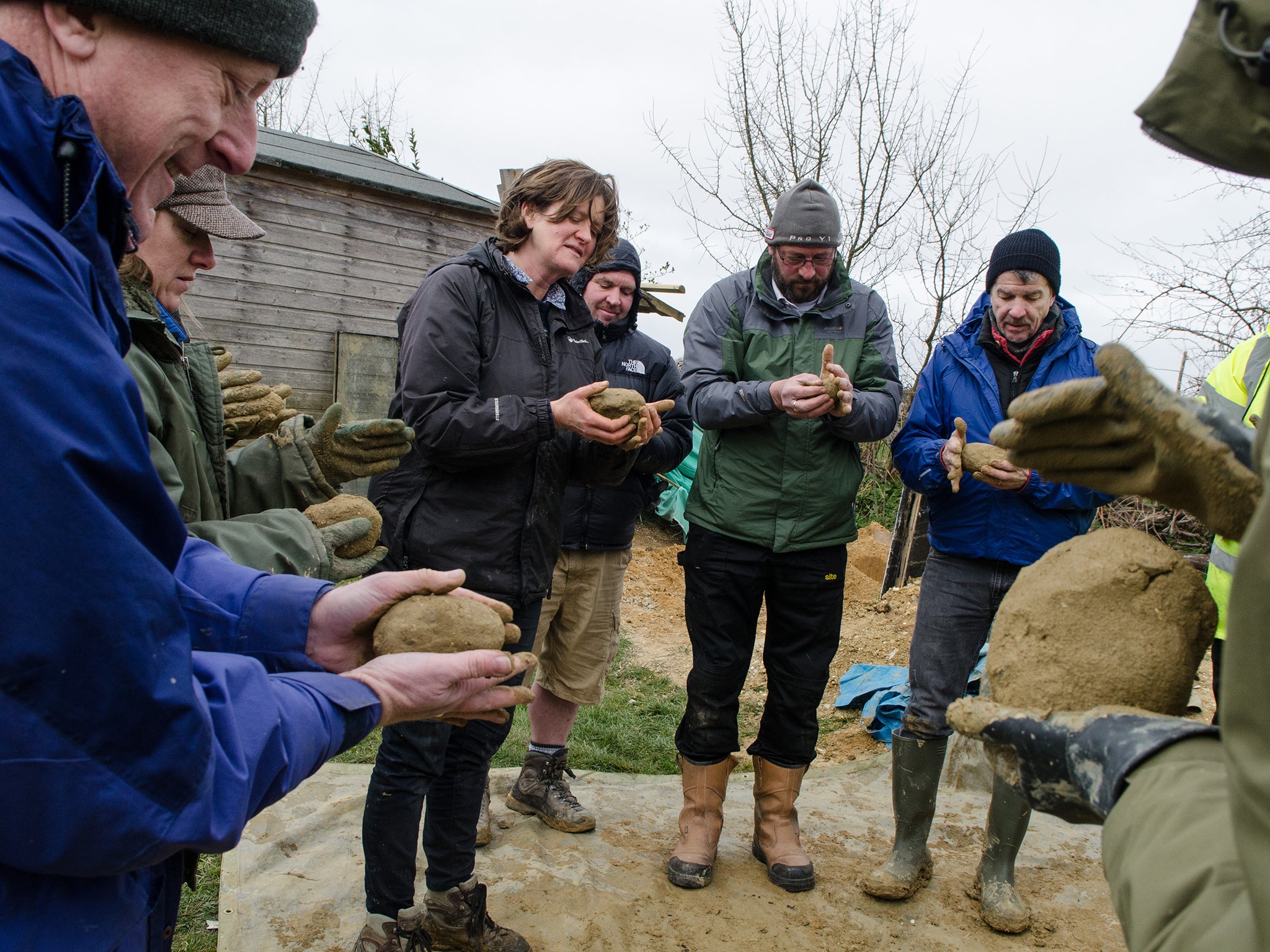 Families unable to afford their own homes are turning their backs on the housing market and winding the clock back, building their own shelters using traditional methods and materials including mud, straw and wood.
The trend for designing homes using natural local materials is a reaction to spiralling housing costs, according to the people who train "have-a-go" builders in historic construction techniques. The movement is even influencing major developers, who are investigating ways to use natural products to meet modern building standards.
Charlotte Eve, the co-founder of Edwards and Eve Cob Building, says she and her partner have trained thousands of people to build modern, liveable homes using earth dug straight from the ground. They extended their own home in Norfolk using the technique and have since taught others to build cob houses that are naturally energy efficient and have a low carbon footprint – for as little as £20,000.
In pictures: Traditional construction materials
Show all 6
Ms Eve said interest in cob and natural building has grown since the economic downturn of 2008. "You have got people who couldn't get mortgages but who may be able to get a bit of land and then build a house for a very small amount of money," she said. "When we had the crash most businesses struggled but I'd say we did better because it meant quite a lot of people are rethinking their lives. People want to take a different approach to life and be more sustainable and simplify things."
Cob is a mixture of clay earth, sand and straw, and homes using this material can be built freestyle by hand. "You end up with this mess of mud. You pick up lumps and slap it on the wall. The oldest cob house that's still standing is reputedly 10,000 years old – as long as you have a good roof on it, it will last," Ms Eve said.
They also teach their students how to plumb the property, install renewable energy sources and connect to the energy grid. It takes 10 months to build a house and costs rise to £48,000 with all modern facilities.
Catriona George, a 32-year-old mother of five aged between two and 12, took the course in 2012 with her husband after realising they were unable to afford a family home. "To find a house that fit us, it's way out of our price range," she said. In this way the family would be "able to afford a bit of land that we could all make our own stamp on".
She explained: "It was really easy to follow. We had a chat every morning about the ins and outs of it, planning and the like. The rest of the day we spent getting our hands dirty and that's the best way to learn. We felt really spurred on afterwards."
The couple have commissioned technical drawings of their dream cob home and are looking for a plot of land in Wiltshire or Devon.
Other popular natural building techniques include cordwood housing, rammed earth building and straw bale construction – recently used by Hastoe Housing Association in the development of new social homes in Essex.
At Lackan Cottage Farm in County Down, Northern Ireland, Steven Golemboski-Byrne is training approximately 70 people a year to build cheap and naturally energy efficient straw-bale properties.
"We get a lot of people who have got a mortgage, children and it costs a lot to live so all they do is work. There is a real rise in people looking for some alternative way to live. That usually includes building themselves something and doing it more cheaply," he said. He predicts the techniques will be rolled out across the construction sector.
John O'Brien, of the Building Research Establishment (BRE), confirms that the trend for self-builders to test out older techniques is being followed. "One of the things we find people ask is what can you learn from traditional construction. What are the benefits and how can it be rolled into modern construction?"
Councils and housing associations have been particularly interested. "Some people say they are willing to try these different techniques. Cost is absolutely a driver for everybody and the resources that we're building with are becoming more expensive," he said.
The BRE has supported the development of a house made with a mix of hemp and lime and insulated with sheep's wool, and is working on a house built with cork.
Traditional materials
Straw bale
Bales in a timber structure provide high-performing natural insulation. They can also be combined with modern building techniques
Rammed earth
Rammed earth building uses cob but forces the wet material on to a wooden frame at high pressure, a quicker method of construction
Cob
Cob is a mixture of clay soil, sand and straw. Homes can be built using a frame, or loosely by hand. Cob is a breathable material and regulates temperatures, storing heat during the day. There are hundreds of cob houses in the UK
Adobe
Adobe is created by adding water to a cob mix so that it can be moulded into tight bricks that are held together using a clay mixture
Cordwood
This uses pieces of wood stacked like fire wood and filled with a lime- or clay-based material to firm up the structure
Hemp
"Hempcrete" is a mixture of hemp, lime and water that can be used to build a structure and is also used as an insulating material in roofs
Join our commenting forum
Join thought-provoking conversations, follow other Independent readers and see their replies