Housing helpline recruits extra advisers in anticipation for soaring demand over Christmas period
New figures show Shelter received call for help every 22 seconds in run-up to Christmas last year, and charity warns situation set to get worse this winter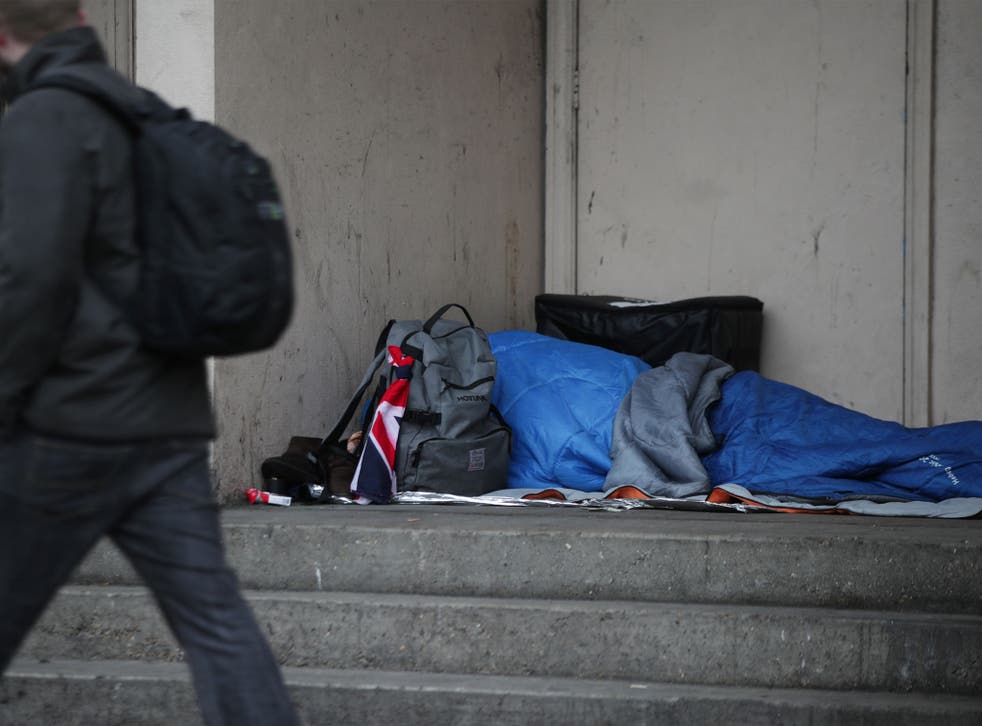 One of Britain's biggest housing charities has drawn in extra advisers to man its helpline over the Christmas period, in anticipation of soaring demand as the housing crisis "spirals out of control".
New figures reveal Shelter received a call for help every 22 seconds in the run-up to Christmas last year, and the charity is warning that the situation this winter is set to get worse.
The helpline received over 100,000 calls in the two months leading up to Christmas last year – while more than 500 calls were made on Christmas Eve and Christmas Day alone.
With the total number of calls having increased by 25 per cent over the past year, the charity said its expert advisers are already overwhelmed with pleas for housing help.
A spokesperson told The Independent they expect demand to be so high this year that they have recruited four additional advisers to man the phones over the festive period, bringing the total number of advisers to 31.
They said they anticipate huge numbers of people will come to them for support, as a crippling combination of rising homelessness, sky-high rents, problems with universal credit and a dearth of affordable homes are causing the housing crisis to "spiral out of control".
The number of rough sleepers in the UK has soared by 134 per cent since 2011, while there has been a 60 per cent rise in households in temporary accommodation in the same period, according to a recent report by the National Audit Office (NAO).
Rents went up at the same time as household incomes from benefits were cut, with rent costs across England increasing by three times as much wages, except in the North and the East Midlands, the research showed.
Alarmingly, over the same period, spending on other services, such as prevention, support and administration, fell by 9 per cent – from £334m to £303m.
Many homeless families who have been housed in temporary accommodation will be spending Christmas in hostels and bed and breakfasts located miles from their original homes and families, while other people will be spending the day on the streets.
Mark Cook, a helpline adviser for Shelter, said: "Every Christmas I speak to parents in despair as they face the trauma of homelessness, when they should be filling stockings and looking forward to Christmas dinner.
"Even though I'll be working at Christmas, I think myself so lucky to be able to go home at the end of the day when there are so many families having to go without such a basic need. No family should face the agony of losing the roof over their heads."
The Shelter helpline is funded by M&S customers throughout the festive season, with 5 per cent of every purchase made from the "Festive Collection for Shelter" going directly to the charity.
UK news in pictures

Show all 50
A Government spokesperson said £20m of additional funding was being provided to ensure more people who are homeless, or at risk of becoming homeless or sleeping rough, are able to get new tenancies in the private sector or support in sustaining existing tenancies.
He said: "Tackling homelessness is a complex issue with no single solution, but we are committed to do more to prevent more people becoming homeless in the first place. That's why we are investing nearly a billion pounds up to 2020 to prevent and reduce all forms of homelessness and rough sleeping.
"We are also implementing the most ambitious legislative reform in years – the Homelessness Reduction Act – that requires councils to provide early support to people at risk of being left without anywhere to live."
Join our new commenting forum
Join thought-provoking conversations, follow other Independent readers and see their replies