'There is something very wrong with this system': Stories of sick people assessed by doctor they never met
'How have they come to this decision, when they have never met my daughter? It is unjust'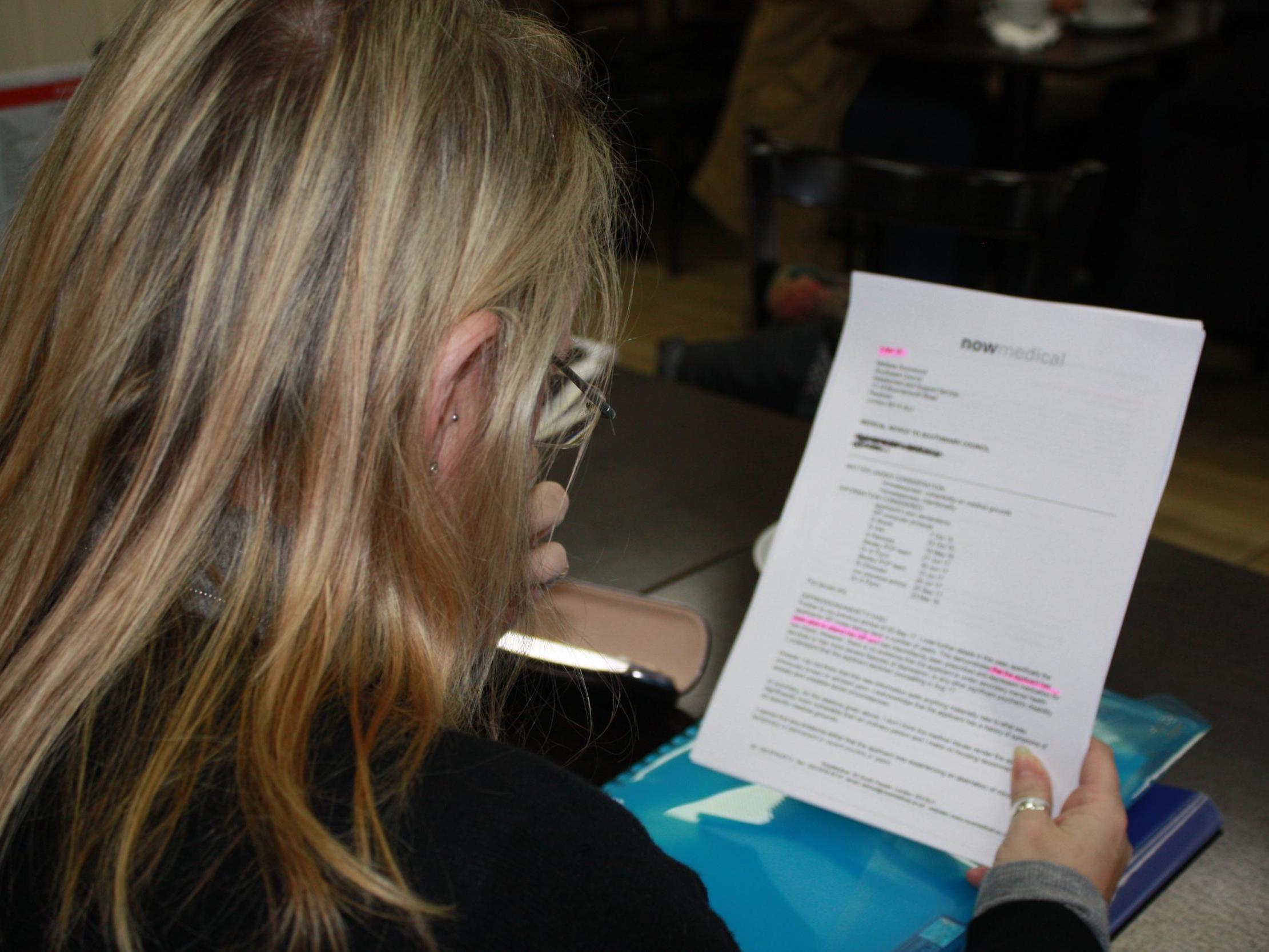 Scores of people have their health assessed every day by NowMedical, which has been paid millions of pounds by local authorities and the Home Office. The reports from the private firm are used to determine whether homeless people qualify for housing support and whether failed asylum seekers are fit to be removed from the country. But decisions that can plunge people into hardship are made without even speaking to them – often even without their knowledge – and instead rely on paper records.
Needing spinal surgery – but signed off to sit on a 15-hour flight
Ekhalas Yousif, 55, suffers severe pain in her back and upper legs due to spondylitis, sciatica, and lumbar spinal stenosis, which gets particularly excruciating if she sits for long periods of time. She needs spinal surgery, yet has been deemed fit to board removal flight to Sudan – a journey that takes 12 to 15 hours.
"How can they say that when they have never seen me?" she says of Dr John Keen, the owner of NowMedical, which advised the Home Office that she was able to leave the UK. Less than 24 hours after being asked to assess her, the doctor who evaluated her case responded via email stating that he did not believe her condition precluded her leaving the UK as long as she took regular exercise during the flight by "walking around the cabin".
"It gave me a shock. He's never seen me. If he spoke to my GP he would know," says Ekhalas, who came to Britain in 2012 with her two sons after fleeing religious persecution. "I can't even make a three-hour journey to Liverpool to sign on with the Home Office. How can I sit for 15 hours to Sudan?"
Made homeless despite psychiatrist's warning it would be a 'disaster'
Susan* was told she and her severely disabled daughter Leah*, 22, had to move out of their temporary accommodation just five days before Christmas this year. Leah, who has autism and several mental health issues, has been ruled not fit to work while a psychiatrist concluded she was "extremely debilitated", with suicidal thoughts and hands raw from obsessively washing. "It would be a disaster for [Leah] to be homeless, given her current mental state," they concluded.
Yet Bexley Council in southeast London said it would not house them because they were not in priority need, telling Susan and Leah they would be able to manage as well as "an ordinary person" even if "homelessness were to result in you having to sleep rough occasionally or in the longer term", after NowMedical found Leah was no more vulnerable "than an ordinary person if homeless".
After a legal battle, the council conceded Susan and Leah were in priority need but offered them a private sector flat that was unaffordable and unsuitable. Susan said she had no choice but to turn it down. "How have they come to this decision, when they have never met my daughter?" she asks. "There's something very, very wrong with this system. It is unjust."​
After intervention from Susan's lawyers, Bexley Council said they could stay in their flat over Christmas and that it is reviewing whether it was right to offer Susan only a private rental flat, but in the meantime it has told her to prove that she is searching for a place of her own every week.
Housebound with 'immense health problems'… but fit to fly
A woman who was housebound and in a wheelchair due to significant disabilities following a stroke lost her asylum support after NowMedical deemed her fit to fly. A report by the firm accepted that there were difficulties but said these were "not insurmountable" and that assistance could be provided to her during the flight. An immigration judge later said they "preferred the evidence of her treating specialist [..] to that of NowMedical, and overturned the decision that the woman was fit to fly.
Suicidal slavery victim ruled 'not more vulnerable than an ordinary person'
A suicidal refugee from Mauritania who had been subjected to human trafficking was refused housing by Islington Council after NowMedical deemed that he did not "meet the threshold for being more significantly vulnerable than an ordinary person if homeless". On the same day, his GP noted Mr Mohammed was "traumatised" by his suicidal thoughts, in a "terrible condition" and that "there is no doubt being homeless would trigger an exacerbation of his current conditions".
A second report by NowMedical stated that his depression was reported to have worsened and that he had been experiencing suicidal thoughts, but that there was "nothing to suggest any current suicidal risk or intent". The decision to refuse his housing request was overturned by a judge in 2018, who ruled that he was indeed vulnerable owing to his mental illness and physical disability.
Great difficulty with eating, washing and dressing… but not too vulnerable to be made homeless
A woman who suffered from upper limb weakness and severe muscle wasting in her shoulders, meaning she could not lift her arms above chest level, as well as post-traumatic stress disorder, anxiety and depression, was not deemed not to be in priority housing need after NowMedical said she was "able to fend for herself". A report signed off by Dr Keen advised that he didn't think her mental illness was "severe or substantially disabling". A review of the decision was successful.
Epileptic told he can can 'fend for himself' when rough sleeping
Daniel*, who suffers from epilepsy, as well as post-traumatic stress syndrome and depression, fell homeless after he was denied temporary accommodation by Harrow Council following NowMedical's assessment that he couldn't "find anything to prevent him from fending for himself".
While on the streets he had seizures most days, he was attended by paramedics at least four times and admitted to hospital twice. He often had to go without eating he could not always take his medication. Daniel's GP wrote to council reporting that he was vulnerable and that homelessness was both detrimental to his physical and mental health.
At this point, the council sought further advice from NowMedical's doctors, whose response was: "I note that he has experienced recent seizures, but this seems due to non-compliance with his medication only which is his own volition. I can't see a particular reason why homelessness prevents him taking medication. I can't find anything to prevent him fending for himself." The council decided again that he was not in priority need.
The Stats: Homelessness in the UK
Show all 10
Harrow Law Centre requested a review of the decision and obtained further medical evidence from his GP which said he was very vulnerable and that it was quite conceivable that his life span would be significantly reduced by remaining homeless. The council quashed the decision and Daniel was allocated permanent council accommodation.
A Home Office spokesperson said: "The Home Office procured the services of NowMedical to provide independent medical advice, which is required to assist case workers making decisions on the suitability of accommodation and ability to travel. This advice is considered alongside the medical evidence provided by applicants and all other factors. We are committed to providing support which meets the needs of asylum seekers and their dependants in line with current legislation."
NowMedical and Harrow Council have been approached for comment.
*Some names have been changed
UPDATE (05.03.20) Now Medical provides hundreds of thousands of opinions, the vast majority of which lead to decisions which are not challenged. NowMedical's assessments have been praised by some judges. Now Medical does not make decisions in relation to individuals; it provides opinions to local authorities and government agencies, who consider those opinions as part of the application as a whole.​
UPDATE (26.03.20) A spokesperson for NowMedical said "Local authorities have the legal responsibility to make decisions on priority need. We simply provide medical opinions to assist the local authority to understand the medical records and make its decision. The law uses the comparators of "vulnerable person" and "ordinary person". Our reports use this language. Opinions we give to the UK Border Agency consider the statutory test of whether an individual is "unable to leave the UK". This is not an opinion on whether an individual is "fit to fly" on a specific day. No such language is used in NowMedical reports.
NowMedical's registered doctors and psychiatrists are not required to physically examine patients in order to provide the opinion that the local authority/UKBA has asked for. This approach is one which the Courts and General Medical Council have accepted to be correct.
Join our commenting forum
Join thought-provoking conversations, follow other Independent readers and see their replies