How to turn Cricklewood into a 'proper' community: A new plan aims to carve out public spaces in a suburb that lacks even one park bench
The project is inspired by a 1980 study of New York's urban plazas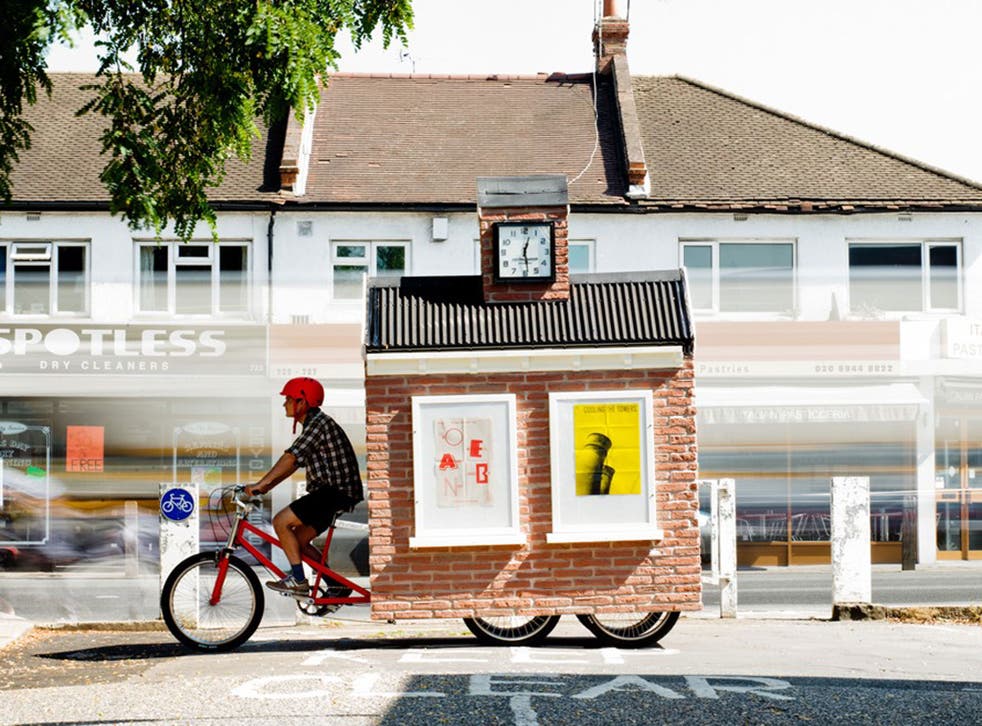 It's easy to miss Cricklewood if you happen to be passing through it. The Cricklewood Broadway, which sounds far more glamorous than the road it describes, hosts a B&Q and a gigantic Beacon Bingo hall. These two institutions, replicated in towns across the country, are the two main features of a North London suburb that has no library, no town hall and not even a solitary park bench.
The dearth of public space in Cricklewood is immediately evident as soon as you leave the train. This is a place where people perch on walls or else pester street corners, and it is this lack of conviviality that a new project is set to tackle over the next month.
Spacemakers, a civic design agency, is creating pop-up public spaces in the area. Their project, to reclaim tiny areas of public land for public use, is part of a £1.67m overhaul of Cricklewood financed by the Mayor's Outer London Fund.
Their curious mobile town square – which can be transported on the back of a bicycle – will travel around five unloved parts of the town. One is a patch of grass outside B&Q currently populated by lager cans, pigeons and plastic detritus, while another is a simple set of steps. The venues will host activities such as a walk-in cinema and a dog show. It sounds very twee, but it highlights a larger problem with Britain's public spaces.
A great many of the big developments designed to resemble public space – the vast outdoor courts of London's Westfield shopping malls, the two-tier walkways of Liverpool One and the charming Granary Square in King's Cross – are in fact privately owned. You can be moved along if your face doesn't fit. London Occupy protestors, prior to camping outside St Paul's Cathedral, came up aginst this problem when they attempted unsuccessfully to protest outside the Stock Exchange on the private Paternoster Square.
Tom James, the 30-year-old project manager behind the Cricklewood experiment, said: "Public space means you don't have to pay for a latte to be there. Public spaces across the country are being aggressively privatised, and in some places you can't ride a bike or take a photo without permission. I went to Westfield recently, and the music was piping out all the time – and they're not real spaces, they're fake. In public spaces you'll meet people you don't necessarily know, and who aren't like you. It's a space where protests can happen and you can make a stand about something. It comes down to being a citizen rather than a consumer."
His project is inspired by a 1980 study of New York's urban plazas by sociologist William Whyte. It found that a well-designed space that attracts all-comers can manage itself, forgoing the need for "security and spikes on walls". A recent development in Brooklyn, where small triangles of land have been reformed into pedestrian plazas, has led to a reduction in crime. Since 2010, San Francisco authorities have been renting out curbside parking spaces for the purposes of creating extra public space. The result has been an adorable collection of benches, trees and shrubberies.
Cricklewood is not San Francisco. In fact, Mr James' girlfriend, an area resident, coldy described it as "dirty", with "nowhere to go". The project's aim is not to create an idyll, but to "give people a place to rest and stop" and to create a "place for the community to exist and exert itself". There have been stumbling blocks along the way. He had intended to use The Galtymore, a legendary Irish ballroom that closed down in 2008. The landlord, he claims, "wasn't interested, as they're going to build a supermarket there. So the only way to do it is to occupy these marginal scraps of land. We need to sneak public space into them".
Some residents are on board with his plan. A cashier at Stevan's Supermarket says you "can't go anywhere, it's just businesses".
But up and down the Broadway most shopkeepers are silent. Evidence, were Mr James to need it, that cafes and restaurants do not a community make.
Cricklewood: Claims to fame
Salt n' Shake crisps
An unflashy snack for an unflashy place, the Salt n' Shake brand is said to have begun life in the 1920s, when crisp-maker Frank Smith sold his first greaseproof bags of potato chips to pubs in Cricklewood. It was his idea to introduce a small blue packet of salt to season the plain crisps inside.
The Beast of Barnet
In 2001, a Eurasian lynx caused chaos in the suburbs after residents believed they had spotted a leopard. The somewhat smaller lynx – still four times the size of a domestic cat – was tracked through the streets and back gardens of Cricklewood before being sedated. The animal was taken to London Zoo, where it was renamed Lara.
Comedy Greats
The Goodies, the 1970s BBC comedy troupe that propelled Bill Oddie to fame, often used Cricklewood as a setting. The lyrics to their "Cricklewood" song weren't too kind to the area: "Nothing ever happens there, in Cricklewood, no-one's going anywhere, in Cricklewood." Two decades later, comedy duo Simon Pegg and Nick Frost first met there.
Alan Coren
Dubbed the Sage of Cricklewood, Coren had an incredible fondness for the area and it featured in his humorous books and newspaper columns. When he moved to Regent's Park a few years before his death in 2007, he took the "terrible" orange leather sofa from his old home to his plush new house, as he was too sentimental to get rid of it.
Join our new commenting forum
Join thought-provoking conversations, follow other Independent readers and see their replies