HS2: Company developing rail line 'misled Staffordshire residents whose houses lie on proposed route'
'Now most of the community have left the area - being subject to this ordeal was exhausting'
Cahal Milmo
Friday 27 November 2015 18:29 Comments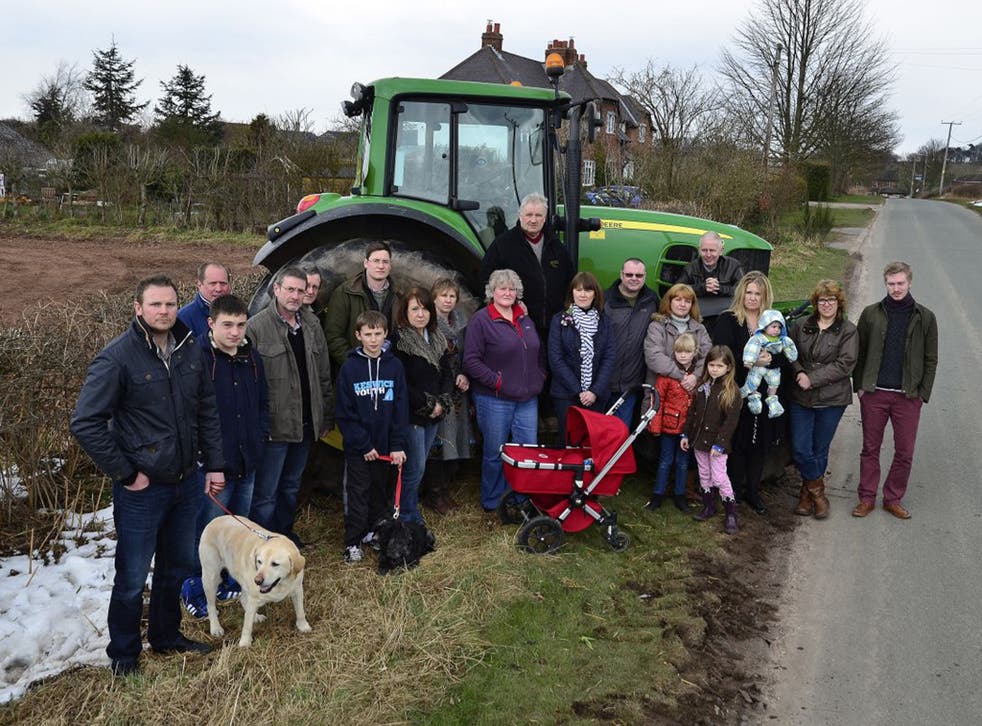 The taxpayer-owned company developing the HS2 rail line thwarted the desire of a community whose homes lie in its path to stay together with a series of blunders that inflicted two years of "severe stress and worry" on the homeowners.
An investigation by the Parliamentary Ombudsman found that families living in a "tight-knit" hamlet near Lichfield, Staffordshire, were given "false hope" that their proposal to relocate their 12 homes would be considered when in reality it was unclear whether HS2 Ltd ever fully evaluated the plan.
In a withering report about the behaviour of the company in charge of delivering the Government's flagship infrastructure project of a £42bn high-speed network between London and north England, ombudsman Julie Mellor said it had left the residents in limbo and ordered it to pay thousands in compensation.
The families had hoped that the dire blow of being told in 2012 that their homes stood on the proposed route of the High Speed Two link could be softened by working with the company to secure a scheme to demolish their existing houses and rebuild them nearby.
But over the course of the next two years HS2 committed a "catalogue of errors", asking the families to outline their proposals only to then fail to provide feedback on their feasibility and ultimately provoking a complete breakdown in trust.
Among the failings were delays of up to three months in providing minutes from key meetings with residents; the treatment of detailed complaints as informal because they did not have the words "formal complaint" written on them; and an attempt to force the residents' representative to unconditionally withdraw his grievances against HS2 Ltd while he tried to reach a settlement with the company for his own home.
The report said the ordeal, which only ended after most families in the hamlet gave up and accepted individual compensation packages, had impacted on the health, jobs and family lives of the residents. Six families had brought the case to the ombudsman.
Ms Mellor, who found HS2 guilty of several instances of maladministration and ordered it to pay the families compensation between £750 and £4,000, said: "These families were made to feel as though their proposal had simply disappeared into a black hole, leaving them with no option but to accept compensation for their homes and abandon any hope of them staying together as a community.
"The ordeal these families have endured highlights the dire consequences of public sector organisations getting it wrong and not communicating effectively with people."
The community, based on a rural lane near the village of Weeford, north of Birmingham, had built a close rapport, with neighbours looking after each other's small holdings and children using the hamlet as a playground.
Encouraged by HS2 to come forward with proposals, residents initially suggested a tunnel to save their houses but then focused on their desire to maintain their way of life by securing a deal to rebuilding their homes together.
The plan in part relied on securing an agreement from HS2 that the existing homes would be compulsorily purchased and demolished, thereby opening the way for a special exemption to be made to green belt rules and allow new houses to be built.
Jonathan Loescher, a rural economist living in the hamlet who became the homeowner's spokesman, said the community's desires were based both on solidarity and a hard-headed pragmatism.
He told The Independent: "It is hard to overstate the effect of being told that your home, your business and your community is going to be destroyed. We loved where we lived and we realised that it was going to be pretty much impossible to replicate what we had got both socially but also physically in terms of access to schools or transport links unless we were able to relocate nearby.
"We attempted to engage positively with HS2 Ltd but what we received in response was simply unacceptable. The ombudsman's report confirms that for two years this community was treated with contempt, delays and maladministration."
He added: "Now most of the community have left the area.. Being subject to this ordeal was exhausting, demoralising and made us lose all faith with the ability of HS2 Ltd to deal with us fairly."
The report found that the company, which has so far bought up more than 300 homes that would have been blighted by their proximity to the high-speed link, dragged out uncertainty over the fate of the Staffordshire families' homes by appearing to encourage the relocation plans when it never had it within its power to organise such a scheme. Over the course of dispute the residents filed 23 separate formal complaints.
Demolition of the hamlet is now due to begin in 2017 as construction of the first phase of HS2, between London and the West Midlands, gets under way.
HS2 said it offered a "full apology" to the residents and insisted it had overhauled its system for dealing with homeowners in light of the events in Staffordshire. Chief executive Simon Kirby said: "The period in question was one of transition for the HS2 project, which affected the speed with which we were able to progress the issues raised by the residents. HS2 has evolved significantly during that time and I am confident we would avoid a similar situation developing in future."
Other tales of HS2 property blight
* Great Missenden, Buckinghamshire
Three families in this sought-after Home Counties village sold their homes - worth £2.75m and £3.85m respectively - after being advised they were so close to the proposed HS2 route that they would have to be demolished. A subsequent revision of the route, which has extended a tunnel under the village, means the houses are now safe but stand empty.
* Burton Green, Warwickshire
This village on the edge of Coventry is to be bisected by the HS2 route from east to west as the high-speed line follows a previously abandoned railway line. Some 61 properties will be demolished, including the village hall. Homeowners who live just outside the 125-metre zone where compensation applies have complained their homes have dropped 40 per cent in value since the route was unveiled.
* Appleby Magna, Leicestershire
Conservative MP Andrew Bridgen has been a prominent voice in the campaign against the HS2 project, which opponents argue offers only marginal improvements in journey times. But Mr Bridgen now also has direct experience of the project's compulsory purchase schemes after it emerged he has sold his £2.1m mansion to HS2 Ltd. Mr Bridgen was paid £1.9m for the eight-bedroom property, which sits within 100 metres of the rail route.
Register for free to continue reading
Registration is a free and easy way to support our truly independent journalism
By registering, you will also enjoy limited access to Premium articles, exclusive newsletters, commenting, and virtual events with our leading journalists
Already have an account? sign in
Join our new commenting forum
Join thought-provoking conversations, follow other Independent readers and see their replies