The Saturday Essay
HS2 is the only option for Britain's railways
The high-speed rail project comes with huge economic and practical benefits, but politicians have failed miserably at explaining them, Jon Stone argues
Thursday 22 August 2019 10:28 BST
Comments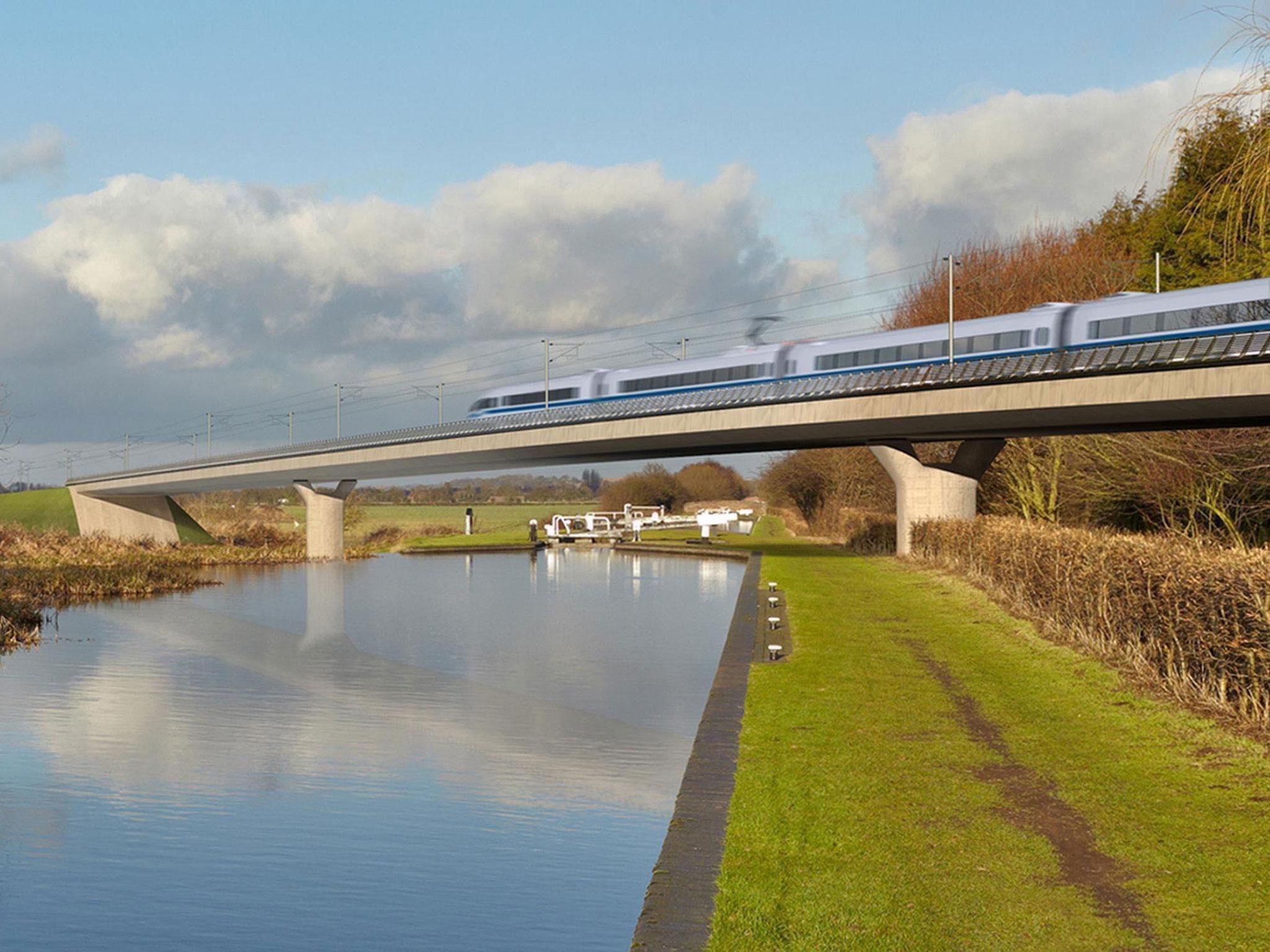 The arguments against HS2 are simple, and superficially attractive: why are we spending £55bn on a high-speed line between London and the north, when commuters outside the southeast are cramming onto unreliable, expensive, and infrequent old trains?
The latest polling shows the new railway is unpopular, and Tory leadership wannabes are circling to scrap it, hoping to win the affections of their party members, who hate it even more than the general public.
The government has failed to make the case for HS2. So allow me to make it here, because it's actually a very good idea.
Those concerns about overcrowded, creaking commuter trains are real: but they cannot be solved without HS2, or something extremely similar. The problem is that explaining why is quite complicated, so politicians haven't really tried.
Some people seem to think HS2 is about "knocking 35 minutes off London to Birmingham". It isn't. Yes, it will dramatically reduce journey times: the whole project will cut London-Manchester from two hours to one; it takes around an hour off the journey to Scotland; Birmingham to Newcastle is cut from three hours 15 minutes down to two hours. Birmingham to Nottingham, which currently takes over an hour, falls to an almost ridiculous 19 minutes. One misconception is that these will be special "high-speed" premium services with higher ticket prices for rich passengers. That isn't true – these will be the ordinary journey times between those cities, integrated into the existing network.
But speed is not the main point of the new line. The objective is capacity, and not just capacity for fast intercity services, either, but for those local regional and commuter services between small towns that have been so neglected. The complicated bit is explaining why that is.
Britain's railways were largely built in the Victorian era, for a different kind of travel. Today, the same lines carry a mix of express intercity trains – the kind which HS2 will take – and stopping local and commuter services, the kind people use to get to work, or pop to a neighbouring town.
This mix is a very inefficient way to run a railway, for a reason that is quite obvious if you think about it: trains cannot overtake each other on the same set of tracks. They would bang into the back of one another if they tried. Not good. To get around this, local stopping trains need a large gap behind them in the timetable, so the express trains behind them do not catch up. That reduces the number of trains you can have per hour on a line, dramatically reducing its capacity for every type of service – local and express.
Extinction Rebellion: Climate change protests cause chaos in London
Show all 46
The engineering thinking behind HS2 is to take those express services off the older mainlines, leaving them for stopping local and commuter services. When trains are all travelling at roughly the same speed on a line, you can fit a lot more in, because the gaps needed between them are smaller.
HS2 will take express trains off the West Coast Main Line that links London with Birmingham and the cities of the northwest; the Midland Main Line that links London with the East Midlands and Sheffield; and to an extent the East Coast Main Line that goes up to Leeds and Newcastle. That frees up capacity across a huge swathe of the country for local services, and it's the whole rationale behind the project. That the government hasn't been explaining this ad nauseum is inexcusable.
So if the plan is to improve commuter services, why not build a new commuter line instead of a new one for expresses? It wouldn't make sense: these existing lines are already good for slow trains, and they go into the centres of towns and cities, which have since expanded around them. A new high-speed line for expresses can make use of engineering advances since the 19th century to speed up journeys, and doesn't have to go into as many built up areas as a local line would, where the need for tunnelling and demolitions would make it more expensive and disruptive. And making a line high-speed doesn't actually cost that much more, either, if you're building one anyway. But the key point is that local services benefit, despite the new line being for express trains.
HS2 will also bring other direct benefits to cities and towns that aren't London. Northern Powerhouse Rail (stupid name) is the government's plan to connect up the cities of the north of England with high-speed rail. It's currently in development, but the plan, as put together by northern councils, relies on vast sections of HS2 track. Liverpool to Manchester; Sheffield to Leeds and towards York and Newcastle – these bits of NPR will use parts of HS2.
The government arguably made a huge mistake by starting planning on the NPR scheme so late, leaving people wondering why they were prioritising journeys to London – but with Labour and the Conservatives both committed to the project, it is likely to happen. HS2 and better connections between non-London cities aren't an either/or: the two projects are intrinsically linked. If HS2 is scrapped, who knows when a government will next be brave enough to try a major rail project again.
Rail minister Andrew Jones says HS2 will be key part of strategy to fix capacity problems for trains
In the meantime, the West Coast Main Line is filling up, and can't wait. The reason ticket prices are a rip-off from London to Manchester (£175 for a walk-up, one-way, anytime ticket is absurd no matter what cheap advance fares are available – sometimes you just have to travel) is because the trains are running completely full and Virgin can charge what they like and still have a passenger in every seat – and sometimes the floor. The number of passengers using the route doubled between 1997 and 2005, and it is well on its way to doubling again. The huge capacity increase that HS2 brings is a response to that.
It's understandable that people are sceptical of a project that has been badly explained, when it isn't obvious why it deals with the biggest problems they see with the railways. That said, some criticisms are red herrings. Take the environmental impact: over the 140 miles of HS2 line, 29 hectares of ancient woodland will be felled. Sounds bad? But for comparison, a single 2.5-mile road scheme, widening the A21 in Kent and Sussex (not even a new road!), will take down nine hectares, around a third of HS2's phase 1 total. Extinction Rebellion are barking up the wrong tree on this one; far more road schemes will be needed if we can't shift traffic to more efficient rail, and that means building more capacity. High-speed rail has also proven the greenest way to get people off short-haul flights, dominating routes like London-Paris or Madrid-Barcelona, where polluting planes would otherwise be king. Long term, it's good for the environment. And new trees are being planted elsewhere to replace the ones cut down.
Any large project will be disruptive, but compared to the other options, HS2 is actually pretty good. Consider one much-touted alternative: upgrading the West Coast Main Line with an extra pair of tracks for more capacity. There are several thousands houses built facing onto the line, and you're going to need to knock them down to put a railway there. And it won't be high-speed, it'll be more expensive to do it, and it'll be massively disruptive – not just for people losing their homes, but passengers who would face about a decade of closures and replacement buses. The more general problem with suggestions that existing lines should simply be "upgraded" (a rather vague proposal) is that there are simply diminishing returns to what you can do with 150-year old infrastructure. The West Coast Main Line already benefited from a major upgrade programme ending in 2005; it took a decade of disruption and cost over £10bn in today's money, provided only a fraction of the benefits of HS2, and is already full. Plans to upgrade it further were abandoned because they weren't seen as practical, and planning for a new line that became HS2 is a direct result of that process.
Will HS2 suffer from cost overruns? Probably. Delays? You bet. Infrastructure projects are rarely delivered on time anywhere in the world, not least in western democracies with little things like rule of law and environmental regulation. But once they are finally delivered, nobody cares: you probably don't even remember that the Channel Tunnel or Jubilee Line extension were fiascos in their time; nobody would get rid of them now. HS2 will be the same. It won't solve every problem with the UK's rail network, but it is a necessary part of solving a hell of a lot of them. If it gets scrapped, in 10 years' time people will be talking about building something very similar, and moaning that we didn't get on with it when we had the chance. Probably while they sit on the floor of an overcrowded train.
Join our commenting forum
Join thought-provoking conversations, follow other Independent readers and see their replies