Huge blue fin tuna weighing 350 pounds caught off Devon coast
Large fish caught 12 miles from the town of Brixham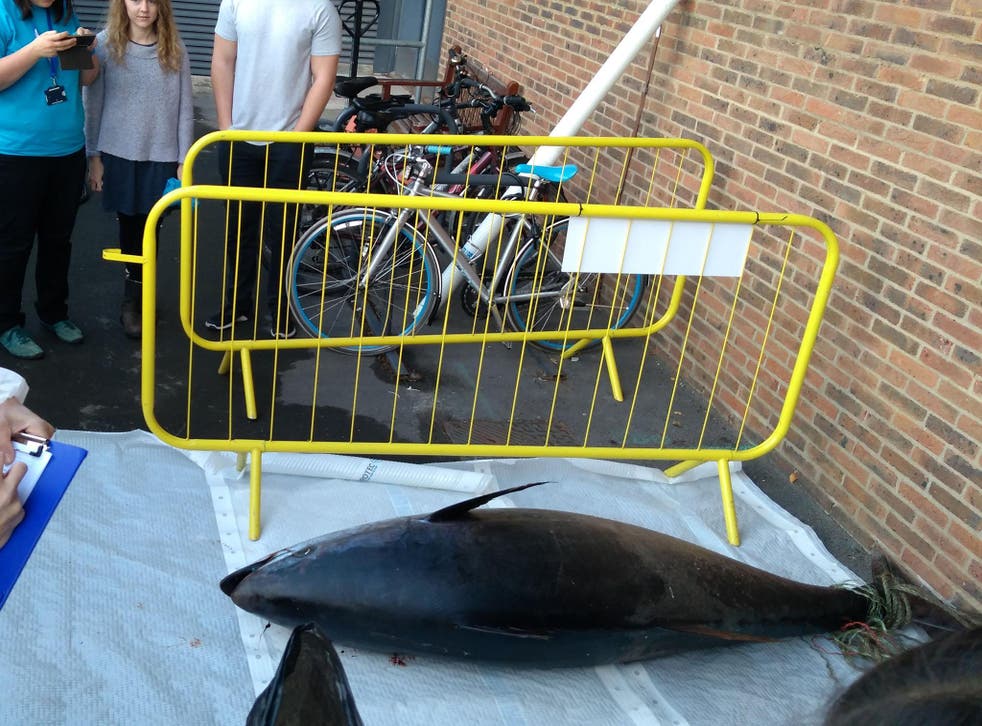 A fisherman trawling off the Devon coast has caught an Atlantic bluefin tuna fish measuring more than 2m (6.5ft) in length.
The catch was made 12 miles from the small town of Brixham – a rare find so close to the UK.
It was roughly 2.3m in length and weighed 160kg, making it one of the larger specimens of a species that can reach up to 2.55m in length.
Catching and selling bluefin tuna is illegal in the UK and the fish was quickly handed over to marine biologists from the University of Exeter to be analysed.
With more bluefin tuna being spotted in British waters due to climate change heating the ocean and changing the path of currents, researchers expect more to be accidentally caught in the future.
Dr Lucy Hawkes, senior lecturer in physiological ecology at the University of Exeter, said: "This is an endangered species, so we want to learn as much as we can from this individual.
UK news in pictures

Show all 50
"The eye lenses have layers like an onion, and tests on these can reveal a 'geographical signature' showing where the tuna has been through its life.
"Its ear bones will allow us to estimate its age, muscle samples will give us information about genetics and we can look for heavy metals and other toxic chemicals which often stick to fats.
"We will also look in its guts to see if it has ingested plastic, as many marine creatures do."
Sean Perkes, who works for wholesalers Ian Perkes Import and Export, said: "I have never seen one that size at Brixham or the UK in my 40 years of being involved in fishing.
"I was hoping to buy it for our seafood restaurant shoals which runs alongside our export fish business."
Dr Matthew Witt, from the university's biosciences department and the Environment and Sustainability Institute said: "Numbers dwindled in UK waters in the late 20th Century, possibly due to fishing, but in the last five years more have been seen off our coasts.
"The species might be recovering, but it's also possible that populations are simply moving and that's why we're seeing more here."
Academics and experts at science organisation Cefas are hoping to attach satellite tags to bluefin tuna in the future to discover more information about their movements.
A 212kg Pacific blue fin tuna fish which was caught off the coast of Oma in northern Japan was sold at auction for 74.2m yen (£488,000) in January.
Although they are the subject of conservation efforts in most of the world, Japan considers them a delicacy.
Join our new commenting forum
Join thought-provoking conversations, follow other Independent readers and see their replies