Huge explosion flattens buildings in Wirral
Dozens injured as suspected gas explosion reduces dance studio to rubble
Charlotte England
Saturday 25 March 2017 23:15 Comments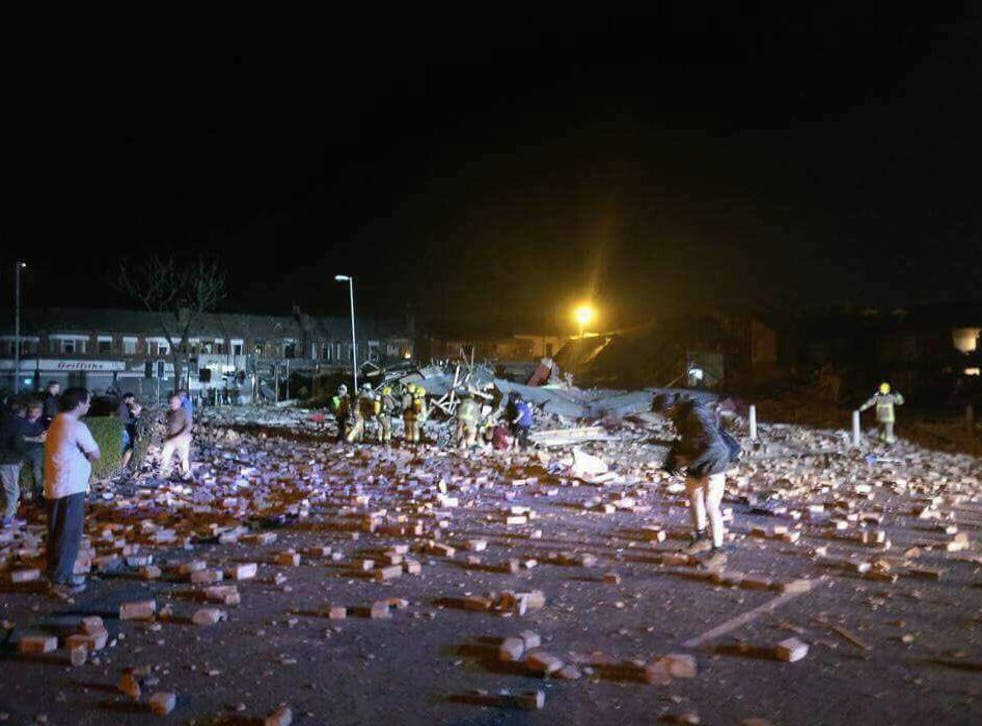 A huge explosion has flattened at least one building on the Wirral, injuring dozens of people.
Emergency services rushed to the scene in New Ferry, where a building, believed to be a dance studio, was reduced to rubble at around 9.15pm.
It is not yet clear if anyone was inside the building at the time, but injured people were seen walking to ambulances, according to the Liverpool Echo, one with a "serious head bandage".
North West Ambulance service confirmed one serious casualty was taken to Aintree University Hospital and 23 others described as walking wounded were taken to Arrowe Park and the Countess of Chester hospital.
Most of the casualties are thought to have been customers at a nearby Chinese restaurant. The windows of a pub were also shattered by the blast.
One resident said he believed there were people buried under the rubble.
Lew Hopkins told the Echo: "Some people were under the rubble. It was horrific."
He said people who live near the site were being evacuated because of fears there could be a second blast.
He said: "They evacuated people on the street because they were scared it could happen again.
"They were all forced to evacuate - it was horrible to see."
Wirral council said it had set up a refuge for people who have been displaced as part of the incident and is working with emergency services at the scene.
Merseyside Fire Service said a suspected gas explosion had caused a building to collapse.
A spokeswoman for the service confirmed they were dealing with a blast at two buildings covering an area of around 50 metres by 40 metres.
"They have collapsed in a suspected explosion due to a gas leak," she said.
The news editor at Capital FM tweeted: "Explosion in New Ferry understood to be at a furniture shop... building flattened with other buildings around it suffering damage"
The Liverpool Echo reports that the building was dance studio called Complete Works. A petrol station may also have been damaged.
Nearby residents said they had felt the earth shake from the explosion, which left a huge plume of smoke rising into the sky.
Witnesses described the scene as 'like a war zone'.
Bino Shan, the owner of a convenience store on nearby Bebington Road, told the Telegraph: "I saw one man injured, I think a few people were injured.
"The building is gone, my door is damaged and broken. It's really scary, it was a big explosion but I didn't see any fire.
"The police said the gas blew up."
Alison McGovern, the MP for Wirral South, tweeted that she was at the scene but urged others to stay away.
Lucy Lee, a woman who is believed to have worked at the dance studio, posted on Facebook that she was heartbroken by the accident.
"Lost for words.. I began complete works when it very first opened and to see it build how it did and go from 20 of us to hundreds of them was incredible," she said.
"Vic & Kim put their heart and souls into that dance school and within minutes it has gone. Hoping everyone is safe."
Register for free to continue reading
Registration is a free and easy way to support our truly independent journalism
By registering, you will also enjoy limited access to Premium articles, exclusive newsletters, commenting, and virtual events with our leading journalists
Already have an account? sign in
Join our new commenting forum
Join thought-provoking conversations, follow other Independent readers and see their replies