3,200 naked volunteers turn the streets of Hull blue in Spencer Tunick's 'Sea of Hull' installation
Mass nude artwork aims to highlight global climate change and rising sea levels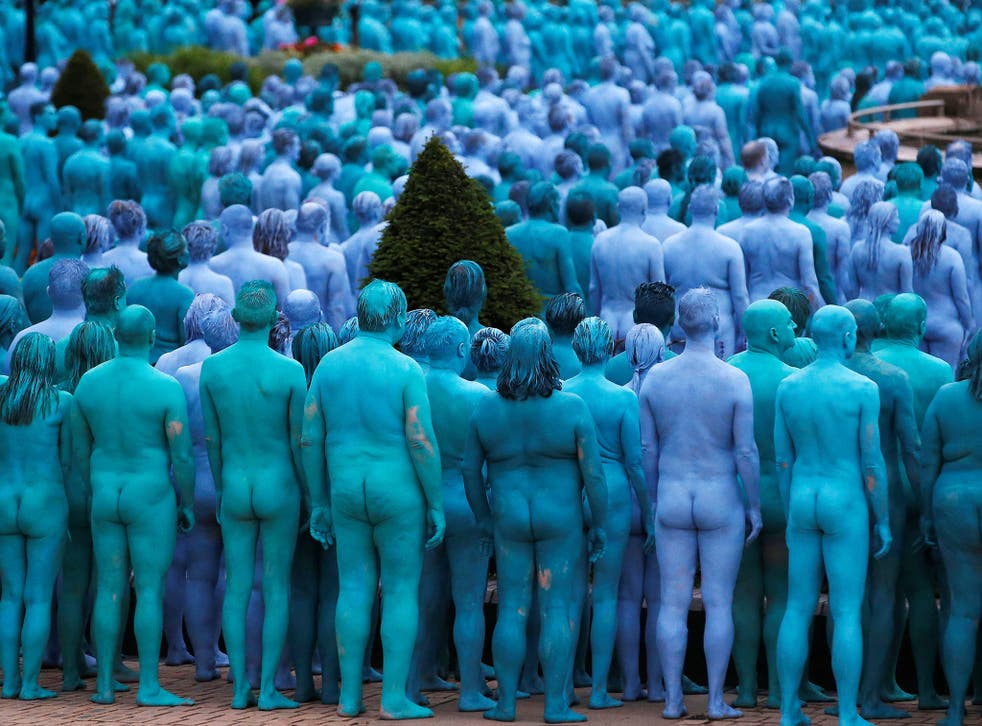 On Saturday morning, the streets of Hull were taken over by a dazzling crowd of 3,200 naked people covered head-to-toe in blue paint in what has been hailed as the UK's largest ever art installation.
Waves of people painted in various shades of blue slowly flooded the city centre as dawn broke, to take part in a project by US artist Spencer Tunick.
The spectacle was designed to highlight Hull's relationship with the sea, and was commissioned by the city's Firens Art Gallery which will host the annual Turner Prize next year – the first time it will have ever been held outside London.
Mr Tunnick is famous for his vast installations featuring crowds of nude volunteers, and said Hull had seen one of the best turnouts he'd seen for his photoshoots, with the crowds stretching off into the distance.
He said the work aimed to highlight global climate change and rising sea levels, with bodies flooding the streets.
Despite chilly weather, people from across the globe descended on Hull and arrived in the city centre at a meeting point at 3am.
Then they all stripped off and painted one another in specific shades of blue.
Mr Tunnick addressed the mass of blue people from a crane, while helpers with megaphones directed the crowds into position.
One volunteer, Barry Weldon, 43, told The Independent the spectacle was "like a festival".
He said: "I didn't know whether I'd have the bottle to do it, but I wanted to push myself into doing something different. But suddenly everyone was naked and I thought, 'hang on a minute, I'm the only one around here who isn't'. So I thought, 'right, I'm going to go for it'.
"Before I went I thought it might be a bit of a pervy situation, but as soon as you were naked, that went out the window completely. There seemed to be no sexual objectification of anyone.
"I felt vulnerable and exposed, but I felt I got to see a part of myself that I never really knew was there."
Speaking after the shoot, Mr Tunnick said: "I was very surprised to see so many older people take part and so many people who had problems walking – wheelchairs, crutches, leg braces.
"It was like the end of a war in a way, but they were resilient and we had young and old and I am so thankful to them."
Naked performance art, exhibitions and protests

Show all 5
Mr Weldon, who has mobility issues, echoed Mr Tunnick's sentiments. He added: "There was a part where a long line of people painted another shade of blue walked past us, and it reminded me of images of the Second World War, from concentration camps, where they are moving in ranks. It was like that.
"There was such a feeling of isolation but also unity. It resonated with me on that kind of a level. It was really moving."
Register for free to continue reading
Registration is a free and easy way to support our truly independent journalism
By registering, you will also enjoy limited access to Premium articles, exclusive newsletters, commenting, and virtual events with our leading journalists
Already have an account? sign in
Register for free to continue reading
Registration is a free and easy way to support our truly independent journalism
By registering, you will also enjoy limited access to Premium articles, exclusive newsletters, commenting, and virtual events with our leading journalists
Already have an account? sign in
Join our new commenting forum
Join thought-provoking conversations, follow other Independent readers and see their replies