Farmer who blames hunt supporters for arson attack says he's 'victim of countryside terrorism'
Animal sanctuary owner believes he was targeted by 'arrogant' fox-hunters for standing up for wildlife
Jane Dalton
Sunday 30 December 2018 17:36 Comments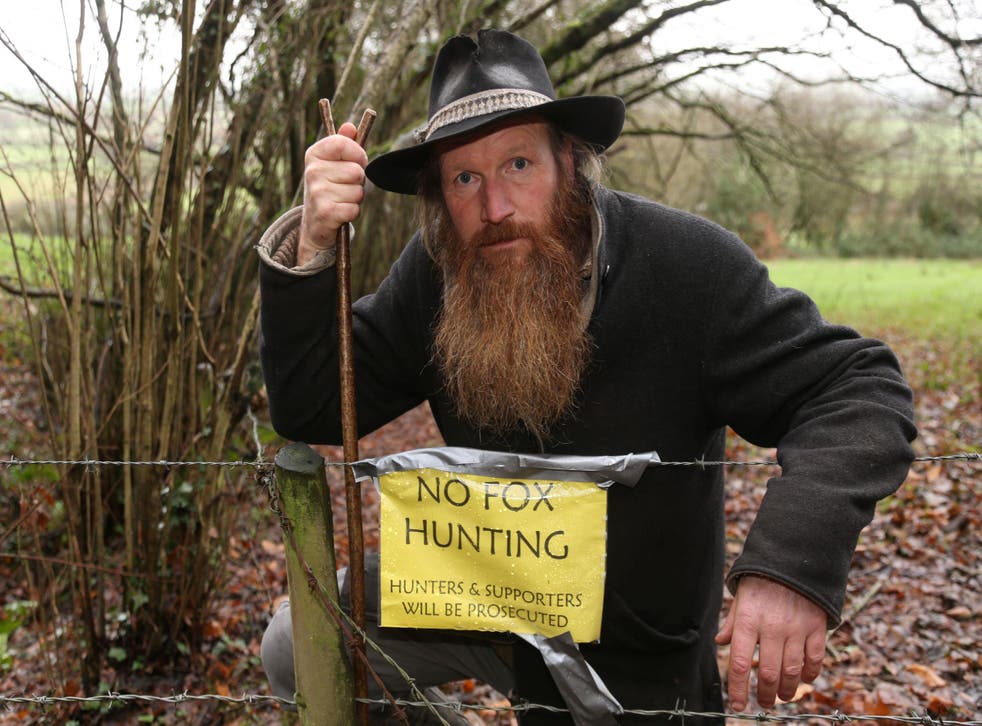 A farmer who runs an animal sanctuary says he has been the victim of "countryside terrorism" following an arson attack on his property days after he clashed with hunters.
Paul Chant blames hunt supporters after finding one of his cars and sheds on fire at his Somerset farm.
It happened within hours of attending an anti-hunt protest and days after he says he discovered hunt hounds on his land.
Mr Chant, who had to be treated in hospital for inhaling smoke from the blaze, warned of "civil war" in the countryside between hunters, their supporters and opponents.
"A civil war is about to kick off – this has got to stop," he said.
"I'm ashamed to be a farmer – I don't feel like a farmer any more.
"They think they're above the law, they think they can come here and arson on me just because I stand up against the local hunt."
The 56-year-old said tensions with pro-hunt farmers had escalated, leading to violence and people setting fire to his property in Priddy, near Glastonbury.
Police said they were appealing for witnesses. "The incident is being treated as suspicious," a spokesman said.
Mr Chant said: "All of us here are animal lovers who look after a large range of animals that have been rescued and we now have to endure the hunt coming up to our land.
"Their hounds were out of control in our animal sanctuary, growling and snarling at us."
He added: "We had the hunt all over our land and surrounding land that is privately owned, terrorising our animals, hounds loose and growling and snarling at us
"My landlord and neighbour were assaulted by these scum who thought they were being hard when there were over 20 of them going against two."
Mr Chant says he tried to stop them being "pushed around" and he was himself shoved.
The Hunt Watch group said he had had "no end of hassle and intimidation".
Mr Chant said he had invested in CCTV to ensure the security of his farm buildings and had given up his guns.
"The powers have gone crazy. I've handed all my guns in to the police as I'm scared that they could be stolen and used against me."
"We've got a fox shortage now, soon we'll have no animals left, what the hell are these arrogant stupid farmers doing?" he told Somerset Live.
"How dare they try and kill the sanctuary?
"The real, sustainable farming is not going on; all these farmers are doing is saying 'look at my big tractor, look at my big Range Rover'. It's all about the money to them.
"They're hunting all the animals into extinction with their sprays and with their guns."
He added: "They're unsustainable farmers, we all need to pull our weight to survive for the generations that follow us."
He said he had gone to Priddy to peacefully demonstrate against hunting.
"The very next morning the car was set on fire."
Support free-thinking journalism and attend Independent events
When contacted by The Independent, a spokeswoman for his local hunt declined several times to comment on supporters' behaviour.
Additional reporting by SWNS
Register for free to continue reading
Registration is a free and easy way to support our truly independent journalism
By registering, you will also enjoy limited access to Premium articles, exclusive newsletters, commenting, and virtual events with our leading journalists
Already have an account? sign in
Join our new commenting forum
Join thought-provoking conversations, follow other Independent readers and see their replies