Hunting fears as rare golden eagles vanish in Scotland's 'Bermuda Triangle'
'Highly suspicious' disappearance of prized raptors prompts new legal measures
Oliver Duggan
Thursday 04 July 2013 17:45 Comments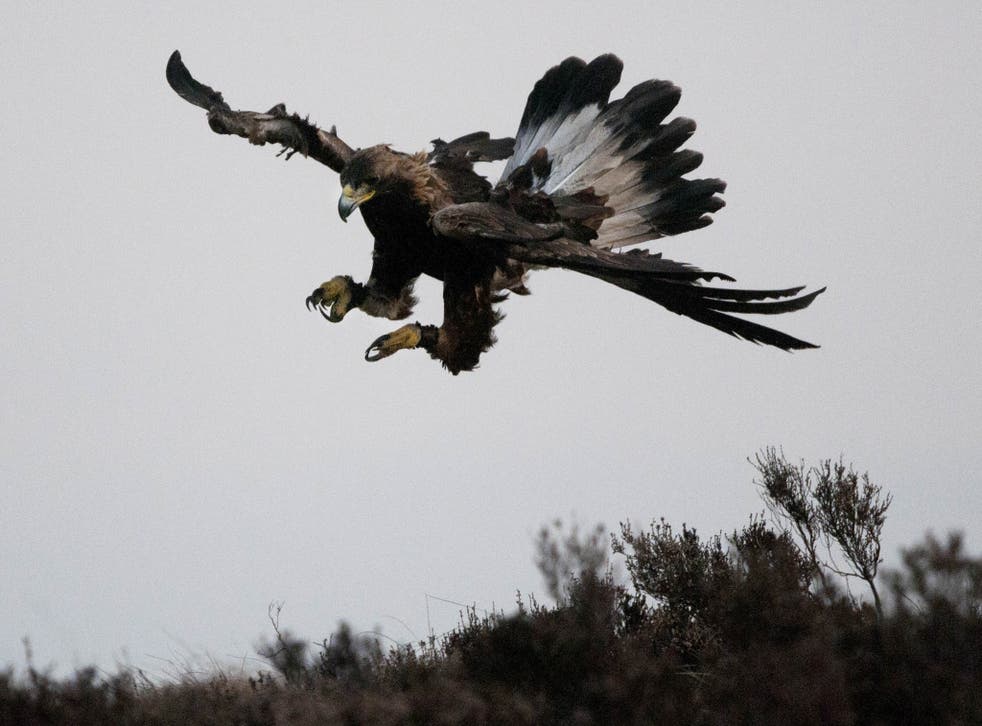 Several rare and highly-prized golden eagles have vanished in Scotland's avian "Bermuda triangle" amid fears that they are being systematically hunted.
A fifth eagle disappeared without a trace in Cairnghorm National Park last month, a 100 square kilometre area between Moray and Aberdeenshire that has drawn comparisons with the Caribbean island for the regular disappearance of birds.
Angus, the latest victim of the unexplained phenomenon, was fitted with a satellite tracer that was last used to locate the eagle on 13 May.
The head of investigations for the Royal Society for the Protection of Birds Scotland (RSPB), Ian Thomson, told a local paper: "It's becoming a bit of a Bermuda Triangle. These birds are disappearing as they travel around.
"It's exceedingly disappointing that they are disappearing so young in their lives before having the opportunity to breed. There have been proven cases of deliberate killing of birds in this area which makes it highly suspicious.
Four other birds of prey have gone missing in the last three years, beginning with a formerly-endangered white tailed eagle in 2010. More recently, three of the golden variety have vanished from the same nesting area, one of which was found to have died from illegal poisoning.
"Several birds have disappeared completely without trace in an area where there has been confirmed poisoning, Mr Thomson added. "It is of great concern. We have great legislation protecting these birds in this country but people continue to target them in a complete disregard of the law."
The news comes during announcements by the Scottish Gamekeepers Association (SGA) that its members have the knowledge to boost conservation efforts in an attempt to overcome accusations that land-owners regularly persecute the wild birds.
The association has recently expelled four members for wildlife offences, but Chairman Alex Hogg said the good work completed by many grouse managers was being "overlooked".
"The conservation work done by many of our members in this area is forgotten because of the actions of a few. They are willing to assist wider eagle conservation and have skills to be an asset," he said. "As well as educating, we have expelled members found to commit wrong-doing and where conflicts arise, as they will, we advocate lawful solutions.
Earlier this week, the Scottish government announced a series of policies designed to crackdown on offences against birds of prey. Prosecutors in the wildlife and environmental crime unit have been ordered to work with Scottish police and Scottish Natural Heritage has been asked to examine if general licences for trapping and shooting wild birds could be restricted.
A special group will also be established to review how wildlife crimes are treated within the legal system. It will examine whether the penalties imposed are tough enough to protect species including the golden eagle, hen harriers and red kites.
Environment minister Paul Wheelhouse, who unveiled the initiative, said: "Outdated, barbaric and criminal practices put at risk some of our most magnificent wildlife and have horrified a wide range of people across Scotland and those who love Scotland,
"Through these new measures, I am keen to maximise the opportunity for offences to be detected and offenders to be tracked down. I am determined to stop illegal persecution of raptors that continues to blight the Scottish countryside."
Register for free to continue reading
Registration is a free and easy way to support our truly independent journalism
By registering, you will also enjoy limited access to Premium articles, exclusive newsletters, commenting, and virtual events with our leading journalists
Already have an account? sign in
Join our new commenting forum
Join thought-provoking conversations, follow other Independent readers and see their replies