Hurricane Gonzalo to hit UK on Monday night after battering Bermuda
Hurricane Gonzalo will be downgraded from a hurricane before crossing to the UK on Monday night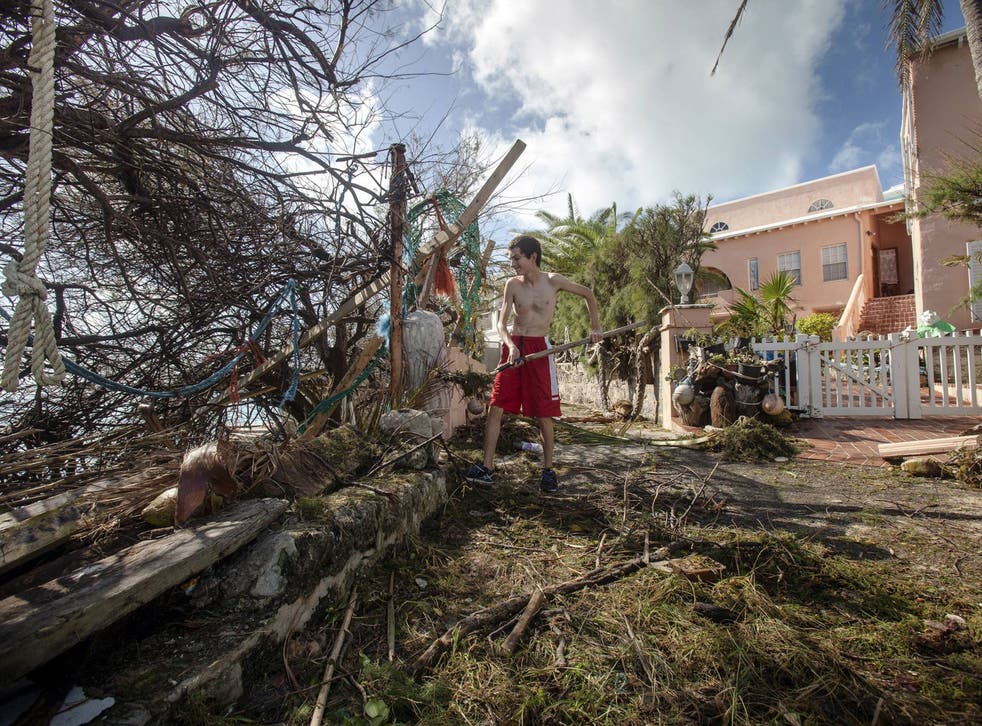 The Met Office has warned that Hurricane Gonzalo, which battered parts of the Caribbean, will hit the UK on Tuesday bringing with it heavy rains across the north of Britain.
Teams on the island of Bermuda have been clearing wreckage and repairing buildings after it was hit by Hurricane Gonzalo on Friday night, which damaged buildings but caused no deaths or serious injuries.
The storm crossed over the island late on Friday night and is now moving over the Atlantic towards Newfoundland in Canada – and it is on course to cross the Atlantic and reach Ireland and Britain. Simon Partridge, a spokesman for the Met Office said that they expected the storm to be downgraded from a hurricane today and will reach the UK in the middle of the night on Monday.
But he reassured, it will not be like a hurricane by the time it gets here: "The storm won't be different from a normal winter storm that we are used to, the only issue is that leaves are still on the trees which could cause debris on the roads affecting Tuesday morning rush hour." The Met Office has information and advice about this on its website.
Hurricane Gonzalo had winds of 110mph and was a category 2 hurricane when it reached Bermuda, the Press Association reports and more than 18,000 homes were still without power there on Saturday. Damage includes several uprooted trees, broken walls and swept off roofs.
Hurricane Gonzalo in pictures

Show all 5
Part of the roof has come off the island's parliament and off an exhibit at the Bermuda Aquarium, Museum and Zoo. The International Airport was closed last night, but officials have said it might reopen later today.
The island's premier, Michael Dunkley tweeted last night: "Great day of recovery Bermuda! All hands were on deck and worked very well. Much to be done but we are roaring back! Thank you everyone."
Bermuda was damaged during the last week by Tropical Storm Fay. Hurricane Gonzalo is said to be the strongest to reach Bermuda in a decade – the British Overseas Territory was left with £62 million of damage and four people dead after Hurricane Fabian in 2003.
Additional reporting by the Press Association
Register for free to continue reading
Registration is a free and easy way to support our truly independent journalism
By registering, you will also enjoy limited access to Premium articles, exclusive newsletters, commenting, and virtual events with our leading journalists
Already have an account? sign in
Register for free to continue reading
Registration is a free and easy way to support our truly independent journalism
By registering, you will also enjoy limited access to Premium articles, exclusive newsletters, commenting, and virtual events with our leading journalists
Already have an account? sign in
Join our new commenting forum
Join thought-provoking conversations, follow other Independent readers and see their replies