'I love Manchester': The defiant sign being used by a city mourning bombing victims
Symbol has been held by mourners and seen all over the city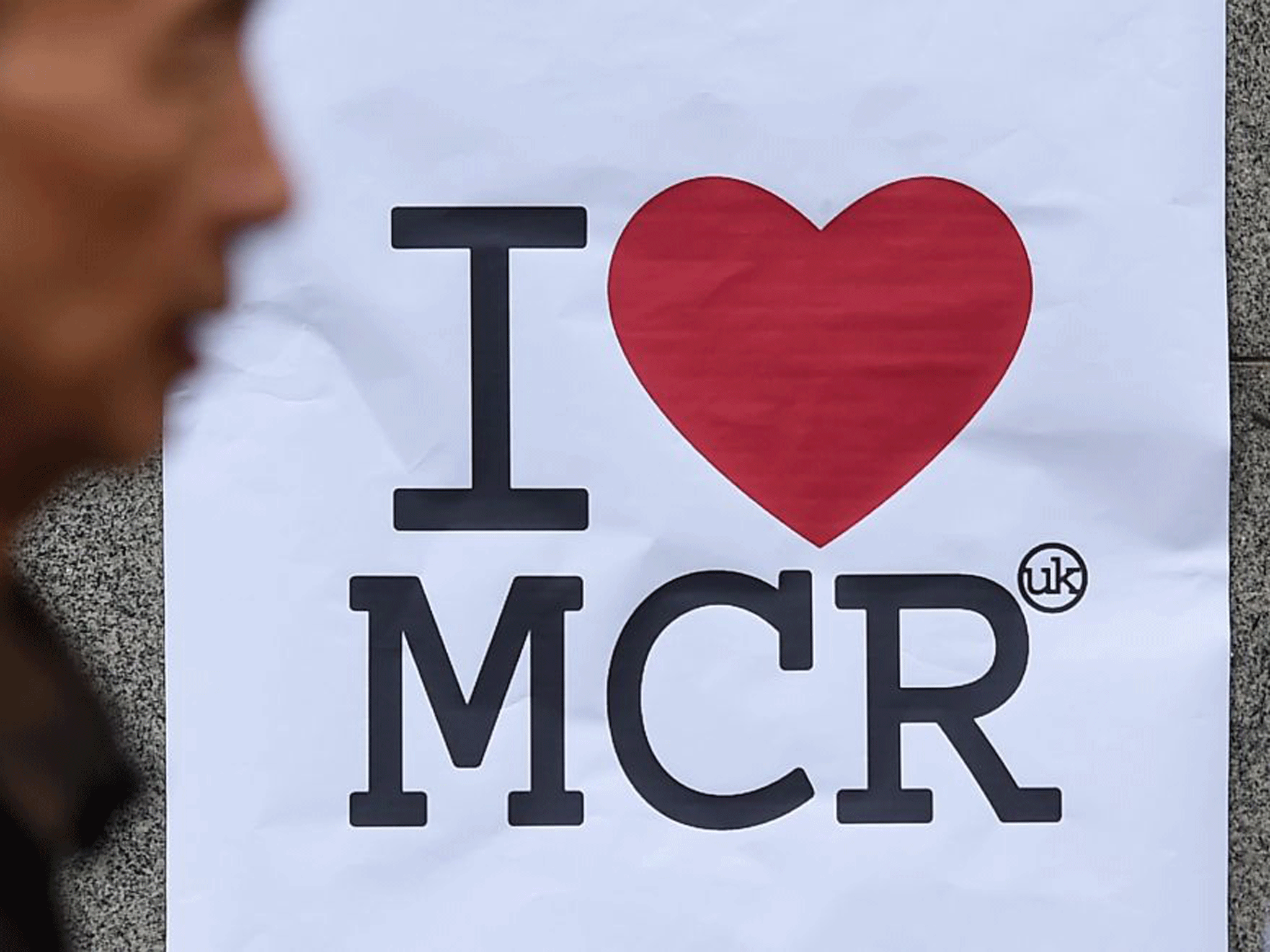 The "I Love Manchester" sign has become a ubiquitous image of defiance in the aftermath of the suicide bomb attack on crowds leaving an Ariana Grande concert that left 22 people dead and many more hurt.
Seen all over the city, from billboards to motorways, it has once again emerged as the city faces tough times.
The logo, which abbreviates "love" to a heart image, originated with the 'I Love MCR' organisation, which was launched after the 2011 riots in the city.
Manchester Arena attack: What we know so far
It is based upon the "I love New York" logo, which was itself a product of a pop-art influenced marketing campaign.
I Love MCR describe their logo as "an incorruptible symbol of civic pride".
The group's campaign and logo was in use long before the attack, and T-shirts emblazoned with the logo have been pictured on celebrities and sports people associated with the city.
But following the bombing, the symbol gained global visibility.
Newly elected mayor Andy Burnham changed his social media profile to pictures of the "I love Manchester" symbol, like many other citizens.
It was also seen on signs held by members of the public at the vigil which took place last night.
Police said a local man, Salman Abedi, 22, was responsible for the suicide attack. Five arrests have also been made and officers are investigating a possible network of jihadists.
After the attack, the UK's terrorism threat level was raised to 'critical' – the highest rating. As a result, soldiers have been deployed to various high security sites around the country.
Metropolitan Police Commissioner Cressida Dick joined Major General Ben Bathurst, Joint Military Commander for London, to visit troops stationed around the Palace of Westminster, which was closed to the public.
Ms Dick said: "After the terrible events in Manchester, the raising of the threat level to critical, as you know, we have been granted military support.
"The military are here and a number of locations in London in order to allow us, the police, to put more armed officers on the streets to support the public, and to protect the public and to protect events."
Ms Dick said there were "clearly a number of unknowns" since the attack on Monday and security services needed to get "a better understanding" of the situation before the threat level could be reduced.
Manchester explosion in pictures

Show all 37
She said: "As soon as we no longer need our military colleagues, we will be saying so and we hope that the threat level will reduce from critical.
"When it does, clearly there will be a de-escalation requirement for military colleagues but I am not going to put a timescale on that."
Join our new commenting forum
Join thought-provoking conversations, follow other Independent readers and see their replies