'I relate to the Suffragettes': Boat Race saboteur reveals his inspiration
Trenton Oldfield tells Jerome Taylor why he halted Varsity clash
Jerome Taylor
Monday 09 April 2012 09:34 Comments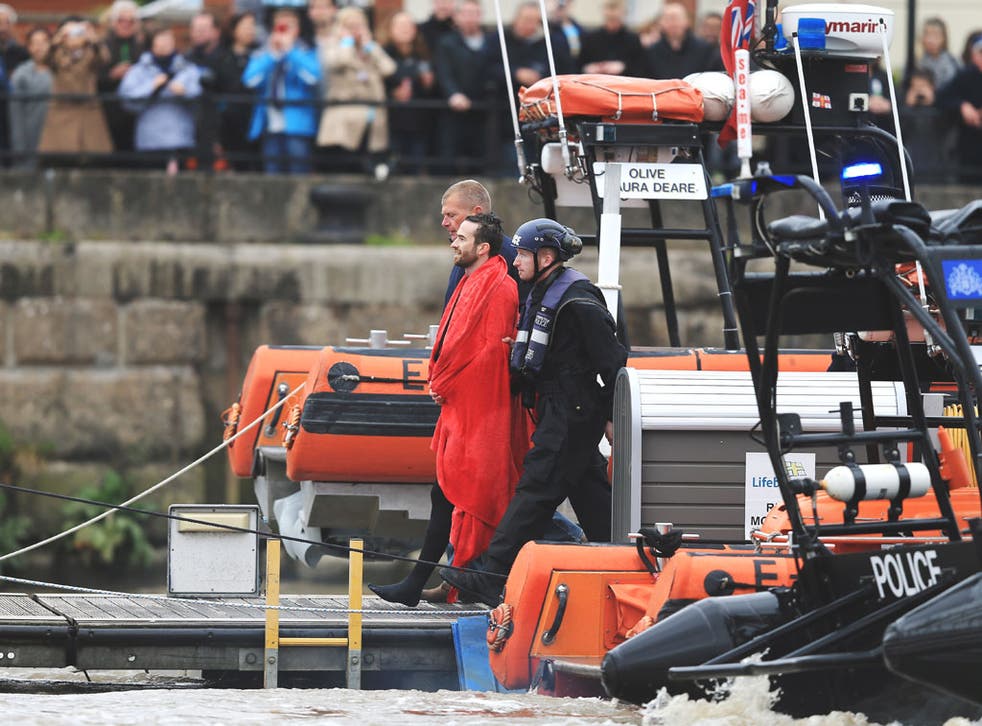 The man who brought chaos to this weekend's Boat Race has revealed how he assumed he would be stopped before making his protest in an interview with The Independent which casts doubts on whether security was tight enough during the race.
Anti-elitism campaigner Trenton Oldfield said he was surprised he was not spotted by race officials because he had entered the water early and had to wait for the Cambridge and Oxford boats.
The 35-year-old Australian-born protester managed to halt the Boat Race for the first time in its 158-year history after he swam into the path of the boats near Hammersmith Bridge. He has been charged with a public order offence and claims he was inspired by the actions of the suffragette Emily Davison.
Speaking after his release from police custody, Mr Oldfield detailed how he was able to move into the path of the oncoming boats with relative ease, despite the strong tidal currents.
"The most difficult thing I had to do was put my wetsuit on and take my clothes off without people noticing," he said. "I just scrambled down the wall, into the water and was away."
But he was surprised he wasn't spotted by race officials sooner. "I actually went early," he said. "I thought someone was going to come along, grab me and put me in a boat. I was in there much earlier than I expected to be. I got confused by the helicopters, it's a big bend and you can't see around. I didn't do it exactly as I had hoped but in the end it worked out."
He also said he had revealed his plans online before the event, via Twitter. "I would have thought that people would have been looking for me if the security system is as good as it is meant to be."
His comments will generate concern about whether enough was being done by race officials to scan ahead of the Oxford and Cambridge boats as they made their way along the Thames.
Mr Oldfield said he felt compelled to disrupt the race because of the economic difficulties brought about by "government cuts, inequality and elitism". He also encouraged others to use direct action. "Standard protesting can get somewhere if the political system isn't corrupt," he said. "It's not that the marchers aren't being successful – they're getting millions of people out on the streets. But the political system isn't responding because of its corruption."
He said he took inspiration from Emily Davison, the suffragette who was killed when she threw herself under the King's horse at the Epsom Derby in 1913. "Those women were amazing," he said. "They put themselves on the line and it wasn't that long ago. She was put down by lots of people and seen as too militant."
Critics accused him of hijacking an apolitical event. Karl Hudspith, president of the Oxford University Boat Club, told him via Twitter: "My team went through seven months of hell, this was the culmination of our careers and you took it from us."
However, Mr Oldfield, who described the past 24 hours as "intense", said he had also received messages of support. He was taken to Chiswick police station where he was charged under section five of the Public Order Act before being released to appear in court later this month.
Many of those attacking his stance against elitism pointed out that he had himself been educated privately in Sydney before studying at the London School of Economics. However, Mr Oldfield hit back, saying that a private education should not preclude someone from being critical of elitism.
Register for free to continue reading
Registration is a free and easy way to support our truly independent journalism
By registering, you will also enjoy limited access to Premium articles, exclusive newsletters, commenting, and virtual events with our leading journalists
Already have an account? sign in
Join our new commenting forum
Join thought-provoking conversations, follow other Independent readers and see their replies