Four women thrown off Ibiza flight for 'racist abuse' of fellow passengers
'Too many people think they can be racist and get away with it,' says passenger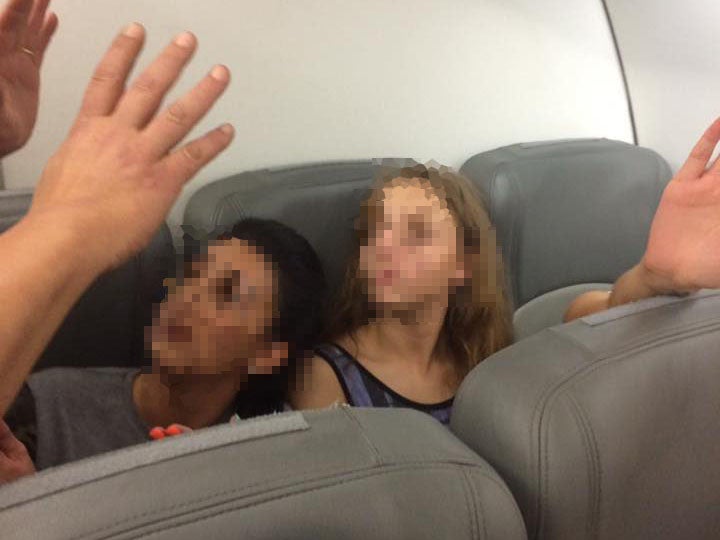 Four women were removed from a flight to Ibiza after allegedly hurling "racist" abuse and "making rude comments" towards other passengers.
The women, who are thought to be in their early twenties, had to be ordered off the Monarch flight ZB504 at Manchester Airport by police after the captain and passengers called 999.
Amber Elouise Ferguson, a passenger who was sitting in front of the women on the plane, published a Facebook post describing the women as "racist" and "rude".
Miss Ferguson accompanied the post - which was shared more than 1,100 times - with a photograph of the women and asked whether anyone knew their identities.
She wrote: "Anyone know these three girls? Just delayed our plane to Ibiza, they've been racist, making rude comments and threatening people.
"If you know them or are related to them you should be ashamed to know such disgusting human beings."
She added that the women were under the influence of alcohol, although police have denied there was alcohol involved in the incident.
Miss Ferguson, from Old Trafford, later wrote a second Facebook post from Ibiza saying she had found the identity of the women.
She wrote: "Too many people think they can be racist and get away with it, I think not."
She has reportedly since received a message on Facebook to say the same women behaved badly on a flight to Amsterdam in February.
Greater Manchester Police told The Independent: "Shortly before 7.10pm on Tuesday 13 September 2016, police were called to Manchester Airport for assistance.
"Four women were removed from a plane. No further action was required."
A spokesperson from Monarch said: "Four passengers on board Monarch flight ZB504 from Manchester to Ibiza on 13 September 2016 were offloaded prior to take-off due to disruptive behaviour.
"Monarch takes a zero tolerance approach to disruptive behaviour on board all of our flights. The safety and security of our passengers, crew and aircraft is our absolute priority."
Join our commenting forum
Join thought-provoking conversations, follow other Independent readers and see their replies