Ikea sells toys designed by kids to raise money for Save the Children and Unicef
The toys can be bought for as little as £4 from Ikea stores and the website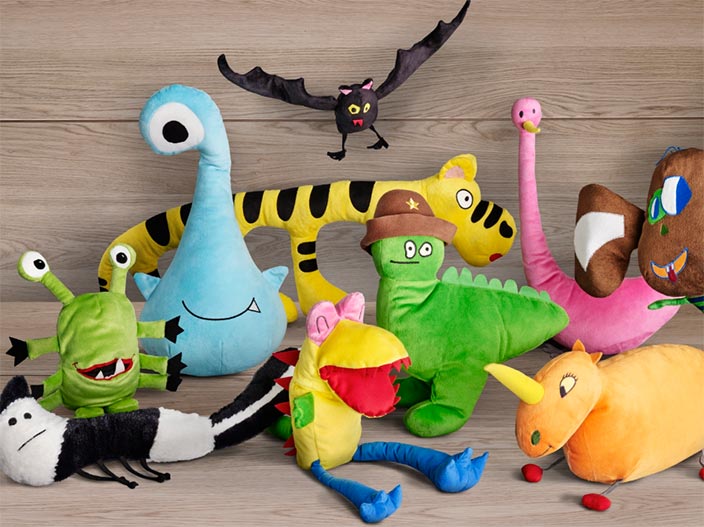 Ikea has launched a colourful collection of soft toys entirely designed by children.
Doodles and sketches of bats, dinosaurs and tigers were turned into the products as part of the furniture store's annual Soft Toys for Education campaign, which aims to improve education for children around the world.
Thousands of children drew their dream toy for the competition. The 10 winning designs were created by youngsters aged between four and 10, from countries such as Norway, Malaysia, Romania and Taiwan.
A skunk toy was designed by eight-year-old Olivia Wildman, from Essex.
Carol McSeveney, IKEA Children's sales leader in the UK and Ireland, said: "The final creations show that anything is possible with children's imaginations. We fell in love with Olivia's drawing when we first saw it, and we have stayed true to her illustration, right down to the little legs and quizzical expression that give it a character all of its own."
The toys can be bought for between £4 and £8 from Ikea stores and the website. From each purchase, €1 will be donated to children's education projects run by UNICEF and Save the Children.
The Soft Toys for Education initiative was launched in 2003. Since then, more than €77 million has been raised to help 11 million children in 46 countries receive a better education.
Helicopters, Bey Blades and Bananagrams the best selling toys and games of the last two months
Show all 2
Ms McSeveney said: "We believe every child has the right to a healthy, secure childhood and access to quality education, no matter where in the world they live. And because we value doing things together, we turn to our irresistible soft toys for help."
Graziela Cajado-Ogland, Director of Partnerships at Save the Children said: "Thanks to the phenomenal amounts of money raised through IKEA's Soft Toys for Education campaign, we have been able to run quality education projects around the world for some of the most vulnerable children."
"This year the toy range is particularly special because it has been designed by children to help children, and we'd encourage everyone to support as much as they can, so that we can give all children the start in life they deserve."
David Bull, Executive Director Unicef UK said: "Money raised through the campaign has meant that from Angola to Malawi more children have been able to go to school. Yet, millions of children are still not afforded this right. As this year's soft toy campaign launches in store, Unicef continues to work towards making sure that every child can enjoy all the positive things that a quality education can bring and ensure that no child is left behind."
Join our commenting forum
Join thought-provoking conversations, follow other Independent readers and see their replies