'Illegal immigrant with Ebola missing in Leicester' hoax poster appears in medical centre
Right-wing Daily Bale website claims up to 50 fake posters were put in Leicester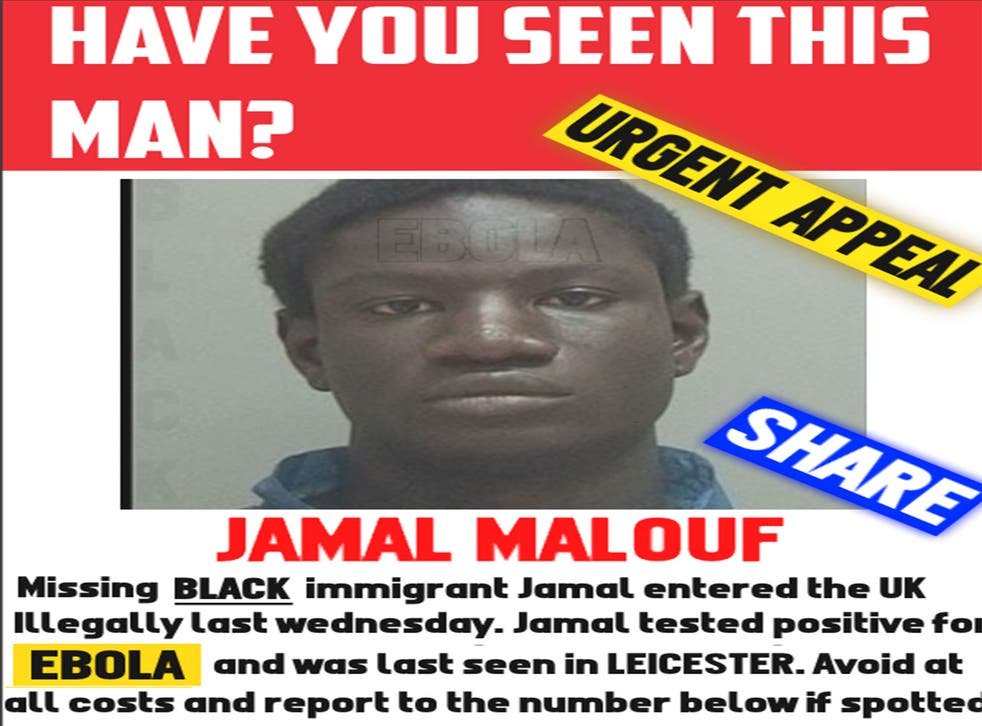 A hoax appeal circulated by a right-wing group falsely claiming an "illegal immigrant" with Ebola was missing in the UK was spotted in a medical centre in Leicester.
The bogus 'urgent appeal' poster was shared by nationalist website The Daily Bale and on its social media accounts.
The hoax poster featured a picture of a man, purportedly named "Jamal Malouf", who is described as a "missing black illegal immigrant" last seen in Leicester.
It states that 'Jamal' had tested positive for Ebola and asked the public to call an "NHS disease hotline" if they saw him. It is not known where The Daily Bale sourced the image used in the poster from.
An article on their website also falsely said the NHS had upped the Ebola threat level in the UK to critical after the man "disappeared" in Leicester.
The Daily Bale claims the poster, which was condemned as "racist" by Respect Party former candidate Lee Jasper, was printed off more than 50 times and put up around Leicester by one of its supporters. The Leicester Mercury reports that one of the posters even made an appearance at a city medical centre.
The Daily Bale said the poster is a continuation of a hoax they began last year with their "Amy Hamilton" poster appeal, which featured a fictional six-year-old girl and the message: "It is believed Amy has been kidnapped by an Asian grooming gang".
The poster was shared thousands of times by many people who believed the claims to be true.
Earlier in the year, The Daily Bale was condemned as "frankly moronic" by a security expert when website owner Joshua Bonehill-Paine penned an article claiming The Globe, in Leicester, had banned British armed forces to avoid offending the immigrant population.
The Globe was forced to temporarily shut after members of the public threatened to fire bomb the building and assault staff working there.
There have been no known cases of Ebola in the UK to date.
See the Ebola outbreak mapped

Show all 7
A spokesman for Leicestershire Police said: "We are aware of a poster which has now been removed from a medical centre in Leicester and our enquiries in relation to this are ongoing.
"We would like to assure the public that there are no known cases of Ebola in Leicester, Leicestershire and Rutland."
Register for free to continue reading
Registration is a free and easy way to support our truly independent journalism
By registering, you will also enjoy limited access to Premium articles, exclusive newsletters, commenting, and virtual events with our leading journalists
Already have an account? sign in